Today in Philippine History, July 11, 1869, Pio Valenzuela was born in Polo, Bulacan
On July 11, 1869, Pio Valenzuela, a Filipino physician and a major figure during the Philippine Revolution against Spanish colonizers, was born in Polo, Bulacan (present day Valenzuela City).
Valenzuela was a medical student at the University of Santos Tomas when he joined the barely week-old Katipunan, a secret society founded by Andres Bonifacio on July 7, 1892 in Tondo, Manila.
He secretly established Katipunan branches in many areas in Morong (now Rizal province) and Bulacan.
It was Dr. Valenzuela who was commissioned by Bonifacio to talk to Dr. Jose Rizal, who was deported to Dapitan in Zamboanga, about the founding of the Katipunan and its plan to rise against the Spanish authorities. He left for Dapitan on June 15, 1896.
Rizal however insisted that the country came first and warned against embarking on a change of government for which the people were not prepared. Rizal declared that education was first necessary, and in his opinion general enlightenment was the only road to progress.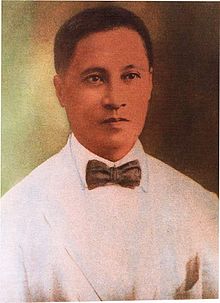 Notably, Valenzuela helped Emilio Jacinto establish the Katipunan paper, Kalayaan, using stolen types from the Diario de Manila.
Valenzuela later availed of the amnesty that the Spanish colonial government offered. He surrendered on September 1, 1896 and was then deported to Spain where he was tried and imprisoned in Madrid. Later, he was transferred to Malaga, Barcelona and then to a Spanish outpost in Africa. He was incarcerated for about two years.
Under American occupation, he was imprisoned again as he was denounced to the American military authorities as a "radical propagandist".
In later years, he served as the first mayor (during the American regime) of the municipality of Polo (now Valenzuela City) from 1899 to 1900 before he became the governor of Bulacan province (1921-1925).
After he retired from politics, he wrote his memoirs on the revolutionary days but historians have since been wary of his autobiography because of some inconsistencies in his version of events, particularly about his meeting with Dr. Rizal in Dapitan in 1896.
He died on April 6, 1956 at the age of 86.
In 1963, the town of Polo was renamed Valenzuela in his honor. The municipality became a city in 1998.
Reference:
Philippines News Agency archives
Photo: Wikipedia Commons