Today in Philippine History, January 11, 1940, Lizardo and Marcos were convicted of murder
Wednesday April 10, 2013 ()
On January 11, 1940, Quirino Lizardo and his nephew Ferdinand Marcos, who won the highest honors in the 1939 bar examinations, and son of former Assemblyman Mariano Marcos, were convicted of murder of Julio Nalundasan, Assemblyman-elect in 1935. Mariano and his brother Pio were acquitted.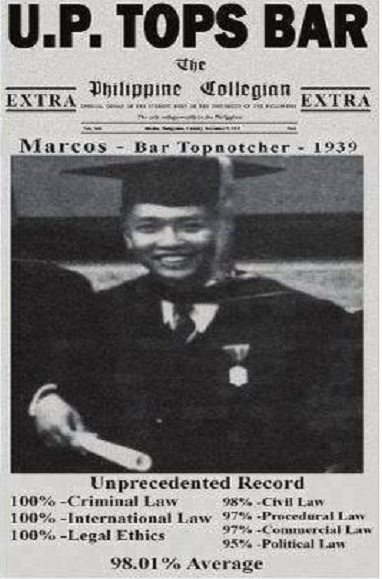 (The Philippine Collegian headline: Marcos Tops Bar)
Lizardo was sentenced to life and Ferdinand Marcos to from 10 t0 17 years in view of the fact that he was underage at the time of the crime.
The supreme court on October 22, 1940, however, acquitted Ferdinand and his uncle of the murder charges, reversing lower court ruling, holding that evidence of the chief witness was "polluted" and not sound basis for conviction. The court decision was written by Justice Jose P. Laurel with Chief Justice Ramon Avanceña and Justices Carlos Imperial, Anacieto Diaz, and Antonio Horrilleno concuring.
On September 20, 1935, Representative Julio Nalundasan, reelected to the Assembly, defeating Mariano Marcos, was shot and killed while standing in front of his window after dinner at his home in Batac, Ilocos Norte, by an unidentified assassin.
Please follow this link (http://www.lawphil.net/judjuris/juri1940/oct1940/gr_l-47388_1940.html) to read the full supreme court decision of October 22, 1940.
References:
Philippine Magazine, Volume 37, Number 2, page 45, February 1940
Philippine Magazine, Volume 37, Number 12, page 456, December 1940
Philippine Magazine, Volume 32, Number 11, page 526, November 1935