Today in Philippine history, September 21, 1949, Romulo was elected UN Assembly President
Monday August 18, 2014 ()
On September 21, 1949, Ambassador Carlos P. Romulo as head of the Philippine delegation to the United Nations (UN) was elected President of fourth General Assembly. Romulo received the votes of the representatives of all 59 nations except those of Russia and its satellite states which give 5 votes to the Czech Foriegn Minister and the vote from Yugoslavia being declared invalid.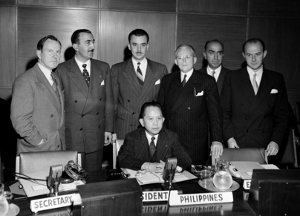 (Chairman of the six standing committees of the Assembly with Assembly President Carlos Romulo of the Philippines( seated))
Under Secretary of Foreign Affairs Felino Neri congratulated Romulo and stated that the election was an "indication of the increasing importance of the role the Philippines has assumed in international affairs and reflects the decided shift of the world's attention to Asia and the Far East". President Quirino also congratulated Romulo for his election.
Romulo later served as President of the Security Council on four different occasions when the Philippines was elected to the Council.
Carlos P. Romulo was also nominated for the 1952 Nobel Peace Prize. According to Nobel Prize, Romulo was nominated "for his contribution in international cooperation, in particular on questions on undeveloped areas, and as president for UN's 4th General Assembly".
References

American Chamber of Commerce of the Philippines, Volume 32, Number 1, January 1956
Nobelprize.org (Official website of the Nobel Prize)
Photo credit: United Nations Oral History (http://www.unmultimedia.org/)