Today in Philippine history, November 10, 1953, Ramon Masaysay was elected President
Tuesday October 28, 2014 ()
On November 10, 1953, Ramon Magsaysay was elected President by the largest majority in the history of the country, 2,912,992 votes as against a vote of 1,313,991 for the incumbent, President Elpidio Quirino.
Young, vigorous, active, blunt, honest, a man of the people, Magsaysay, whose campaign slogan was "Magsaysay is My Guy", commanded a soul-stirring following among the masses and among the more enlightened classes as well. All look to him to pull the country out of the swamp of post-war corruption in which it had become engulfed. That was the main, if not the only, issue in the elections.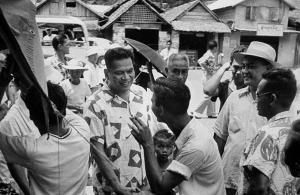 Ramon Magsaysay during the campaign (Photo redit: http://mlq3.tumblr.com/).
During the election campaign it was reported that people often came from far distances not only to see and hear him, but to touch him, as if there was a virtue in him which could be communicated.
Listen to "Mambo Magsaysay" below, the Magsaysay campaign jingle.
Loading the player ...
Raul Manglapus composed the song in 1953 and arranged for Rosita Dela Vega-Da Roza to perform it. She is the singer you hear in the recording.
References

American Chamber of Commerce of the Philippines, Volume 29, Number 12, December 1953