Today in Philippine history, October 5, 1946, Pacita Abad, an itinerant Filipino painter was born in Basco, Batanes
Friday October 02, 2015 ()
On October 5, 1946, Pacita Abad, a trapunto painter, a global Filipino artist, who described herself as a painter who paints "from the guts" was born in Basco, Batanes to politically active parents, Jorge Abad and Aurora Barsana.
Pacita Abad earned a BA in Political Science from University of the Philippines, Diliman in 1967 and attended law school for a year there. The political unrest in the country prompted her parents to send their activist daughter to the United States to continue her studies in law in 1970. She however pursued master's degree in Asian History at the University of San Francisco instead of studying law.
At the graduate school, she worked as the art coordinator and became deeply involved in the San Francisco art scene when she married painter George Kleiman, though they later divorced. She then decided to travel across Asia for a year with Jack Garrity, whom she married, and then returned to the United States to study painting, first at the Corcoran School of Art in Washington D.C. and later, at The Art Students League in New York City.
Upon finishing her studies, Abad became an itinerant painter lugging her paints and canvas, as she traveled with her husband across the globe, living in countries like Bangladesh, Yemen, Sudan, Papua New Guinea and Indonesia. Abad's travels had a significant impact on her life and art. She was very inventive and experimental with her painting, and her style changed continuously throughout her career.
Her earliest paintings were mostly figurative and social or political, covering subjects like hunger. Her work then expanded to include naturalist subject matter, inspired by the places she saw on her travels to exotic locations. This colorful work of vibrant patterns continued into her most well-known practice as an Abstract painter. These mixed media works, which ranged from large-scale paintings to small collages, incorporated a variety of materials such as ceramic, glass, mylar, fabric, and circuit boards.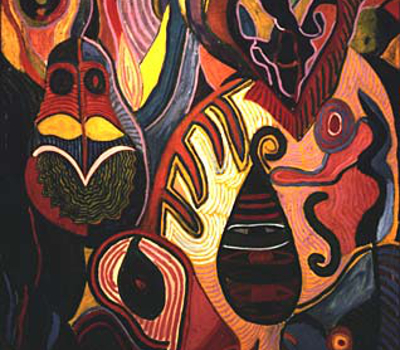 (Pacita Abad's Ati-Atihan (1983). Acrylic on stitched and padded canvass.)
Pacita Abad rejected the idea that painting was elitist, and she was continuously inspired by the indigenous materials and techniques she came into contact with during her travels. This philosophy permeated her work, and laid the groundwork for the technique she developed called trapunto painting, which involved her stuffing and stitching her canvases to create a sculptural quality.
During her visit to the US in late 2001, she was diagnosed with lung cancer and was operated on at George Washington University Hospital in Washington, DC. After her release from the hospital she returned to Singapore for further treatment at Singapore's National University Hospital. In late 2004, she became partially paralyzed but continued to paint and traveled to Manila to meet with members of her family. Wheelchair-bound, she opened her solo exhibition "Circles in My Mind" in Manila, but her already poor health forced her to return to Singapore and be re-admitted to the hospital, where she passed away in December of the same year.
The inspiration for Abad's work is largely drawn from her personal experiences. In the years leading up to her death, Abad worked on a series of paintings called "Obsession". She worked fervently with a circle motif in particular; she stated that she "could not stop" working in this pattern, and that she found the experience "spontaneous and exhilarating". Abad was a highly prolific painter, having completed over 3,500 artworks in her lifetime. One of her final projects was to paint a 55-meter long pedestrian bridge (Alkaff Bridge) in Singapore, which she covered with thousands of multi-colored circles. The project was completed during her final year fighting lung cancer, and became known as "Pacita's Painted Bridge".
Pacita Abad had over 40 solo exhibitions and 50 group and travelling exhibitions worldwide. Her work is included in collections in more than 70 countries.
Sources:
Pacita Abad, Artnet Worldwide Corporation (http://www.artnet.com)
Fundacion Pacita: House of art atop a Batanes hill (http://www.philstar.com/)
Pacita Abad, Brooklyn Museum, New York (https://www.brooklynmuseum.org/)
Photo credit: Wikipedia Commons
,