Today in Philippine history, March 12, 1972, the first successful test of a Philippine made missile system was made at Caballo island
Tuesday January 12, 2016 ()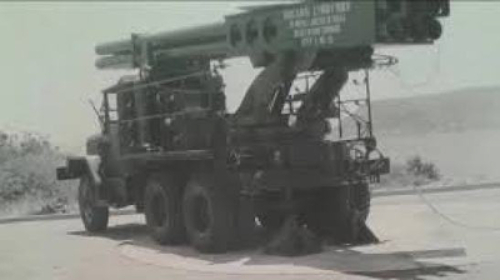 On March 12, 1972, the first ever Philippine made rocket named "Bongbong I" was successfully launched at Caballo island near Corrigedor in the Manila Bay and successfully retrieved from the South China Sea. The rocket was part of the Philippine Military experiment to produce its own ballistic missiles. Initiated by then President Ferdinand E. Marcos, it was researched and developed by a group of Filipino and German engineers and scientists and the Philippine Navy under Project Santa Barbara.
Several more tests were launched in the succeeding months all at the Caballo island and were all described as successful. The following year, the rockets were featured during the 1973 Independence Day Parade at the Luneta Grandstand (see video below).
On September 7, 1975, four rockets were launched 10 to 12 kilometers into the sea from military vehicle mounted launchers somewhere in the coast of northern Luzon and witnessed by the President himself and the first lady and 2 of their children. Marcos as quoted by the Philippine News Agency said during the launch:
"The defense of the Philippines cannot be left to our allies. We must assume that there will be contingencies where even the United States may not be able to come to our assistance."
Marcos added:
"There are other weapons and armaments we are testing this is just one of a series."
The President was reported to be concerned about its relations with the rest of Asia at a time when negotiations with the United States was ongoing to put the American bases under Philippine sovereignty.
(1973 Independence Day Parade at the Luneta Grandstand featuring the Santa Barbara rockets)
The missile tested were of different configurations of a 180 MM liquid-propellant rocket: short version with fixed fins, long version with fixed fins, long version with folding fins, and the Pressure Assisted Take Off type. The launchers tested were the Fixed-Open Frame (short), Fixed-Open frame (long), Truck-mounted tube launcher, truck-mounted open frame, and the Submerged Launcher for underwater firing.
Project Santa Barbara was discontinued after the Marcos administration.
Sources:
Project Santa Barbara marks 41 years, The Philippine Navy News Today
Astronautics and Aeronautics, 1972, National Aeronautics and Space Administration, US Library of Congress, 1974 (http://history.nasa.gov/AAchronologies/1972.pdf)
Rockets Test-fired from the Philippines, Bangor Daily News, September 8, 1975
Resurrect and Activate Santa Barbara Project, Manila Livewire, December 9, 2014