Today in Philippine history, July 2, 1990, Mrs. Marcos was acquitted of charges of racketeering, fraud by New York jury
Thursday June 16, 2016 ()
On July 2, 1990, on her 61st birthday, former First Lady Imelda R. Marcos, was acquitted of all charges that she raided the country's treasury and invested the money in the United States. A New York Federal Court jury of 12, voted 10-2 in favor of Mrs. Marcos.
News reports said, Mrs. Marcos, her lips trembling, looked to the ceiling as the jury forewoman announced, "Not guilty", four times. With that, Mrs. Marcos wept and a gallery filled with supporters cried out and cheered in triumph.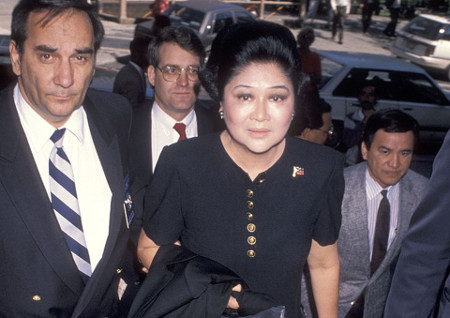 (First Lady Imelda Marcos arrives for trial of federal racketerring and fraud charges on June 13, 1990 at the Manhattan Federal Court in New York City.)
The verdict ended a case that begun almost immediately after President Ferdinand E. Marcos and his family was forced to flee the country and after the government of Corazon Aquino tried to seize the alleged Marcoses' vast worldwide wealth. The case endured even after President Marcos died on September 1989.
The verdict, read just minutes before 1 o'clock July 2 afternoon, unleashed an exultant demonstration and a spontaneous birthday celebration for Mrs. Marcos on the steps of the United States Court House on Foley Square in New York. The former First Lady who turned 61 and as she emerged from the courthouse, scores of her supporters sang "Happy Birthday" and "God Bless America".
The trial could not escape broader political questions. The defense team, led by Gerry Spence, argued that it was hypocritical for the United States, which supported President Marcos during his 20 years in power and gave him refuge in Hawaii in 1986, to indict Mr. and Mrs. Marcos and then pursue charges against her after his death.
Ninety-five government witnesses - including former Marcos officials, Aquino officials, real-estate executives and bankers - described how Ferdinand Marcos accepted huge kickbacks on everything from Japanese World War II reparations to Government contracts for road building.
At times, the Filipino style of governing seemed to be on trial. Her lawyers said that Mrs. Marcos' lavish buying was part of the culture, including her infamous collection of thousands of pairs of shoes. Her lawyers even explained the testimony about kickbacks and "commissions" that went to President Marcos as a natural component of the Philippine system.
The prosecution team, led by the assistant United States attorneys Charles G. LaBella and Debra A. Livingston, stuck to a more traditional approach, placing the emphasis on flowcharts that showed the path that Marcos money took from Manila to Hong Kong, Switzerland, Italy and ultimately, New York.
"Mrs. Marcos committed no crime except the crime of loving a man for 35 years, of raising his children, of being his First Lady, of being his ardent supporter, of taking his lavish gifts", Mr. Spence said.
Sources:
The Marcos Verdict; Marcos Is Cleared of All Charges In Racketeering and Fraud Case, July 3, 1990, New York Times, NY
Photo credit: Getty Images