President Marcos' interview in Hawaii on April 1986; I don't throw anything away, even old slippers - Mrs. Marcos
Former Philippine President Ferdinand Marcos says his wife's collection of 3,000 pairs of shoes was simply the accumulation of 20 years, and that depictions of their lifestyle as like "the Arabian nights" were false.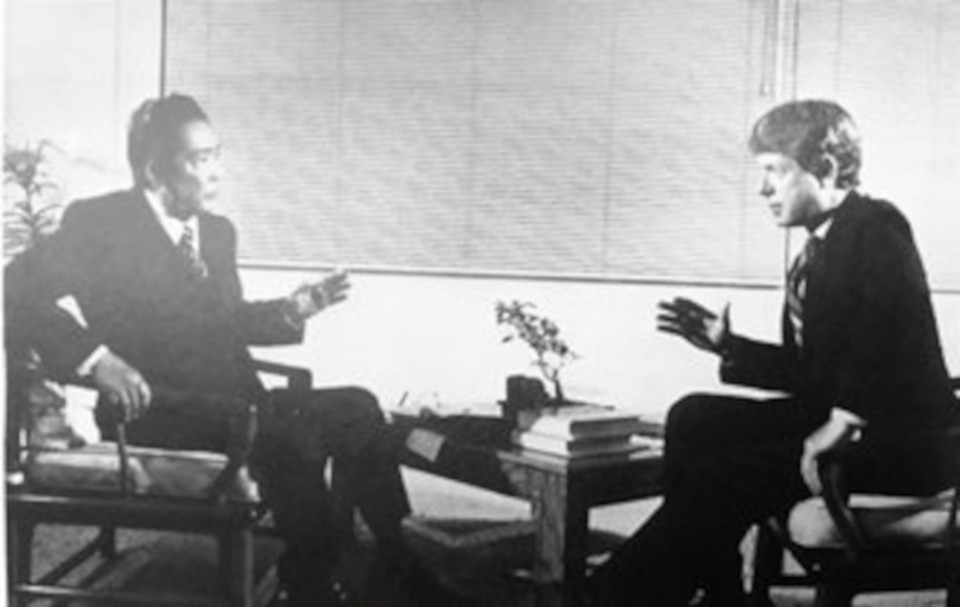 (President Marcos and Ted Koppel)
In an interview broadcast Friday night on ABC-TV's "Nightline," Marcos also said the United States aided rebel military forces against him in the final hours of his regime, with Americans refueling and rearming helicopters that attacked his palace.
Marcos said he's taking his exile "in stride" despite being refused asylum by several countries, never stole money from his nation, and considers himself its legitimate president, although he has no plans to return, even for his ailing mother's funeral.
In a separate interview today with a Manila radio commentator, Marcos' wife, Imelda, denied being extravagant and said she accumulated so many shoes because "I don't throw anything away."
Reports of Mrs. Marcos' exorbitant shopping trips to New York and Tokyo were "all lies," Marcos told ABC's Ted Koppel during the interview conducted Thursday night at his rented beachfront house in Hawaii.
"The shopping trips are fabricated ... saying that she went to Japan and bought a half-million dollars' worth of pearls," Marcos said.
Asked about the thousands of pairs of shoes found in Malacanang Palace, Marcos replied: "She has probably to change shoes twice a day, and then after a while because she ... probably feels more comfortable and there's a party where she can wear high heels and parties for low heels."
"But Mr. President, 3,000 pairs of shoes - hundreds and hundreds," Koppel said.
"Twenty years 3/8 That is our collection for 20 years 3/8" Marcos replied.
In a telephone interview with commentator Rafael Yabut, Mrs. Marcos said she didn't believe there were so many pairs of shoes, but added, "I don't throw anything away, even old slippers."
In the ABC interview, Marcos was asked if he was humiliated by videotapes released by the government of Corazon Aquino that depict lavish parties.
"Look, these are simple parties and they make them look like orgies," he replied. "The birthday party of my youngest daughter was a simple party. Everyone in gold colored dresses like you would (see) in Hawaii.
"We did not spend very much, but it is made to look like the height of exorbitant luxuriousness - the Arabian nights and the like - and they come up with the conclusion, 'You see why (Filipino) people are suffering?‴
Although Philippine officials contend that Marcos and his associates plundered up to $10 billion during his two decades in power, Marcos said he never stole from his country.
But asked if he was wealthy today, he replied that it was a "toss up" because his bank accounts have been frozen.
"Right now we have no liquidity," he said. "We cannot even pay our security. We cannot even pay our doctors' bills."
In her radio interview, Mrs. Marcos, her voice shaking with emotion, said: "What happened is so cruel. ... People think we have hidden wealth. We just depend on the Filipino community here for our day-to-day needs. ... If we had hidden wealth, we would not be doing this because it's so shameful."
Marcos, who fled his country February 26, said that in the final hours of his regime, Philippines air force planes were grounded at Clark Air Base, where Americans were refueling rebel aircraft.
"I learned that the helicopters that attacked Malacanang (Palace) - well, I might just as well come out with it - those helicopters were gassed and rearmed at Clark Air Force Base," Marcos said.
"So that would be by Americans then?" asked Koppel.
"Yes," Marcos replied.
Philippine President Corazon Aquino's spokesman Rene Saguisag said today, "We deplore any attempt to steal the glory of the February revolution from the Filipino people."
State Department spokesman Joe Reap said the department would have no immediate comment on the Marcos interview. On March 3, Secretary of Defense Caspar Weinberger was asked about reports that rebel helicopters had been fueled at an American military base.
In that interview, broadcast on CBS' "Face the Nation," Weinberger did not confirm the reports, but said, "We wanted to do everything we could to prevent" attacks on the Aquino forces. He said he thought "the presence of helicopters over this group could well have discouraged any sort of attack."
The former president, who has been seeking to leave Hawaii and has been refused asylum by several countries, said he was taking "in stride" the fact that "I'm treated like a pariah.
"There is nowhere else to go," he said. "I either stay here or go back home, and take my life into my own hands and tell everybody, 'If you want to kill me, here I am. But you will start a civil war."
Marcos said he would like to go home to see his ailing 94-year-old mother, but added that he has accepted that he cannot.
"I'm afraid that if I go there, my presence may be misinterpreted and may cause all kinds of bloodshed," he said, adding however, that he would like to return to his homeland someday.
Marcos maintained he is the legitimate president of the Philippines.
Sources:
Marcos, in Interview, Defends Imelda's Shoes, Says He Never Stole, April 5, 1986, Associated Press News