Today in Philippine History, September 20, 1898, Josefa Llanes Escoda was born in Dingras, Ilocos Norte
Tuesday September 20, 2011 ()
On September 20, 1898, Josefa Llanes Escoda, noted civic leader, educator and founder of the Girl Scouts of the Philippines (GSP), was born in Dingras, Ilocos Norte.
Escoda, who obtained her teaching degree in 1919 at the Philippine Normal School in Manila, was a social worker for the Philippine Chapter of the American Red Cross.
She was sent to undergo training in Girl Scouting in the United States under the sponsorship of the Boy Scouts of the Philippines.
She also obtained a master's degree in Social Work in 1925 from Columbia University, through Red Cross Scholarship.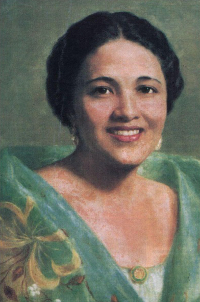 Upon her return to the country, she began training women to become Girl Scout leaders and eventually proceeded to organize the Girl Scouts of the Philippines.
On May 26, 1940, when President Manuel L. Quezon signed the GSP Charter, she became the group's first National Executive.
She was married to Antonio Escoda, whom she met as a reporter from the Philippine Press Bureau. They had two children.
She was executed on January 6, 1945 at the age of 46 on Japanese suspicion of being a guerrilla sympathizer. Her husband, Colonel Antonio Escoda, was also executed in 1944, along with General Vicente Lim.
A street and a building in Manila have been named after her and a monument has been dedicated to her memory. She is also depicted on the current 1000-peso bill as one of three Filipinos martyred by the Japanese armed forces.
Reference: Philippine News Agency
Photo: Wikipilipinas