Today in Philippine History, On February 6, 1848, Marcelo Adonay was born in Pakil, Laguna
Posted uncategorized
Sunday February 05, 2012 ()
On February 6, 1848, Marcelo Adonay, composer of religious music, was born in Pakil, Laguna to Mariano Adonay and Prudencia Quiteria, a peasant couple.
Poverty left Adonay's parents no choice but to entrust him to the care of the priests at San Agustin Church in Manila. These are the priests who discovered his innate talent in music.
Although he lacked a formal education in music, Adonay mostly self-taught mastered the organ, the violin, the contrabass, and the trumpet. His fellow composers considered him as genius.
Notably, he founded the 25-member Orquesta Rizal, the finest orchestra of his time. He also founded the Union Artistica Musical in 1885, the first musicians' union in the country.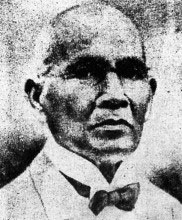 His famous masterpieces are Grand Mass and Te Deum.
His other religious compositions include "O, Vita Jesus"; "A San Juan Bautista"; "Resposarium", written in 1894; "Hosana", 1889; and "Nuestra Señora de Antipolo", which was written in 1909.
Adonay also composed non-religious music, such as marches and commemorative pieces. These include a piece expressing the heroism and martyrdom of Rizal, entitled "Rizal Glorified", first played on December 10, 1911 at the Grand Opera House.
He died on February 8, 1928 at the age of 80.
In 1983, on the occasion of his 135th birth anniversary, the National Historical Institute honored him by installing a marker in his hometown in Laguna.
Reference: Philippine News Agency
Photo credit: Marcelo Adonay (From Musika : an essay on the Spanish influence on Philippine music. Manila : Sentrong Pangkultura ng Pilipinas, 1992) via Himig, Filipinas Heritage Library