Significant moments in ancient and recent Philippine history
Accounts of the "witnesses" of the supposed Malisbong massacre
(Posted Friday November 08, 2019 12:53:45)
The colossal hoax contrived in 1974 by the insurgent Moro National Liberation Front (MNLF) of an alleged massacre of 1,500 Muslims in a barangay called Malisbong in Sultan Kudarat province, was intended to rouse to anger Muslim Arab leaders, especially the fiery Libyan strongman Muammar Gaddafi, so they would support, with their newfound oil wealth, the fledgling Moro insurgency.
Like the Jabidah Massacre, the Malisbong massacre during martial law is a hoax
(Posted Monday November 04, 2019 13:04:48)
Every September in the past few years when martial law again becomes a topic of debate, the purported massacre of some "1,500 Muslims and over a thousand women raped" in Malisbong village in Palimbang, Sultan Kudarat in September 1974 by a Philippine Army battalion is presented as evidence that Marcos' strongman regime was a ruthless, bloody era.
How long will we endure the flawed 1987 Aquino Constitution?
(Posted Sunday November 03, 2019 21:36:34)
Thirty two years ago, President Corazon Cojuangco Aquino, whose government had been frequently associated with "miracles", invoked the powers of a rebel government, abolished the 1973 Constitution, scrapped the Batasang Pambansa (Parliament), the Supreme Court, local government units, and the civil and military services.
Why the Lopezes fought Marcos, and helped the communist fronts
(Posted Monday October 07, 2019 10:59:42)
With the franchise for the Lopez clan's ABS-CBN broadcasting network still in limbo, it would be very informative to look at this oligarch's history, why it fought Marcos (and was depicted after his fall as noble pro-democracy tycoons) and how powerful its media empire was, so formidable that only Marcos' martial law could stop it.
New explosive details on Ninoy Aquino and the Communist Party/NPA
(Posted Wednesday October 02, 2019 19:47:05)
The Yellows' martyr Benigno "Ninoy" Aquino, Jr. was crucial in the founding and growth of the Communist Party of the Philippines and the New People's Army (CPP-NPA). Aquino, until his arrest when martial was declared in 1972, supported the CPP-NPA as one of his weapons to topple his arch-enemy Ferdinand Marcos.
Did Rizal really retracted all his words and deeds about the Chruch moments before his execution?
(Posted Tuesday January 02, 2018 13:54:48)
It was hoped by the ecclesiastical and civil authorities that Rizal's life would end with his death in Bagumbayan. But from the day of his execution to this day, Rizal has been in this country a living issue and often a burning one – the soul of contention between Catholics and freethinkers, a bone for the tug of war between church and state in the control of education, and the subject of bitter debate over the authenticity or fraudulence of his supposed retraction of his words and deeds.
History of SCJ/judicial appointment process in the Philippines
(Posted Tuesday December 26, 2017 11:54:51)
Although there is no constitutional or statutory provision mandating it, the historical tradition in the Philippines is that the most senior associate justice of the Supreme Court is next in line as chief justice. This tradition, however, is not akin to a hard and fast rule, as the historical record reveals.
A 1986 article: Evaluations, prognosis, excuses after Cory's first 100 days
(Posted Thursday February 23, 2017 00:47:05)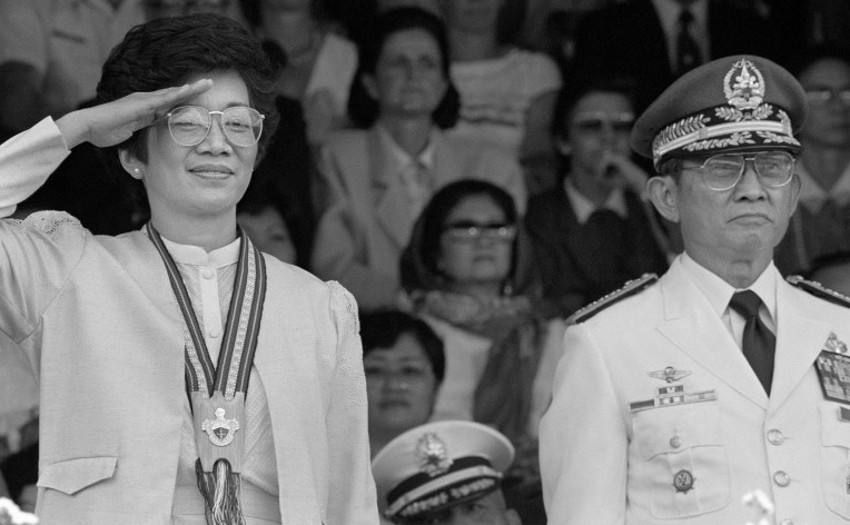 When President Corazon Aquino's first 100 days in office have passed, and, in a Pravda article, Philippines Minister of Information Raul Locsin and presidential spokesman Rene Saguisag offered their evaluations.
The return of First Lady Imelda Marcos in 1991 and the tax fraud charges against her
(Posted Wednesday January 18, 2017 15:26:02)
(First Lady Imelda Marcos as she arrive in Manila in 1991)
On Monday, November 4, 1991, Imelda Marcos set foot on Philippine soil again after 5 years of exile in Hawaii. She has left behind the still-unburied body of her husband, President Ferdinand Marcos, who died in Hawaii in September 1989. She was greeted with tight security as she arrived. Manila residents welcomed her as she drove to a church to pray. People in the crowd held signs that read, "Imelda, We Love You!" and "The Hidden Wealth of Marcos is Found Only in the Heart of His People."
The conspirators of the many assassination attempts on President Marcos
(Posted Wednesday December 28, 2016 15:13:59)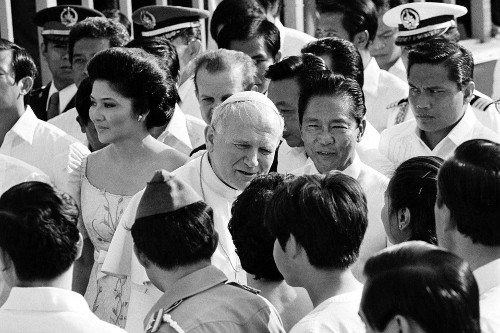 In his 1981 book Progress and Martial Law, President Ferdinand Marcos enumerated eight assassination attempts against him in 1972 alone, the first seven of them being from February 13 to August, the eighth undated.