Duterte's war on drugs suspended to start war on police scalawags
Tuesday January 31, 2017 ()
Philippine National Police chief Ronald "Bato" dela Rosa suspended the government's war on drugs on Monday, January 30, 2017, and created a new unit to go after police scalawags, hours after President Rodrigo Duterte described the police force as "corrupt to the core," with 40 percent of cops involved in illegal activities. Dela Rosa said:
"You crooked policemen, prepare now. We have temporarily halted our war on drugs. What we have now is a war on scalawags."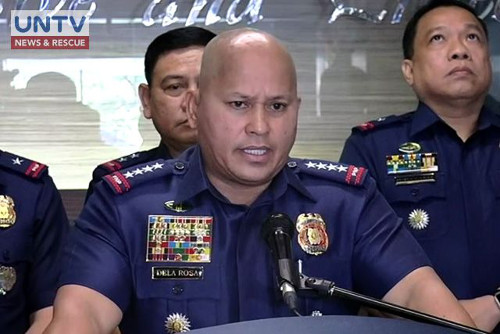 The campaign against rogue policemen was launched in response to a scandal in which members of the PNP Anti-Illegal Drugs Group were accused of abducting and killing South Korean businessman Jee Ick Joo and extorting P5 million from his wife.
In a midnight news conference, Duterte said the police force was "corrupt to the core" and ordered the dissolution of all its anti-drug units.
Duterte told reporters as he railed against the anti-drug officers who allegedly masterminded Jee's murder inside national police headquarters:
"You policemen are the most corrupt. You are corrupt to the core. It's in your system."
"When I said I'll protect the police, I'll protect the police. But I won't protect lying."
"This killing a Korean ... They could have killed, strangled him anywhere but ... it had to happen inside Camp Crame. [This] is really bad, we admit that. Something has to be corrected severely."
"Because of this sordid incident, let me reorganize the system. My enemies here are the police who are criminals."
Duterte admitted he was embarrassed by the kidnap-slay scandal, after defending the police repeatedly over the administration's bloody war on drugs.
His comments came seven months after he took office and immediately tasked police with being the frontline troops in his plans to wipe out the illegal drug trade that he said was threatening to turn the Philippines into a narco state.
Since then, police have reported shooting dead more than 2,500 people they have accused of being drug suspects, alleging on every occasion they had to open fire in self-defense.
Human rights groups and relatives of some of the victims have alleged police frequently shoot dead defenseless people, and often plant drugs and a gun on the bullet-riddled corpse.
Nearly 4,000 other people have died in unexplained circumstances in the crackdown, according to official figures.
Many of those victims have had signs placed on them labeling them drug traffickers or users.
On Monday, Dela Rosa said he would create a Counter Intelligence Task Force composed of 100 policemen headed by an official "with integrity and good morals" to go after scalawags inside the police force:
"This unit will police the police. We will ensure that the leader is beyond question, beyond doubt and with good moral character, and more importantly brave against bad policemen."
The new task force would concentrate on Metro Manila and Central Luzon, two regions that are supposed to be the most corrupt.
"For a start it will composed of 100 policemen composed of good men tasked to operate against scalawags in a syndicate," Dela Rosa said, noting that the group will report directly to his office.
Dela Rosa said the involvement of rogue policemen in legitimate operations has tainted the government's anti-illegal drugs war, with policemen planting evidence then extorting money from their victims.
He expressed regret that Duterte's war on drugs would lose momentum as a result of the "stupidity" of some policemen. Dela Rosa said:
"This a momentary defeat on our part because we stop [the anti-drugs campaign] but we will continue the war later, once we have retooled our troops [and] cleansed our ranks," Dela Rosa said. "Everything will be ready to fight again another day."
"As for the drug lords, you have your day. This is your day. You may achieve your victory right now or this day maybe but as I have said, this is momentary victory on your part. You enjoy. There is always a time for reckoning."
With the PNP-AIDG dissolved, the Philippine Drug Enforcement Agency will assume the responsibility of waging the war on illegal drugs, but the police would still cooperate with the agency and local government units, Dela Rosa added.
Dela Rosa said the morale of the entire PNP has been rocked by the Jee scandal:
"As directed by the President, we agree to dissolve all anti-drug units at all levels, including [the] Anti-Illegal Drugs Group."
"We will cleanse our ranks ... then maybe after that, we can resume our war on drugs. The President told us to clean the organization first."
"I don't know how long it will take to cleanse the PNP. But with each and every one of us cooperating, helping each other, maybe in a month, we can do it."
The President also said a PNP oversight committee will be created to look into the policemen who have been dismissed but found their way back to duty.
Duterte said policemen who had extortion cases against them would be sent to Mindanao to deal with terrorist groups as punishment.
"This cleansing is easy. All we have to do is look at the records of how many policemen have had cases, mostly involving extortion, and if they are reinstated—it's over with ... I'll just gather them, bring them new uniforms, new combat boots. I have to have a strong presence in Basilan and Lanao, they'll be the first I send there."
Duterte added he would asked Congress to revisit the Philippine National Police law to simplify the police titles and units.
Sources:
Various online news outlets