Marcos camp urged Robredo lawyer, Macalintal, to stop talking like a Supreme Court justice
Wednesday February 01, 2017 ()
The camp of former Senator Ferdinand "Bongbong" Marcos Jr. on Wednesday, February 1, 2017, urged the lawyer of Leni Robredo to stop giving pronouncements as if he is a justice of the Supreme Court.
Lawyer for Bongbong Marcos, Vic Rodriguez said: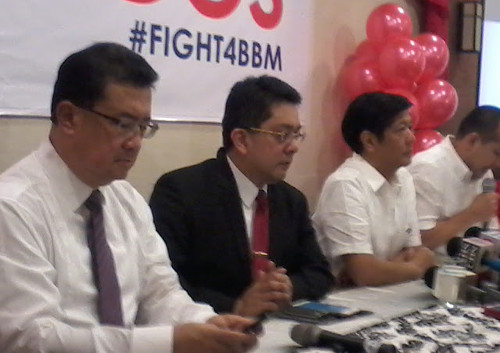 "Macalintal should not speak for the Supreme Court or on behalf of any of its esteemed justices. We can understand that he and Robredo are apprehensive now that the pieces of evidence of cheating in the last election are coming out."
"The resolve of Senator Marcos is intense and we will prove before the PET (Presidential Electoral Tribunal) that indeed Robredo cheated her way to the vice presidency."
Rodriguez is referring to Romulo Macalintal lawyer for Robredo.
Macalintal on Tuesday, January 31, 2017, challenged Rodriguez and Marcos to sign a memorandum of agreement that they will withdraw their electoral complaint against Robredo if the Marcos camp fails to present proof of massive electoral fraud on the 13 secure digital (SD) cards retrieved from unused Vote Counting Machines (VCMs). Robredo's lawyer said Marcos' allegation of massive poll cheating is baseless and frivolous.
Macalintal challenged Rodriguez to sign a document promising to relinquish his legal license once their allegations are proven wrong. Macalintal vowed to do the same if the poll charges were upheld.
The Marcos camp believes that the "unused" VCMs were used in padding the votes of Robredo.
The PET has yet to order the recount of votes from at least four provinces. The Marcos camp believes that once a recount is made, the 260,000 lead of Robredo will be overtaken.
The Supreme Court has ordered the Commission of Elections to preserve all related machines and materials that were used during the 2016 polls, including the unused SD cards.
Sources:
Various online news outlets