Filipino taxpayers to pay up Belgian firm on Arroyo project cancelled illegally by BS Aquino
Tuesday February 07, 2017 ()
The Department of Finance (DOF) will review a ruling by a World Bank arbitration court that requires the Philippines to shell out P800 million to a Belgian dredging firm for the cancellation of the Laguna Lake Rehabilitation Project (LLRP) during the Aquino administration, and will pay up if needed. Finance Secretary Carlos Dominguez III said:
"As President [Rodrigo] Duterte has said, we will always honor all our obligations. So we are reviewing the decision and as soon as we finish the review—if our review indicates that we should pay, we will pay."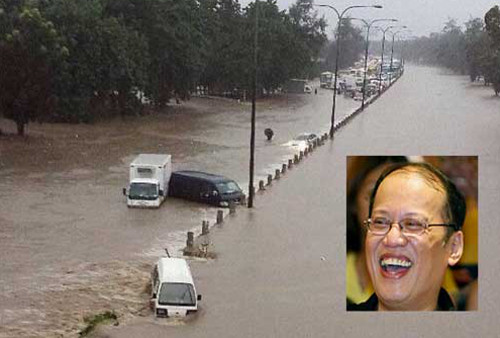 "We just got the documents a few days ago so we'll go over it carefully and we'll see what legal remedies there are. If we have to pay, we will pay."
The Manila Times columnist Rigoberto Tiglao broke the news of the January 23, 2017 decision of the World Bank's International Center for Investment Disputes (ICSID) that found that President Benigno Aquino III's unilateral cancellation in 2011 of the P18-billion flood-control project, awarded to Belgium's Baagerwerken Decloedt En Zoon (BDZ), was illegal and unfair.
The project could have reduced flooding in Metro Manila by 2012, the target completion date, and would have required little cash outlay from the Philippine government as BNP Paribas was willing to provide financing, Tiglao noted.
Tiglao, who served as Palace spokesman during the Arroyo administration, pointed out that taxpayers would be made to unjustly pay for the scuttled deal when it was Aquino's sole decision, borne out of "his irrational, apoplectic bias that everything his predecessor President Arroyo, did or planned was corrupt."
Tiglao noted that the 150-year-old BDZ was "one of the biggest and most respected firms in the dredging industry," and no less than Belgian Prime Minister Yves Leterme vouched for the project's integrity.
Aquino's decision was executed by his Finance secretary, Cesar Purisima, who refused to sign Belgium's P7-bilion grant for the project.
Dominguez noted that the Philippines had a record of paying up for costly decisions made in the past.
"We have a track record of doing that," he said, referring to the government's payment of P20.475 billion to Philippine International Air Terminals Co. Inc. (Piatco) following a Supreme Court decision voiding the contract to build the Ninoy Aquino International Airport terminal 3.
The Laguna Lake project was designed to save the polluted freshwater lake and would have dredged it of 4.6 million cubic meters of silt and waste so it would contain more floodwaters.
The project would have also involved the deepening of the critical 7-kilometer Napindan Channel in Taytay, Rizal to allow it to more quickly draw floodwaters away from the metropolis to the lake.
Sources:
Various online news outlets