How a mass murderer who confessed killing 200 people at the senate hall walked free
Wednesday March 15, 2017 ()
This is as surreal as it can get: a retired police officer just confessed to killing 200 people over the course of his long career as a cop/assassin. Senators who heard his confession were unruffled, and the murderer walked out the door.
It boggles the mind as to how this insanity can happen in the supposedly august halls of the Senate. But then this is the Philippines, where politicians can do the most perplexing things and still manage to get re-elected.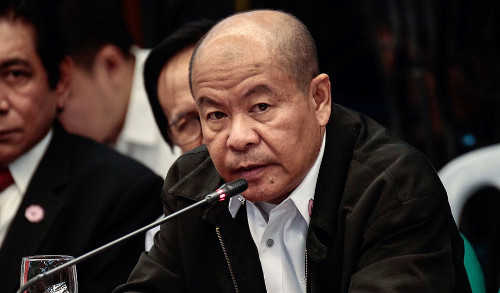 We've long ago conceded that our legislators love their public hearings, with full media attendance and the requisite resource person. The more controversial, the better for ratings.
Like reality show stars who need constant exposure to remain relevant, these public servants must have their "hearings in aid of legislation". Never mind that the public do not actually see any legislation being passed.
Like that other self-confessed killer, Edgar Matobato, Arthur Lascañas' testimony before the Senate committee on public order was a dud.
Like Matobato, Lascañas tried to link President Rodrigo Duterte to the killings of the spectral Davao Death Squad. The problem is there's no proof, no corroborating evidence, or no "probative value" as Senator Panfilo Lacson put it.
Lascañas' much-vaunted journal, written in perfect English with literary flourish (he read the Belgian banker Pascal Roussel's The Divine Trap? Seriously?), cannot count as evidence because its provenance is dubious, and its goal of mudslinging obvious.
Lacson had the good sense to end the hearing after that one episode, and we heard the collective thanks of the taxpaying public.
But if Senator Richard Gordon had his way this was a hearing that should have been rejected in the first place. After all, Lascañas' already told the Senate in October 2016 that there was no Davao Death Squad and now he wants to recant that.
But perjury should be the least of Lascañas' worries. Multiple murder charges, extortion, kidnapping and other crimes are worse, to say the least, especially now that the Lower House has approved the death penalty.
Lascañas' buddy, confessed hitman Edgar Matobato was arrested recently on a charge of frustrated murder; he is currently out on bail. He is also facing a case of possession of illegal firearms for which he was able to get a rich sponsor to pay the bail. See, our legal system works; I daresay it is too kind to self-confessed killers.
Lascañas and Matobato both have expressed interest in testifying before the International Criminal Court in the Hague. It seems local media coverage, following their extensive testimonies and interviews, are not enough for these badfellas. They'd rather go international.
We hope that Lacson, Gordon, and the other sensible senators will take no heed of Lascañas' teaser that there are four more members of his "Davao Death Squad," all killers like him, willing to give public testimony.
If the senators who support these people insist on another hearing, then I suggest that the Department of Justice and the Philippine National Police show up at the Senate and arrest the loonies as soon as they confess to their crimes.
Lascañas claims that he's speaking up only now, 30 years after his supposed crimes, because he had a "spiritual renewal" after his kidney transplant. Under questioning from the senators, however, he admitted to trying four times to gain a lucrative government contract but failing each time.
That pseudo-spirituality should have been a red flag to the senators. If he was truly a changed man, he would have gone straight to the police, signed a confession and have himself jailed for being a serial killer.
Instead, he calls a press conference, gives a cocky testimony without a tinge of remorse, and pins the blame on the highest official of the land. This is no divine trap, just straight up crazy.
Sources:
Lascañas and the Senate: A political reality show gone dud by Getsy Tiglao , March 14, 2017, Manila Bulletin
(This article is adapted from the source listed above. We are unable to grant permission for any kind of reproduction other than social media shares.)