Raps against Trillanes being considered; some evidence vs De Lima from America's DEA
Thursday March 16, 2017 ()
The Palace is considering filing charges against President Duterte's main critic Senator Antonio Trillanes IV after Senator Panfilo Lacson linked him to destabilization efforts against President Duterte, a Palace official said yesterday, March 15, 2017.
Chief Presidential Legal Counsel Salvador Panelo said legal actions against Trillanes and his cohorts are being reviewed. Panelo said on radio: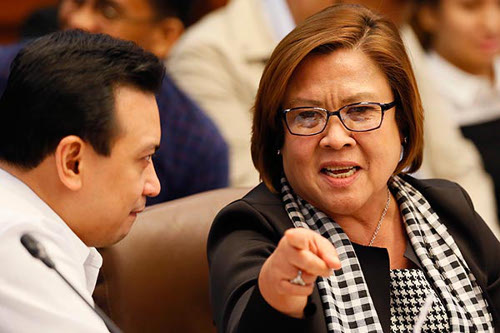 "We can file charges against them so they will know that they are committing a big mistake and that they are trying to create mayhem against the administration. Instead of helping, they are spreading fears and are destroying the reputation of the President."
The President's lawyer claimed that the administration will not find it difficult to comeup with evidence against Trillanes. He added:
"His mere statements publicly done by him or others, we can use these as evidence. It is the Department of Justice's (DoJ) call if charges will be filed against Trillanes."
Earlier, Panelo said that there's a need to review Trillanes' amnesty from rebellion charges granted him by former President Benigno Aquino in 2010.
Solicitor General Jose Calida also expressed the possibility of filing charges against Trillanes for coddling self-confessed members of the notorious Davao Death Squad (DDS) Edgar Matobato and retired Davao Police chief SPO3 Arturo Lascañas all of whom have been touring media to spread allegations against Mr. Duterte's supposed links with the DDS during his two-decade stint as Davao City Mayor.
The Senate committee on justice and human rights already came up with a report stating that the DDS did not exist and that there is no proof of state-sponsored extrajudicial killings (EJK).
Mr. Duterte also sought the support of his allies in the Senate majority bloc amid the destabilization threats, Senator Miguel Zubiri told reporters.
Zubiri said Mr. Duterte ended a two-hour dinner with senators last Tuesday night with the appeal for support:
"The meeting was very light and he asked us to support him."
Zubiri said Mr. Duterte never sought any other "favors or help", only issuing an appeal for the legislators to "give me some time to clean up this problem of peace and order and the economy".
He also sought support for the projects that he's trying to push such as anti-poverty programs so that he can make it work," Zubiri added.
Zubiri said the President "didn't look bothered about the reported efforts to oust him." He described Mr. Duterte's appeal as "a very sincere request that also touched our hearts":
"Many of us felt that we should support our President, that we should give him a chance. It hasn't even been 10 months."
Senate President Aquilino "Koko" Pimentel said the President had no particular agenda in meeting the senators:
"There was no expected output except that we get to have a dinner with the President and we get to know him better."
For Senator Grace Poe said it was a cordial meeting with Mr. Duterte, which was the first time for her since the May 2016 elections, wherin she and the President contested the top elective post. She said:
"It was happy, very light. We have known each other for a long time. So it was comfortable, I can say it was a light, happy chat."
15 solons met Rody
Fifteen senators who are members of the majority bloc share the "intimate dinner" with Mr. Duterte. Senator JV Ejercito shared a photo of their dinner on his social media accounts noting that they met to discuss the proposed tax reform:
"Intimate dinner between President Duterte and my colleagues in the Senate. We discussed the proposed tax reform."
Ejercito said later noting that ongoing investigations were not brought up:
"The proposed tax reform measure was discussed with the President tonight."
Aside from Ejercito, also in the photo were Pimentel, Senate President Pro-Tempore Ralph Recto, Senate and Majority Leader Vicente Sotto III.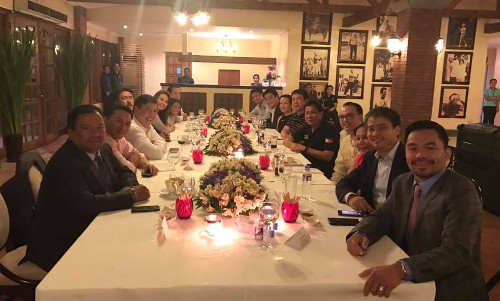 Senators Manny Pacquiao, Joel Villanueva, Cynthia Villar, Alan Peter Cayetano, Poe, Zubiri, Sherwin Gatchalian, Dick Gordon, Nancy Binay, Loren Legarda and Juan Edgardo Angara were also in the meeting. The three other members of the Senate majority bloc who were not present were Senators Francis Escudero, Gringo Honasan and Panfilo Lacson.
Last February 27, senators belonging to the Liberal Party (LP) were booted out from the majority after they were ousted from key positions and chairmanships.
De Lima links bared
Senators added some of the evidence that the government has in its possession on alleged derogatory information against detained Senator Leila de Lima on her supposed drug links.
The President who cited reports coming from international intelligence agencies, were also shared.
The matter was disclosed during Tuesday night's dinner of the new members of the Senate majority bloc with the President Duterte at the Presidential Security Group (PSG) club house inside Malacañang Park.
Ejercito admitted that de Lima's name was mentioned in passing as the President discussed lengthily with them his renewed war against drugs, which was the most serious topic so far that night, the rest of the evening revolved around mostly personal and very light conversation.
Intel reports on Leila from home and abroad
From what he could recall, Ejercito said Duterte did not dwell much on de Lima's case. He said in an interview with reporters:
"He only said the evidence against her, was intelligence supplied. It's not only the locals that supplied the intelligence report against de Lima. It was only up to that, based on my memory."
Allegedly, the source of the information was the United States' Drug Enforcement Administration (DEA) submitted to the US State Department which the National Intelligence Coordinating Agency (NICA) was furnished with, Senate sources said.
The matter was confirmed by Senator Richard Gordon who also corroborated what Ejercito had relayed to reporters. Gordon said he was surprised to hear it from the President.
Pacquiao appeared to be convinced by the revelations of the President.
Pimentel was conspicuously cautious in discussing with Senate reporters what had transpired the night before even as some of his colleagues provided some details on the issues discussed. He said when cornered by reporters prior to their afternoon plenary proceedings:
"The food was good. We should start the plenary session."
Pimentel admitted being the one who sought an audience with the President for the Chief Executive to meet the "new" members of the Senate majority bloc:
"That has been scheduled. I requested for the meeting."
Sources:
Malacañang mulls filing raps vs Trillanes by Angie Rosales , March 16, 2017, The Daily Tribune
(This article is adapted from the source listed above. We are unable to grant permission for any kind of reproduction other than social media shares.)