Yellow protector Ombudsman Morales freed the guilty and jailed the innocents
Tuesday April 04, 2017 ()
There really is much more than a grain of truth in Rody's claim that Noynoy Aquino and his then Budget Secretary Butch Abad had misused the infamous Disbursement Acceleration Program funds, even if Noynoy and his yellow protector, Ombudsman Conchita Carpio-Morales, had absolved Noynoy as she turned two blind eyes on Noynoy's blatant misuse of the DAP funds.
At a press conference during his visit to wounded soldiers in Camp Evangelista in Cagayan de Oro City, Mr. Duterte also criticized prominent media organizations anew for merely reporting critically against his administration while forgetting the issues left behind by the Aquino administration: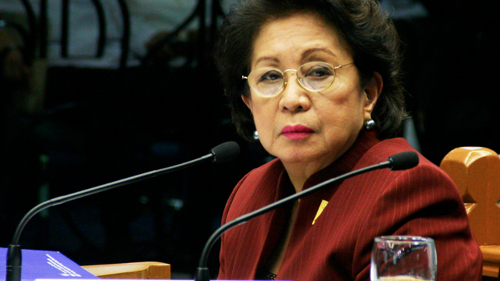 "You in the media, the government is always your subject. Why not dig about Abad or former President Aquino?" Mr. Duterte said.
"Did you know that Aquino and Abad kept on using DAP (funds) even after the Supreme Court said that it is unconstitutional as if it was nobody's business?"
The undeniable truth is that Noynoy and Abad certainly misused the DAP funds when they gave each senator who convicted then Supreme Court Chief Justice, the late Renato Corona, whom he wanted removed for having ruled that the Cojuangco-Aquino Hacienda Luisita had to be parceled to the hacienda's tenants.
Noynoy first bribed the congressmen to impeach Corona with billions in DAP funds. And the House of Representatives under a yellow speaker, Sonny Belmonte, came out with a rushed impeachment complaint against Corona where virtually overnight, more than three quarters and a half of the members of the House signed the impeachment complaint, without even reading it. This was just as quickly submitted to the Senate.
That was not all. The second bribery in the DAP billions by Noynoy, then President of the Republic, came when he bribed each senator to convict Corona, which was passed off by the Palace to the senators as "incentives."
It is certain that more DAP funds were misused elsewhere, more as "patronage" for political support or even maybe pocketing some funds for themselves.
In time, all these will be bared and proven, just as the pork barrel funds of Noynoy and Mar Roxas' pork funds misuse that were markedly never were audited by another yellow devotee, then Commission on Audit (CoA) chairman, despite the fact that Noynoy and Mar, having been members of the House and the Senate for years on end, certainly had their pork barrel allocations.
Even those yellow allies of Noynoy then had an incomplete audit by the CoA, but not in the case of three opposition senators, who were targeted by the vindictive Noynoy as his exhibits and passed them off as an achievement in his hypocritical drive against corruption.
Yet only the opposition three senators have been charged by Ombudsman Morales of plunder before the Sandiganbyan.
And the misuse of the DAP funds through bribery was not the only criminal act that Noynoy and Butch Abad had committed, yet every single time, the Ombudsman absolved them of any irregularity and she has the face to claim that she is unbiased and not partisan.
Imagine Morales, in absolving Noynoy, claimed that he could not be impeached, when the case is not about impeachment in the Ombudsman's office, and even more telling, she could have filed a case against Noynoy as he was already out of office then.
A president and any impeachable officer can be charged after his tenure. And she certainly knows that, since she filed a case against former Vice President Jojo Binay after he lost the election to Rody Duterte.
Yet even as Binay was still the sitting vice president, the very politically biased Ombudsman made public that she was charging Binay for graft and corruption, if not plunder but that she is merely awaiting the time he leaves the vice presidential post to formally charge him. And she did. Very quickly.
But not in the case against Noynoy. She never gave him the same treatment she gave Binay. Instead, she took forever to come up with the complaints filed against Noynoy.
And true enough, when she did, Morales absolved him, then believing that the anti-Noynoy groups would be placated by charging Butch Abad, and with just a fine consisting of his three months salary. She also absolved Noynoy earlier on his role in the Mamasapano massacre, where he, the Commander in Chief of all the armed forces of the Philippines, which consists of the military, did nothing to save the 44 Special Action Force commandos' lives, and this, despite the fact that he was watching the massacre by the Muslim rebels, which included the Moro Islamic Liberation Front, in real time. He refused to have the military use its air power and reinforcements on the Muslim rebels. That should have been enough to have him impeached, or at the very least charged in court after his tenure for such an act of refusing to aid his troops.
But there is a problem that only Rody can solve, to ensure that Noynoy and his money sidekick, Abad, get charged and jailed.
Rody should quietly ask Ombudsman Morales to resign or be impeached, if she refuses to quit.
Otherwise, everything will have to wait until after July 2018, when Morales finishes her tenure to get these national yellow pests charged criminally, arrested and detained.
She has freed the guilty and jailed the innocents.
Sources:
(This article is adapted from the source listed above. We are unable to grant permission for any kind of reproduction other than social media shares.)