Sacking of Sueno brought yet another speculation about DILG Secretary Bongbong
Wednesday April 05, 2017 ()
Presidential spokesman Ernesto Abella, in announcing to the media formally that Department of the Interior Secretary (DILG) Ismael Sueno had been dismissed by President Duterte, said Sueno's summary dismissal "served as a warning that the President would not allow any questionable or legally untenable decisions by any member of the Cabinet", no matter the friendship.
Duterte is off to a very-good-start in projecting his determination to rid the country of illegal drugs and corruption. Now people know that he walks the talk, which is good for leaders.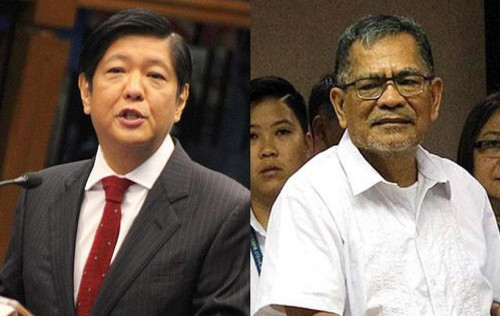 Media reports also said that a confidential memorandum sent to President Duterte alleged that the DILG secretary had abused his position. Other sources claimed that Sueno's firing allegedly was due to corruption. Sueno, who had convinced the then Davao City mayor to run for the presidency, denied the claims.
In a statement, Sueno said:
"We serve at the pleasure of the President. It is within his power, wisdom and discretion to appoint members of his Cabinet."
"With the information being floated about the change at the helm of the DILG, I take no offense whatsoever. It is business as usual for me as I dispense my duties and functions with the blessings of President Duterte."
With all the media buzz about Sueno's sacking, there went yet another speculation brought about by a yellow congressman, who said the sacking of Sueno opened the possibility of former Senator Ferdinand "Bongbong" Marcos, a friend of President Duterte, being appointed to the Cabinet.
Said Akbayan Rep. Tom Villarin:
"Secretary Sueno's firing will pave the way for the appointment of the former dictator's son and namesake to the Department of Interior and Local Government post."
"The Marcoses never had this so good under Duterte."
Akbayan however, shouldn't talk like a sanctimonious shit since the Akbayans in congress never had it so good under then President Noynoy Aquino.
But Villarin is guessing and coming up with that tale because he is a yellow who supports Leni Robredo.
He knows that if Bongbong Marcos accepts an offer of President Duterte of taking over the DILG post - which had already been offered to him much earlier, and refused - his protest against the victory of Robredo before the Presidential Electoral Tribunal (PET) will be lost as the PET may rule that Marcos had abandoned his protest.
No doubt this is what Leni and her lawyers are waiting for.
But why settle for a Cabinet post when Marcos can be vice president?