President Duterte's ratings dropped but remained high despite moves to destabilize his administration
Thursday April 06, 2017 ()
President Duterte's performance and trust ratings in the periodic Pulse Asia polls remain at above 75 percent despite the volley of criticisms, including from international groups and foreign countries, culminating in the filing of an impeachment complaint last March 16, 2017, which was branded as a ploy to erode his survey ratings as part of moves to destabilize his administration.
Pulse Asia's "Ulat ng Bayan" survey released April 5, 2017, conducted from March 15 to 20, 2017, showed the performance rating of the President dropped 5 points nationally, from 83 percent in December 2016 to 78 percent in March while his trust rating also dropped 7 points, from 83 percent last December to 76 percent in March. Pulse Asia said in its survey: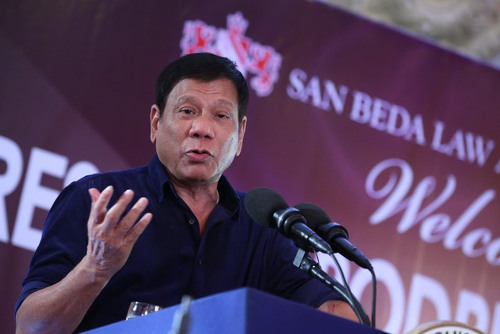 "Approval and trust continue to be the predominant sentiments toward President Rodrgio R. Duterte in March 2017; public assessment of the President's performane and trustworthiness remains generally unchanged between December 2016 and March 2017, with the exception of the 7-percentage point decline in his national trust score."
Malacañang read the results as indicating a large majority of Filipinos still trust Mr. Duterte despite all the "vicious noise" orchestrated by his fiercest critics. Presidential spokesman Ernesto Abella said in a statement:
"The continued high approval of PRRD (President Rodrigo Roa Duterte) as validated by the latest survey results, proves that the majority appreciate the decisiveness of President Duterte."
"The people continue to embrace the President's vision of a nation that works for the prosperity of all; a trustworthy government; and lasting peace, considering that the survey coincided with vicious noise from the President's fiercest critics."
Abella also enumerated the "vicious noise" as including the filing of an impeachment complaint against Duterte last March 16; the Senate appearance of a self-confessed but perjured assassin; human rights reports highly critical of the Duterte administration's campaign against illegal drug traffickers and violators and the internationally aired video message of Robredo attacking the war on drugs among others.
Abella said the high confidence level enjoyed by President Duterte among Filipinos have also proven that "the attacks of opportunists like (Senator Antonio) Trillanes and his ilk are baseless and malicious". Abella added:
"Nevertheless, the seemingly orchestrated events from parties threatened by the housecleaning efforts of the current administration have not dampened the sentiments of the common people, and those unheard and underserved by past administrations."
Mr. Duterte's survey ratings remain high despite a slight dip which means Filipinos are still confident of his ability to lead the country, senators added.
Senators including a member of the opposition bloc, dismissed any significance in the drop of the performance and trust ratings of Mr. Duterte, saying there's nothing unusual about it.
Senators Panfilo Lacson, Win Gatchalian as well as Francis "Kiko" Pangilinan, president of the opposition Liberal Party (LP), shared the view that the slight fall in his popularity and approval ratings is nothing unusual. Lacson said in a text message to reporters:
"It's not unusual for the trust and performance ratings of any head of state in our country to slide in the course of time. The 'honeymoon' period will last sooner or later but it will come to that anyway. A five to seven percentage point drop is not significant and shouldn't ring alarm bells at this point."
Coming poll results crucial
But if the drop in his standing continues in big numbers in the coming months and consistently in his second year in office, Lacson said that is something that should already alarm Malacañang:
"If I were him (if that happens), I would sit down with trusted advisers to assess and make some adjustments if necessary, not only in terms of policies and actual implementation of those policies but more so in his public pronouncements."
"At the end of the day, rightly or wrongly, a leader should somehow adapt to what the people want or demand of him to do to serve them if he wanted to succeed. Needless to say, the support of the people a leader serves is one indispensable element in governance."
Pangilinan sided with Lacson saying that all presidents before him also experienced very high trust ratings at the start of their terms and eventually also suffered a dip thereafter:
"So there's really nothing unusual with the five-point drop. His ratings remain high and I hope he uses his high trust ratings to address the main concerns of our citizens which are to address the rising prices of goods, create better paying jobs and improve incomes."
If anything, Gatchalian said, these results illustrate how deeply the Filipino trust the President and how much they believe in his vision for the country:
"In my opinion, this survey does not reflect a significant drop in the President's approval ratings. Over the past few months, President Duterte has been subjected to an unprecedented amount of international criticism and negative publicity. However, despite all of the attacks launched against him, a commanding super-majority of the Filipino people remains confident in Pres. Duterte's ability to lead our country."
Akbayan Senator Risa Hontiveros disagreed with the views of her colleague, saying that the five-point drop in the President's performance rating and seven-point decrease in trust ratings from the previous survey should alarm Duterte. She said:
"President Duterte should read the writing on the wall. Duterte may remain popular at the moment, but people are starting to doubt the administration and its barbaric methods of addressing the country's drug problem."
Hardly a dent
Davao Representative Karlo Nograles said, despite the unrelenting attacks against the President brought about by those who seek to destabilize his administration, the numbers show that they hardly made a dent in the hearts and minds of the Filipino people. He added:
"The President continues to enjoy high trust and performance ratings among all social classes and the different regions."
Nograles said that the survey shows that no amount of black propaganda can weaken the foundation of Mr. Duterte's support and that is the people's collective desire for true and meaningful change.
However, House opposition stalwart Ifugao Rep Teddy Brawner Baguilat said Mr. Duterte's ratings plunged despite his camp's "enormous social media propaganda." He conceded though that in the upper and middle class (A, B and C) where the issue of criminality is high Duterte's rating went up. "But in the lower D and E class, his rating went down", adding that this may have been caused by growing poverty as a result of inflation:
"But an overall rating of 76 percent is still high."
Nograles believes that Duterte's war against illegal drugs, aggressive foreign policy and anti-corruption crusade are creating waves and challenging the status quo but, admittedly, may be ruffling some feathers. He said that the numbers continue to show that a vast majority of our people still want to see the President pursue his agenda for change:
"From day one, the President has been very candid; he admitted that times will be challenging and the road ahead will be bumpy. Change will have its consequences. But I believe that is why people trust him; because he is brutally frank and makes no inhibitions."
Sources:
DU30 retains high Pulse grade amid "vicious noise" by Gerry Baldo and Angie M. Rosales, April 6, 2017, The Daily Tribune
(This article is adapted from the source listed above. We are unable to grant permission for any kind of reproduction other than social media shares.)