The drama-adventure of Lascañas amid supposed threats of lawsuits
Tuesday April 11, 2017 ()
It is not surprising that retired police Superintendent Arturo Lascañas fled the country for Singapore last Saturday, April 8, 2017, with no intention to return to the Philippines, even if his ticket claims he would be back on the 22nd of this month.
Lascañas took a flight bound for Singapore last Saturday as an Inquirer report said he received threats that a lawsuit would be filed against him, and that some people were looking for him.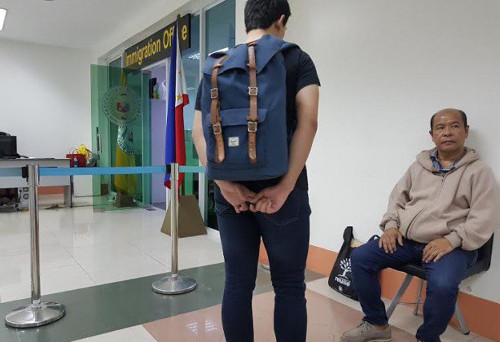 The report also quoted Lascañas as saying that he might either be jailed or killed once he returns home.
What drama he concocts, which is probably what his handler told him to say.
But it does looks like he has no plans of returning since he told a newsman who was with him that he would not be returning to the country, as he already knew that a case is being prepared against him.
His problem, however, is that with the Inquirer newsman who was with Lascañas and had the story published, it may not be long when Lascañas is deported to the Philippines by the Singaporean authorities, unless of course, he also leaves Singapore before his claimed return to the country and travels to another country. But that's his problem.
Surely he knows that there is a Singapore Embassy in Manila, whose officials read the newspapers, and can easily alert the Singapore authorities to check on Lascañas, along with his wife and children, who left much earlier, and before he gave an interview in the Senate arranged by his handler, Senator Antonio Trillanes, who along with his Magdalo men, have been hiding him and another witness, Edgar Matobato, in a safehouse, and presumably, providing them with whatever basic necessities they need.
After all, anytime the anti-Duterte media, as well as the foreign correspondents from New York Times and others seek an interview with these two perjury-prone witnesses, they get to interview them in an undisclosed location, which no doubt is their safehouse.
The question is, who do these media interviewers call for an interview with Matobato and Lascañas, if not Trillanes?
And even more important question, asked by Senator Ping Lacson is, who spent for Lascañas' trip to Singapore and earlier too, who spent for his family members' trip to Singapore and perhaps elsewhere in Southeast Asia, where Filipinos do not need a visa for for a short stay in any of these Asean countries?
Obviously, his handler Trillanes, who has kept him in the safehouse for so long, must have given Lascañas the funds for his travel and who hid family members who left for Singapore earlier, even before he testified at the Senate.
And Singapore is a fairly expensive place in which to live.
Senator Tito Sotto remarked that the decision of Lascañas to leave the country amid supposed threats of a lawsuit proves that his allegations against President Rodrigo Duterte are "unfounded". Sotto added:
"It's not the guilt that worries me, he admits the guilt. It's the avoidance of confrontation when faced with his two testimonies that raises an eyebrow; three if you count the media statements that differ from the rest."
The way I see it, Lascañas was nothing but a paid witness.
He did testify the first time before the Senate where he denied that the Davao Death Squad exists. In another testimony before the Senate, he retracted his earlier testimony, saying that the first time, he lied because he was scared of President Rody Duterte.
Yet he testified against Duterte when Duterte is already the President, and he wasn't scared because his conscience is now clean, since he had a "spiritual experience" when he had a kidney transplant that was done months earlier, before he testified the first time?
He claims to have had a spiritual experience, which did not change Lacañas, since he lied too many times after his experience . He even claimed that he is not scared of Duterte, or even of the charges he will have to face, yet he flies off to Singapore to join his family, who is also overstaying in Singapore. As they probably do not have a Singapore resident visa.
But what he doesn't make sense, especially when he leaves the country for Singapore, because of the threat of lawsuits against him, yet he claimed he was not afraid of the lawsuits against him.
Boy, do the witnesses of Trillanes and Leila de Lima spew a lot of bullcrap and swearing by it too.
As Lacson pointed out on the question of who paid for the trip, he replied that "most likely those who sponsored his retraction and his tri-media interviews in an apparent effort to bring down President Duterte."
Lacson said this flight of Lascañas will be mentioned in his report and read before the plenary.
Lacson should question the senator who helped Lascañas flee the country.
Earlier, Leila de Lima advised her former lover to go into hiding, so he would not be questioned before the House hearing. They should both be brought before the Senate ethics committee and they should be expelled.
Sources:
(This article is adapted from the source listed above. We are unable to grant permission for any kind of reproduction other than social media shares.)