Literally sleeping with the enemy - the affair of a policewoman and a terrorist
Thursday April 27, 2017 ()
The foiled attempt of the Abu Sayyaf to kidnap local and foreign tourists in Bohol has just gotten more complicated with the arrest of Police Superintendent Maria Cristina Nobleza. She and a known Abu Sayyaf bomb maker, Reener Lou Dongon who learned his trade from the notorious Malaysian terrorist Zulkifli Bin Hir alias Marwan, were arrested at a checkpoint in Barangay Bacani, Clarin, Bohol. As it turned out, Nobleza who is married and is 49 years old and Dongon, alias Kudre, 25, are lovers. Chief PNP Bato de la Rosa is therefore right when he said that Nobleza is sleeping with the enemy.
President Duterte was also understandably furious when informed of what Nobleza did. Since the President said that he was willing to eat the liver of those remaining three Abu Sayyaf in Bohol, perhaps he might consider adding the liver of Nobleza to the mix.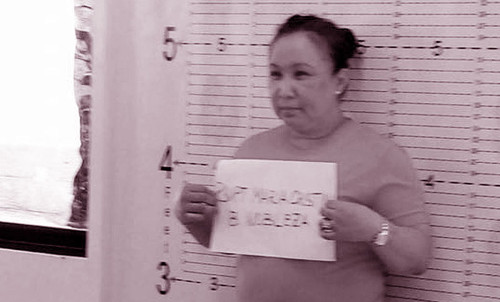 Kidding aside, what could have motivated Nobleza to throw away everything that she has worked for in order to work for the Abu Sayyaf? The simple and obvious answer is probably because of love. But it could be a little more complicated than that. Nobleza after all, is 24 years older—old enough to be Dongon's mother. She could have been converted to Islam. Throughout the history of warfare and espionage, sex has been used as a powerful weapon to gain advantage over ones' enemy. We have seen this depicted in many movies and have read many accounts in best-selling books of good people being made to help the enemy.
Often, it was a case of women seducing men. There are however, times when it is the other way around. The earliest known story of this so called honey trap is all too familiar to all of us. It is the story of Samson and Delilah who revealed to the Philistines the weakness of Samson for 1100 pieces of silver.
Fast forward to the 20th century was the case of the Dutch spy Mata Hari who was executed in 1917 for passing secrets to the Germans. The case of Mordechai Vanunu, the Israeli who revealed the secrets of Israel's nuclear capability was seduced by a woman in London, presumably a Mossad agent and lured to Rome where he was captured by Mossad agents.
In 1987, Clayton Lonetree became the first US marine to be convicted of espionage. His crime? He passed secrets to the Russians after being seduced by a Russian female agent. In 1978, Sandanista agent Nora Astorga, lured a Nicaraguan general to her bedroom where the general was killed. When it comes to the use of female spies to target persons of interest for blackmail or recruitment, no one beats the Russians in this game. It has been said that the Russian government does not ask female spies to die for their country. The government asks them to lay down for their country. The East German intelligence Stasi however, did the opposite. They sent Romeos to the then West Germany to seduce middle aged female secretaries working for important officials. This appears to be what happened to Nobleza. A young man seducing a middle-aged woman.
For Nobleza, it appears that love is the motivating factor. Reports has it that her relationship with her husband is strained, not to mention the fact that they are separated because of her husband's assignment as our Police attaché in Pakistan. Nobleza therefore is what we might term as the ideal target for recruitment: Lonely and in need of companionship. Fortunately for us, she is not very bright. She is careless, clumsy and has committed many mistakes. But credit must be given to the people and our security services in Bohol. Throughout this ongoing Bohol episode, the people have been quick and alert for very suspicious people and have alerted the police in a timely fashion and the police and Military in turn also responded quickly and aggressively.
Could there be others like Nobleza out there? We do not know. But those who wish us harm will do everything to get the better of us. Vigilance is therefore always important. There are many lessons to be learned in this ongoing Nobleza story and that it is important to have an informed and alert citizenry. It is because of them that this kidnapping attempt was foiled.
The last week has also been very positive for the PNP and the AFP. We were able to prevent what could have been another big black eye for the country. Imagine if the Abus succeeded in kidnapping foreign tourists. With the Asean summit in Manila, the damage would have been incalculable. The AFP was also able to account for a sizable number of terrorists from the Maute group including four foreigners. This is also quite an accomplishment.
For Nobleza, it is safe to say that her career is all but over. She faces the prospect of a long jail term as multiple charges will now be filed against her both criminal and administrative. Since this is the first time that a member of our security services is known to have been turned around to work for the enemy, it should be a wakeup call for us. There must now be a review of protocols and our counter intelligence units should find out if there are more Noblezas in our midst. Regulations should be formulated if there are none to prescribe the conduct of members of the AFP and PNP when they come into contact with the MILF, CPP/NPA, and other terrorist groups to include with the way police and military personnel interact when they make contact with foreign officials.
Sources:
Sleeping with the enemy by Florencio Fianza, April 27, 2017, Manila Standard
(This article is adapted from the source listed above. We are unable to grant permission for any kind of reproduction other than social media shares.)