Tito Sotto's sexualized humor in the senate confirmation hearing of Taguiwalo
Senator Tito Sotto made an offensive remark during the confirmation hearing of Social Welfare Secretary Judy Taguiwalo,and the other people in the session hall laughed. It behooves us to ask if these kinds of jokes are organic in our social consciousness for some people not to be horrified, and for Sotto to casually claim that it was a harmless, folksy joke.
And one is confronted by how easily sexuality has been normalized in the everyday fabric of Philippine society. Upon close investigation, this is a logical outcome of the deeply embedded discourse of sex in the Filipino habitus.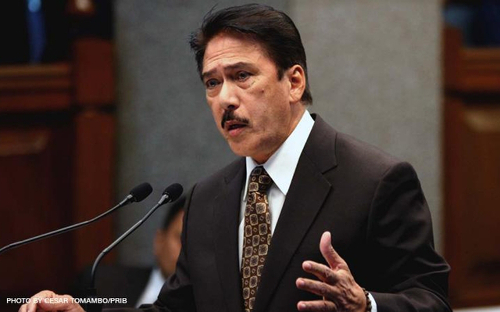 For example, nudity, particularly in the rural countryside and among the urban poor may not be as offensive, considering that the spaces within which residents ordinarily commune are such that privacy becomes an alien concept. It is normal to see people taking a bath almost half naked, or men wearing only their underwear in public artesian wells, or along rivers and irrigation canals; or women doing their laundry wearing only a wet-look "tapis", "malong" or "duster."
The living places of many Filipinos are so small that they are denied the privacy normally afforded people living in big houses. In this architecture of the ordinary abode, the display of bodies by family members is taken in the context of rituals of familiarity. Thus, one can observe that ordinary peoples are not as hesitant to strip naked with friends as they take a bath in a common shower, or in a river, as compared to those who are reared in houses with private bathrooms and bedrooms. An ordinary woman nursing her child may not even be shy to expose a portion of her breast in public, in street corners as she engages in idle talk, or even when riding in jeepneys. Men are not as restrained in relieving themselves in public.
This lack of hesitation to display the body is not to be interpreted as being "walang hiya," or "shameless," but more as expressions of "walang malisya," or "without malice" and therefore innocent. Hence, in the habitus of the ordinary Filipino, shame, which is a Victorian construct that was foisted on us to prohibit the public display of our bodies, is replaced by innocence. It is this template that produces ordinary narratives about human bodies and sexuality that do not see sex as taboo, and instead have a healthy attitude towards it. One can hear people refer to genitalia ordinarily without a tint of willful malice. In fact, one can even conclude that viewing sex as taboo is mainly a construct among the educated and the urbanized elites, as they operate in spaces in which the division between public and private is defined.
In the ordinary and everyday lives of the Pinoy, the divide between public and private, and demands to respect rights to privacy, are not as important an issue. This is reflected in how ordinary Pinoys usually value more kinship and camaraderie over rights to privacy, and consider meddling in the affairs of family members, friends and even neighbors as an entitlement.
The other dynamic that drives the normalization of the narrative about the human body and sexuality lies in our enormous capacity for humor and fun. This is manifested, for example, in how we can easily turn a serious event into a material that can be given a comic spin. Parody and satire are ordinarily deployed not only as forms of entertainment, but as coping mechanisms to deal with stressful events. It is here that we turn the dangers of sexuality on its head and recast it as a resource that we can spin around to take on an element of fun and pleasure not in an erotic sense, but as antidote to the seriousness of life.
"Green jokes" proliferate in the ordinary setting, some of which may be offensive to the sensibilities of some people, while others may see in them the redeeming function of providing an outlet by which people can detoxify their discourse of the serious challenges that they face. In fact, when one takes offense with a seemingly innocent "green joke," peers may respond by reminding the one who took offense not to take life seriously, even as others may even chastise the latter for being the one with a malicious mind, thereby shifting the burden of malice to those who interpret the joke as offensive.
Through sex jokes, ordinary people refer to sex not as exogenous and malicious, but in the spirit of youthful playfulness. These are told among friends. They only take on noxious meanings when said in a formal context, vis-à-vis the prudish and moralistic air of an elite setting, or when cracked by strangers. The offense is aggravated when the intent is to demean the sexual identity or gender status of the object of the joke.
This is where Sotto crossed the line. He cracked a joke loaded with sexual innuendo in a formal setting of a confirmation hearing in the Senate. The joke was directed at Secretary Judy Taguiwalo, with whom Sotto doesn't even have a close personal affinity, and had to do with the fact that she is a single mother.
Sources:
The social context for sexualized humor, and how Tito Sotto crossed the line by Antonio Contreras, May 6, 2017, The Manila Times
(This article is adapted from the source listed above. We are unable to grant permission for any kind of reproduction other than social media shares.)