Gina Lopez' recollection on her brief stint in the government and her future plans
It's been two weeks since my rejection and already it seems like a lifetime away. Another world. Life is like that. It moves in phases ...
This morning after meditation, I was feeling refreshed with an upbeat sense of well-being. I sat with a friend and she and I remarked how good I feel - and how it was like night and day compared with my energy when I was at DENR! I was sleep-deprived and overworked.
This past week, I have been able to sleep ... And over the past two days I have started my workout regimen again! I already gave instructions to my staff to leave me my mornings so I can recuperate and get my life on track.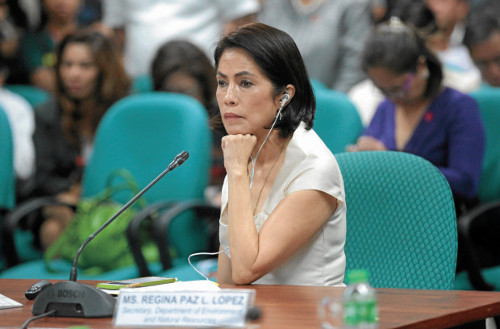 Right after my rejection I was "overwhelmed" and actually in awe - at the "tsunami" of public support. I sometimes kiddingly said - "Parang I am more popular rejected than when I was in DENR." At one point I was having radio interviews every 10 minutes, and they were all sooo supportive. At one interview just after I was rejected - they played the song "I believe I can fly" and because the interview was just the day after - it got me emotional ... hmmm, actually the whole week after the rejection - I was a bit emotional ....
I loooooooove The Filipino!! There is a heartfulness and chldlike genuineness that is a charmingly endearing part of the psyche. Through DENR and social media - I have come to experience a dimension of the Filipino that is beautiful. That's why I continue to have confidence that we have a future for this country.
I am dismayed by the shallowness and horse-trading that nuance politics in the country. Let me be clear: there are exceptional individuals in the political scene that have kept their sense of principle. My discomfort comes from the reality that "what you see is not what you get." People say one thing but do something else. They smile and say they like the programs but then do something else. I was uncomfortable already going to the different members of the CA - but I was told that's what is done. I gave in to the feeling that if I talked about what I had done and what I wanted to do, it would be worth it.
My greatest discomfort was in the way laws are interpreted - this anchoring on detail without thinking of the common good. At the end of the day there is the Philippine Constitution - the heart and soul of all laws in the country. It is INUNDATED with phrases on social justice. Inundated. So it was very strange for me when members of the Commission on Appointments spent an hour-and-a-half questioning my decision to ask the mining companies to give money to farmlands they had disadvantaged. Why didn't they EVER talk this way when the farmers' constitutional rights were being violated? IT IS THE CONSTITUTIONAL RIGHT OF EVERY FILIPINO TO LIVE IN A CLEAN AND HEALTHY ENVIRONMENT. So when an hour-and-a-half is spent talking about the due process mining companies should have been given ... excuse me?
So it is the so-called "due process" versus the constitutional rights of literally thousands. Is it social justice or the common good when farmlands are adversely affected in the process of a company wanting to make money? And now Sonny Dominguez's advice is, they have to go through "due process" and "legal means" before they get compensated. It's like saying suck it up - that's what happens. You have to surrender to big business.
And when the cabinet secretary uses her legal mandate to have the farmers taken care of – it has no legal basis? When elected representatives of the people make decisions infuenced by their "patrons," EVEN if it adversely affects the people they are mandated to serve - isn't the very spirit of the Constitution being violated?
There are laws and there are laws - we can choose whatever law - but from my point of view, if the discussion of the law doesn't bring about people's welfare, it is literally a waste of time. Are we then saying people's welfare should be sacrificed at the altar of laws? Or should laws be interpreted to bring on human welfare?
EVERY TIME a decision is made using laws as the reason why suffering should continue, we are giving the message that people's welfare, along with social justice, is secondary ... to something technical. Is this the way we will build our future?
I also have an issue with block voting. One person told me - they had to vote as a block. It gives "power." Power to what? To wheedle more things out of the appointee? Once the decision is to vote as a block, one gives up one's inherent discerning power - because one decides to offer that at the altar of the block. Did they vote for people so they could do collective politicking, or that they voted according to principle?
Sigh. But that is politics. So in a way, I am glad I am out.
The big question is what do I do now? My passion for area development increased multifold when I was in DENR - because I had the resources to dream. I no longer have supervision over government resources, but who said dreams should be resource-based? My experience over the years is that resources follow dreams. When I started educational TV I had this dream of putting out TV programs that would bridge the gap between elite education and the blackboard and chalk scenario. I had no money, just this aspiration. Before the show aired, I was able to get seven sponsors - which is unusual since advertisers usually come in after seeing the ratings. And the show rated!!!!! But even more important the studies showed that it increased academic understanding.
So we dream. What are my dreams? They are capsulized in these words I (heart) LOVE. I truly feel that the foundation of genuine economic growth is LOVE. If we love we won't be hurting one another, we won't be selfish at the cost of thousands, we will share, we will think exciting possibilities because we care. If we love we won't fight. "I" stands for Investments. "LO" stands for Loving Organizations and "VE" stands for Village Economies. Investments of Loving Organizations for Village Economies.
I give credence to Prof. Ed Morato - my mentor who coined these words. He used to be the Dean of the Asia Institute of Management - and he has started the Social Entrepreneurship program in Ateneo. He is a maverick of sorts, and he continues to guide me in things that can be done.
In a nutshell what I would like to be able to facilitate - TOGETHER with others, is building the country from the bottom up. Join me in this journey and let's build the country together. We will focus on a few key places - where the local governments are pro environment and honest. We build dreams together.
Gina Lopez
Sources:
Building a country from the bottom up by Gina Lopez, May 30, 2017, The Manila Times
(This article is adapted from the source listed above. We are unable to grant permission for any kind of reproduction other than social media shares.)