Indonesian Defense Minister Ryacudu says there are 1,200 IS "killing machines" in the Philippines
While local authorities were engaged in guesswork on the strength of the Islamic State (IS)-linked groups mainly those engaged in the Marawi City siege, putting them at 100 to 500, Indonesian Defense Minister Ryamizard Ryacudu gave a credible estimate of 1,200 IS militants including foreigners of whom 40 are from Indonesia.
Speaking at a Singapore defense forum amid a bloody standoff between Philippine troops and militants fighting under the IS flag in Marawi City, Ryacudu called the militants "killing machines" and urged full-scale regional cooperation against them. "I was advised last night, 1,200 ISIS (were) in the Philippines, around 40 from Indonesia," Ryacudu told the Shangri-La Dialogue, using another name for the IS group.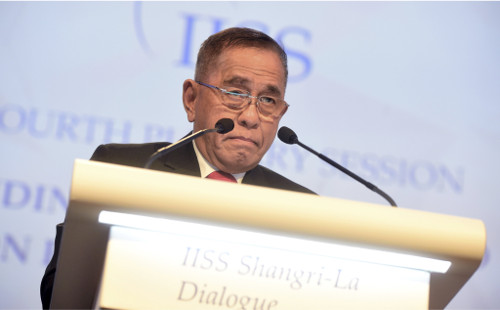 Defense Undersecretary Ricardo David, speaking at the same forum, said the 1,200 figure for total IS fighters in the Philippines mentioned by Indonesia was new to him.
"I really don't know, my figure is about 250-400, a lot less," he told reporters.
But David said there were 40 foreign IS fighters among those who seized parts of Marawi, eight of whom have been killed by government forces.
The threat of heightened terrorism, including the impending return of hundreds of Southeast Asian fighters who fought with IS in Syria and Iraq, has been a hot-button issue at the three-day Singapore summit also attended by US Defense Secretary Jim Mattis.
Hundreds of Islamist gunmen rampaged through Marawi City, a largely Muslim city of 200,000 in Mindanao on May 23 after government forces attempted to arrest their supposed leader Isnilon Hapilon.
Up to 50 gunmen are still controlling the city center nearly two weeks after the start of fighting that has killed 177 people including 120 militants.
"How can we tackle these foreign fighters? We have to be comprehensive," said Ryacudu, a retired general.
"We have to find ... complete ways but we must exercise caution, they are killing machines. Their aim is to kill other people so that's why it's our responsibility that we have common understanding, consensus and common proceedings on how to fight these foreign fighters," Ryacudu said.
Earlier, Philippine officials said the slain foreign fighters were from Malaysia, Indonesia, Yemen, Saudi Arabia and Chechnya.
"Our intelligence estimates that there are about 40 foreigners that fought in the Marawi incident," David said.
The Philippine official added that the foreign fighters used "back channels" in the Sulu and Celebes Seas near the borders of the Philippines, Indonesia and Malaysia to enter Mindanao and link up with local terror groups.
"That's why they were able to muster the operations in the area of Marawi," David said.
"The terrorism threat in this region has evolved into an unprecedented immediate level of emergency," said Gen Ryacudu. Indonesian capital Jakarta was also struck last month by twin suicide attacks that killed three police officers.
"The death group's area of operation has gone global," he added.
Asean unity urged to combat threat
He called for expanding anti-piracy patrols initiated in August by Indonesia, Malaysia and the Philippines near Mindanao to include Singapore and Thailand and focus on terrorism. President Joko Widodo has called on lawmakers to expedite the passage of revised anti-terrorism laws to give police more power.
As many as 38 Indonesians were allegedly involved in a terror network in Marawi City, a spokesman of the Indonesian Police Inspector General Setyo Wasisto stated.
"Some 38 Indonesians comprising 37 men and a woman are involved in terrorism," Wasisto said during the forum.
Four of them were presumed dead, 12 were deported to Indonesia, and 22 others are still in the Philippines.
Earlier on Wednesday, the Indonesian Police had released a report of the Philippine police revealing that seven Indonesians have been hunted for their alleged involvement in the IS-affiliated Maute group in the conflict-hit city of Marawi.
The seven Indonesians are Al Ikhwan Yushel, Yayat Hidayat Tarli, Anggara Suprayogi, Yoki Pratama Windyarto, Moch. Jaelani Firdaus, Muhamad Gufron, and Muhammad Ilham Syahputra.
One of the suspects, M. Ilham Syahputra is believed to have been killed in the clashes in Marawi.
A total of 17 other Indonesians caught in the conflict-hit city were in the country for an Islamic missionary movement and were not involved in any terrorist network.
They have been evacuated to the Indonesian Consulate General in Davao before being repatriated.
Asia-Pacific faces new threats
Non-traditional threats to security in the Asia-Pacific region had taken the center stage in the 16th Shangri-La Dialogue which concluded yesterday, with participants calling for concerted efforts to address them.
At the three-day dialogue which opened on Friday evening, defense ministers, officials and experts from Asia-Pacific countries shared the same view that terror threat is on the rise and spreading, members of extremist groups are sneaking into the region and large-scale cyber attacks are nothing new.
As Europe has become a frequent target of terror attacks in recent years, a number of countries in the Asia-Pacific have also fallen victim, including Pakistan, Malaysia, Indonesia, Thailand, the Philippines and Afghanistan.
The car bomb explosion targeting government buildings and foreign embassies in central Kabul on May 31 left at least 90 people dead and 400 others injured.
The deadly attack targeting the convoy of Pakistani Senate's Deputy Chairman Molana Abdul Ghafoor Haideri in southwestern province of Balochistan killed at least 25 and inured 35 others on May 12.
These incidents have underscored the severity of terrorism in the region. It also tells that no country in the region can assume it will be spared from terror attacks.
In a plenary speech at the security forum on Sunday, Singaporean Defense Minister Ng Eng Hen said: "Closer to home, terrorism is our biggest security concern in Southeast Asia" and the threat in the region has heightened, including for Singapore, and is likely to worsen.
Just on the eve of Ramadan, the Islamic State (IS) called for an "all-out war" on the West. Participants at the forum warned that there is potential return of IS fighters from the Middle East as they are losing ground there.
Last week, IS-linked militants in the Philippines attempted to seized part of Marawi city in Mindanao, attacking innocents and killing police and military, and taking worshipers hostage, forcing President Duterte to cut short his visit and return home to handle the crisis. Mindanao is till under martial law.
IS also claimed responsibility for the brutal bombings that killed three police officers at a Jakarta bus station in late May.
U.S. Secretary of Defense James Mattis said Saturday in a plenary session at the forum that violent extremist organizations, fighters returning from the Middle East and local individuals radicalized by malicious ideologies, seek to gain ground in Southeast Asia.
The Singaporean defense minister said: "We know at least 31 terrorists groups in this region have pledged allegiance to IS, and there is evidence of increasing transnational cooperation among regional terror groups."
Cyber-attacks also IS-initiated
The worldwide ransomware cyber attacks in May hit many countries in Asia-Pacific, with the National University of Singapore and two major hospitals in Indonesia experiencing nightmare.
Media reports said the latest cyber attacks undermined computers of at least two employees of the National University of Singapore (NUS), including a researcher who worked on a security project funded by the Ministry of Defense.
NUS computer science research fellow Prosanta Gope's computer was hacked after he clicked on a link from another colleague whose computer had also been hacked, the reports said.
Fortunately, no signs of data loss were detected.
At least two major hospitals in Indonesia were hit in the attack.
Dharmais Hospital and Harapan Kita Hospital in Jakarta were affected by the "ransomware," said Semuel Pangerapan, a director general at Indonesia's Communication and Information Ministry. The hospitals canceled all surgeries planned for the day.
"A generation of criminals and terrorists is using a new generation of technology, attempting to divide us by exploiting platforms designed to bring us together," Australian Prime Minister Malcolm Turnbull noted Friday evening in his keynote speech to open the security forum.
To win the war on multi-fronts, defense ministers, officials and experts called for concerted and coordinated efforts to deal with the challenges, including improving security mechanism, sharing intelligence and preventing extremists from entering the region.
Sources:
1,200 IS 'killing machines' in RP, says Indon minister by AFP and Tribune Wires, June 6, 2017, The Daily Tribune
(This article is adapted from the source listed above. We are unable to grant permission for any kind of reproduction other than social media shares.)