Recount of just 3 provinces would overturn Robredo's victory - Bongbong
Former Senator Bongbong Marcos on Sunday, July 9, 2017, said he was confident the election victory of Leni Robredo would soon be overturned with recounts in just three provinces.
Marcos made the statement ahead of Tuesday's preliminary conference on his election protest in connection with the 2016 vice-presidential race before the Supreme Court sitting as Presidential Electoral Tribunal.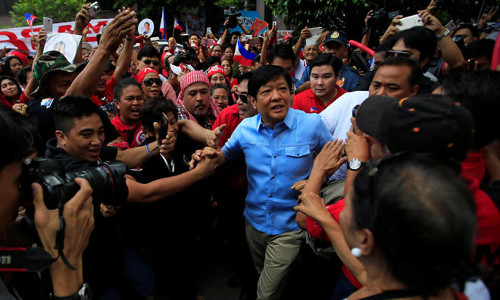 Marcos identified the three provinces as Camarines Sur, Robredo's home province, Iloilo, bailiwick of erstwhile ruling Liberal Party leaders, and Negros Oriental.
The former Senator and Ilocos Norte governor denied allegations by the Robredo camp that he was fishing for evidence and that he did not know where cheating took place. He said:
"I have identified already the three provinces where we were cheated enough to overcome her lead."
He said his lawyers were ready for Tuesday's preliminary conference, the first part of the protest. The Marcos camp aims to prove the protest's merit based on pieces of evidence it had gathered:
"In fact, for the last three months volunteers from provinces where cheating occurred never stopped coming to us, to give their affidavits and pinpoint to us where these documents are. We have voluminous files of pieces of evidence."
"One year had passed, it is too long since May 9 last year. People approached us because they want the public to know what really happened."
He urged the camp of Robredo not to resort to delaying tactics, pointing out that people needed to know who really won the 2016 vice presidential election.
Marcos, who lost the vice presidential race by just 263,473 votes, accuses Robredo of benefiting from "massive electoral fraud, anomalies and irregularities" such as pre-shading of ballots, pre-loaded data storage cards, misreading of ballots, malfunctioning vote-counting machines, and an "abnormally high" unaccounted votes or "undervotes."
In his protest, Marcos is assailing the election results in 39,221 clustered precincts. He paid for a recount in 36,465 clustered precincts, and wants the results annulled for the remaining 2,756.
Marcos last April 17 paid the P36-million first installment of the protest fee, which will cover recount expenses. The P30-million second and last installment is due on or before July 14.
Robredo paid P8 million for her counter-protest last May 2. The remaining P15.4 million is also due on July 14.
Sources:
Various online news outlets