Iglesia ni Cristo buys an entire Connecticut ghost town for $1.85 million
(A church official is seen signing the closing documents on Friday, July 7, 2017)
Iglesia Ni Cristo (INC) bought the entire 62-acre hamlet of Johnsonville in East Haddam, Connecticut in a swift transaction that closed on Friday, July 7, 2017, for $1.85 million, promising to bring new life to the abandoned town.
Johnsonville, a former mill town turned into a Victorian tourist attraction by millionaire industrialist Raymond Schmitt, had been on an off the market for years.
Joji Crisostomo, an INC minister, said:
"We would like to see it brought back to life. We don't like the term 'ghost.' I don't think anybody likes that.'
INC, which is headquartered in Quezon City, has branches throughout the US, hasn't finalized plans for the town but hopes to preserve its historic buildings and renovate a chapel on the property, Crisostomo said.
Iglesia Ni Cristo was founded in 1914 and describes itself as "the fulfillment of biblical prophesies on the true Church of Christ in these last days for man's salvation."
Emissaries from the INC first visited Johnsonville in late June, and the all-cash sale went through quickly, surprising local officials who had seen the property languish on the market for years.
The property includes an old post office, a schoolhouse, a general store, the original homestead of the mill owners, and an abandoned church.
Johnsonville was part of a thriving mill community in the 1800s.
In 1972, Schmitt, owner of aerospace part firm AGC Inc, bought the property after a lightning strike destroyed the mill. Schmitt decided to create a Victorian-era tourist attraction, so he traveled around the northeast, buying up entire buildings and shipping them to the town.
In addition to the vast array of properties he purchased, he also bought a paddleboat from the World's Fair in the 1960s.
He later transported it to Johnsonville, where he hoped to use it to ferry passengers around the lake in the middle of the property.
But although Schmitt allowed visitors onto the grounds, and weddings were occasionally held at the Swiss chalet-styled restaurant, the town never truly became a bustling hub for tourists.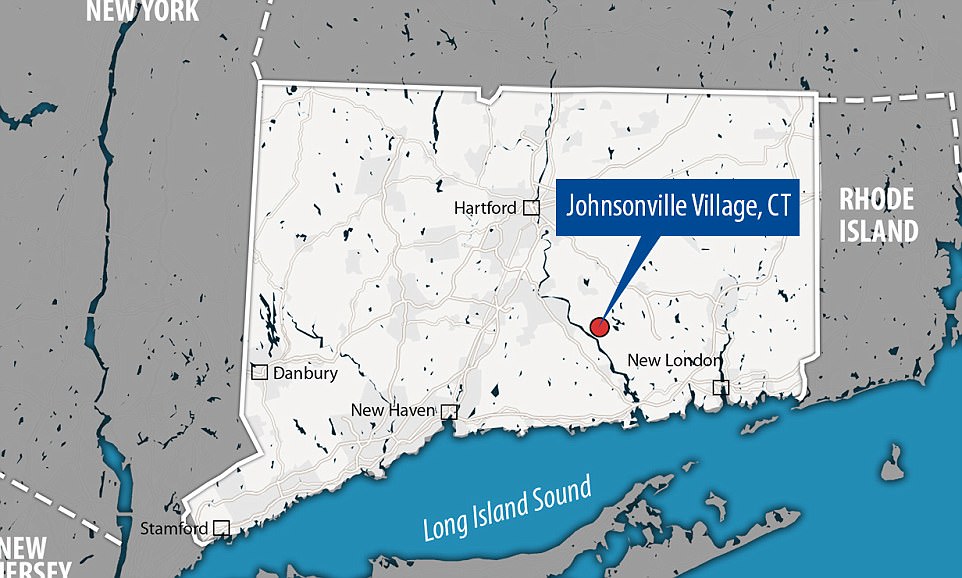 After Schmitt got into a dispute with local officials in East Haddam, he shut down the village in 1994 and put the property up for sale.
He died four years later, and the property fell into disrepair. Even the paddleboat began sinking into the lake. For the past few decades, 'No Trespassing' signs have hung off the properties, warning curious travelers to stay away.
Connecticut-based hotel company Meyer Jabara Hotels was the seller in the Friday deal, and paid $2.5million dollars for the property back in 2001.
In October of 2015, Johnsonville was put up for auction, with the highest bid coming in at $1.9million, however the offer fell through.
At that time, Chicago-based writer and designer Dan Sinker led a campaign on Twitter to try and raise enough money to buy the deserted hamlet, convincing 108 people to contribute to the purchase.
That plan eventually fizzled out though.
Sources:
Village of the Holy Spirit! Filipino church group buys an entire Connecticut ghost town for $1.85million ..., Keith Griffith and Matthew Wright, July 12, 2017, dailymail.co.uk
Photo: dailymail.co.uk