The wholesale granting of immunity from prosecution to Cory's PCGG
As talks of ridding the much-hyped and controversial Presidential Commission on Good Government (PCGG) are again in the air, abolishing it is certainly not enough. President Duterte, as ordained by the Constitution in Section 1, Article XI, must require the PCGG to explain in writing what it did to the more than 800 corporations, subsidiaries and other suspected ill-gotten wealth worth billions or, perhaps, trillions of pesos in today's value.
In the 475 days since former President Corazon C. Aquino created the PCGG on February 28, 1986, up to July 26, 1987, the last day of her revolutionary government and beyond, more assets, including cash, jewelry, treasury bills, shares of stocks, trust funds, bearer certificates, real-estate properties, aircraft, vessels, buildings, condominiums, apartments, houses, newspapers, radio and TV stations, were quietly sequestered, confiscated and were surrendered.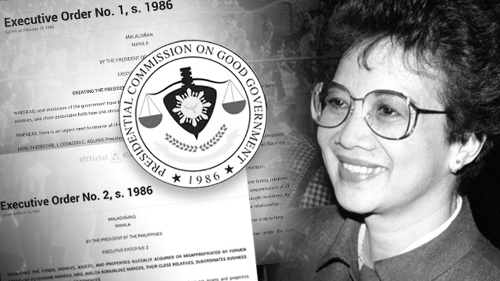 Subsequently, many of these assets either mysteriously disappeared or taken over by Aquino's own relatives, friends and cronies.
One of these corporations and conglomerates strangely took the Aquino administration a record time of one day, just one day, to investigate and settle the assets of billionaire and confessed Marcos crony and front man Jose Yao Campos.
The hasty and injudicious settlement of the 99 corporations and subsidiaries worth billions of pesos in Vancouver, Canada, saw the PCGG inordinately acting as investigator, prosecutor and judge, rolled into one.
Even more reprehensible was the wholesale granting by the Aquino regime of immunity from civil and criminal prosecutions to scores of Marcos friends and cronies who should otherwise have been thoroughly investigated and indicted.
Because of this, the PCGG earned the sobriquet "pestilential combination of graft and greed" as some of those empowered by the Aquino administration to sequester the alleged ill-gotten wealth of Marcos and his cronies transformed themselves, in just a few years, from virtual paupers—after emerging from their hideouts in the US and other places with empty suitcases—to veritable taipans and arrogant politicians, complete with mansions, expensive cars and millions of pesos in bank accounts.
And while the number of poverty-stricken people increased by the day, their proud and bejeweled wives shamelessly flaunted their newly acquired wealth and often graced the TV channels and society pages of the country's newspapers.
The chairmanship of the PCGG in Aquino's time had changed hands five times—from former Senate President Jovito R. Salonga, to Ramon A. Diaz, to Adolf S. Azcuna, to Mateo T. Caparas and to David M. Castro.
And yet, not one of them and Aquino had rendered to the nation a complete individual accounting of the purloined assets, despite the constitutional mandate in Section 1, Article XI, that: "Public officers and employees must, at all times, be accountable to the people, serve them with utmost responsibility, integrity, loyalty and efficiency, act with patriotism and justice and lead modest lives."
As of today, the PCGG, exactly 31 years after its creation, is still enmeshed in a web of legal controversies, onerous compromise deals and accusations of graft and corruption.
The quasi-judicial body, with vast powers to sequester, issue summonses and grant immunity from prosecution, was also mandated to prevent concealment, destruction and dissipation of assets, investigate cases of corruption and adopt safeguards to ensure that the plunder shall not be repeated in succeeding administrations.
To ensure success, the Aquino regime initially allotted P649 million for its recovery efforts, set up offices here and abroad, employed more than 1,500 foreign and local lawyers, accountants, intelligence agents, fiscal agents, asset monitors and gave the PCGG unhampered access to all branches of government.
But what happened?
In six years ending June 30, 1992, the PCGG recovered only P4,216,654,434.09 in cash, less than P10 billion in kind and $356 million in Swiss bank pledges out of the $10 billion the Aquino government claimed Marcos, his relatives, friends and cronies had plundered in 20 years.
Despite the indispensable body of evidence, the availability of state witnesses and its awesome investigative and prosecutory powers, the Aquino regime failed to get a final conviction for any of the Marcoses and their more than 400 codefendants.
Worse, there was no effort on the part of the Aquino government to correct this brazen irregularity as the Sandiganbayan began lifting the writs of sequestration on some multibillion-peso corporations and other assets for failure to implead them before the constitutional deadline and other violations, such as the issuance of writs of sequestration on the signature of just one commissioner.
Sources:
President Corazon C. Aquino's PCGG, Cecilio T. Arillo, July 31, 2017, Business Mirror