Wife of COMELEC chief and ex PCGG Chairman Baustista exposes husband's hidden unexplained wealth
Monday August 07, 2017 ()
The Department of Justice (DOJ) ordered the National Bureau of Investigation (NBI) on Monday, August 8, 2017, to probe the allegations of the wife of Commission on Elections (COMELEC) Chairman Juan Andres Bautista that he has amassed nearly P1 billion in ill-gotten wealth.
Malacañang backed the call for a probe, while a senator has asked the Senate Blue Ribbon Committee to launch a legislative inquiry amid claims Bautista's alleged illicit activities could put into question all elections he had supervised.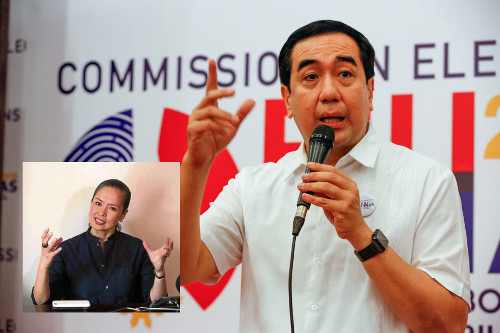 Justice Secretary Vitaliano Aguirre II told the NBI to begin a case buildup and investigate the claims made by Patricia Paz Bautista in an affidavit she executed before the bureau on August 1, 2017.
Aguirre said he wanted to know if Bautista violated the Anti-Money Laundering Act and related laws.
Bautista's estranged wife alleged that he had close to P1 billion in unexplained wealth stashed away in several bank accounts, which the poll chief denied on Monday.
In a 10-page affidavit, Patricia, 47, said her husband had several passbooks from the Luzon Development Bank (LDB) and HSBC.
Indicated in the affidavit were:
Deposits at the LDB branch in Fort Bonifacio, Taguig City, amounting to P227,701,053; LDB Makati branch, P101,519,909;
Dollar and peso accounts at Rizal Commercial Banking Corp. (RCBC) amounting to $12,778.30 and P257,931.60, respectively; and
Hong Kong dollar deposits at HSBC in Hong Kong amounting to HK$948,358.97.
Bautista declared a net worth of P176.3 million as of December 31, 2016 in his statement of assets, liabilities and net worth (SALN). He had total assets of P241.8 million, composed of P158.5 million worth of real properties and P83.3 million worth of personal properties. Bautista's liabilities reached P65.5 million
Commissions and offshore investments
Bautista has 14 properties, of which two were not declared, including a property in San Francisco, California, Patricia claimed.
She also said Bautista had foreign investments in Bauman Enterprises Ltd. in the British Virgin Islands, Mantica Intl. Ltd. in Brunei, and Mega Achieve Inc. in Anguilla.
Moreover, the COMELEC chief has been receiving "commissions" from the Divina Law Office.
According to Patricia, the law firm of Nilo Divina, law dean of the University of Santo Tomas, has been handling, among others, government clients like the United Coconut Planters Bank, which Bautista dealt with when he was chairman of the Presidential Commission on Good Government prior to becoming COMELEC chief.
She claimed she executed the affidavit to protect her family and to make a distinction between the "clean" and "dirty" money in their conjugal assets.
She pointed out that her name appears on some of Bautista's documents and that she might be dragged into cases involving the ill-gotten assets of her husband.
The COMELEC chairman, she also alleged, had stopped financial support to her and their children.
Patricia Paz has filed a case of violence against women and children before the Office of the Prosecutor of Taguig City.
Senate probe
Speaking to reporters on Monday, Palace spokesman Ernesto Abella said the allegations of Bautista's wife, Patricia Paz, must be investigated as he reiterated that President Rodrigo Duterte would not tolerate corruption in the government.
"The whole matter has to be fully investigated. At this stage that's all we can say," Abella said in a news conference.
Senate Majority Leader Vincente Sotto 3rd asked the Senate Committee on the Accountability of Public Officers and Investigations (Blue Ribbon) to look into the alleged misdeclaration committed by Bautista in his SALN.
Misdeclaration in the SALN is a violation of Republic Act 6713 or the Code of Conduct and Ethical Standards for Public Officials and Employees.
"There is a need to determine if the present law is adequate enough to ensure compliance by all public officials with provisions on the required submission of SALN," Sotto said in his proposed Senate Resolution 456.
In 2012, the late Chief Justice Renato Corona was impeached and removed from office for allegedly misdeclaring his SALN.
President Duterte on Monday said he won't personally lead the charge against Bautista, saying he was "not into the habit of prosecuting people from the other side of the fence."
He also said he won't interfere with any impeachment complaint that could be filed against the COMELEC chief.
Sources:
Wife exposes P1B in "hidden wealth", William Depasupil with Jomar Canlas and Catherine Valente, August 8, 2017, The Manila Times
(This article is adapted from the source listed above. We are unable to grant permission for any kind of reproduction other than social media shares.)