Filipinos should vote out of office in May 2019 abusive Senators and representatives
Tuesday August 29, 2017 ()
Two people whose deaths can be directly traced to the abusive acts of Congress.
First is Chief Justice Renato Corona, whose impeachment was less an outcome of the rule of law, but more a political project orchestrated by a vengeful President, and carried out by his lieutenants in the House of Representatives and sealed by his allies in the Senate. The House prosecutors nailed Corona on a correctible oversight of a misdeclared statement of assets, liabilities and net worth (SALN), and the senator-judges agreed. This lowering of the bar for impeachable offenses which treated a SALN misdeclaration as if it was the equivalent to an act of treason inflicted on Corona a penalty that shamed him, from which he never recovered. The House and the Senate could have just poured poison into Renato Corona's drink, and it would have had the same effect.
For all intents and purposes, Congress killed Renato Corona.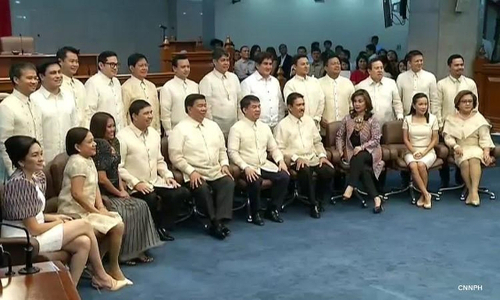 And then we have Angelo Reyes, who killed himself in front of the grave of his own mother, this after being humiliated by Senator Antonio Trillanes III who, at a Senate hearing denied Reyes the right to speak to defend his reputation. When Trillanes bluntly told Reyes that he had no more reputation to protect, it was as if the senator was the one who pulled the trigger while the Senate was watching.
Members of the two houses of Congress are supposed to be servants of the people. They are paid by taxpayer's money, and as such they should be the ones held accountable for their actions. Yet, in so many instances, instead of being the humble servant, senators and representatives have acted with abusive arrogance.
One of the venues which congressional arrogance finds its nesting place is during the so-called congressional hearings in aid of legislation. There, senators and representatives shame, insult and demean their invited resource persons. There is even this naked discursive attempt to twist the intent and the spirit of the Constitution, when the internal rules of both houses in hearings in aid of legislation talk about "witnesses" and "subpoenas" when the Constitution has never bestowed on Congress the power to prosecute or judge, except during impeachment proceedings. The exact words used by the framers to describe these hearings were that these were "inquiries in aid of legislation," and not "investigations".
Another venue where abusive behavior by senators and representatives is manifested is when they deliver privilege speeches. Cloaked by the protective mantle of parliamentary immunity, senators and representatives freely malign and assault the honor and reputation of the objects of their wrath on the sheer basis of hearsay or of raw and unconfirmed information.
Recently, without naming his sources or presenting any evidence, Senator Panfilo Lacson came out with an exposé where he publicly accused former Bureau of Customs chief Nicanor Faeldon of corruption. This is the nature of privilege speeches. They bestow on members of Congress the privilege to malign, without any tint of due process, and without any obligation to present proof.
The contempt power of Congress is also prone to abuse, as what happened to the case of the Ilocos 6.
Even worse is when the process of calling a congressional hearing is itself abused and turned into a weapon by members of Congress to launch a political assassination of their enemies, and where the intent of being in aid of legislation becomes just a window dressing to lend legitimacy to a political lynching, as what happened to the Binays.
However, congressional hearings can also be an opportunity for members of Congress to shamelessly abuse their powers to protect their allies or push their own interests. Franklin Drilon perfectly personified these two sides of abusive behavior when in one hearing he confronted Fiscal Darwin Cañete of Caloocan, a known critic of the Liberal Party, and suggested that he was on the drug list of the President. Drilon also accused Justice Secretary Vitaliano Aguirre of being biased in the same hearing, but in another hearing he unabashedly lawyered for Commission on Elections Chairman Andres Bautista.
Abusive behavior can also be displayed by Congress through the Commission on Appointments (CA), which is a body composed of representatives from the Senate and the House. As elected representatives of the people, the members of the CA owe it to us to disclose their votes. Even the Supreme Court, while having their deliberations in executive sessions, nevertheless makes public the voting and the basis for the decision. Hence, the CA's refusal to reveal their votes and the basis for such in rejecting the nomination of Gina Lopez and Judy Taguiwalo is a blatant abuse of power, which in fact amounted to a betrayal of public trust.
Sadly, the only way to punish elected legislators is through the electoral process, which is admittedly not an easy way to make them accountable for their abuses.
However, it is not totally impossible. It's about time that citizens mobilize against senators and representatives who betray their mandates of being servants of the people. And this is not only limited to when they commit corrupt acts, but also when they undermine decency and human virtues in the way they have become arrogantly abusive in the performance of their functions and in the exercise of their privileges.
Senators and representatives may have the power to cite for contempt people who displease them during their congressional hearings.
Fortunately, they cannot cite us when we express our contempt for them by voting them out of office.
We are the sovereign Filipino people. We pay for their salaries. Let us begin making the list of those we should fire from Congress in May 2019.
Sources:
Legislative abuse of privilege and how citizens can fight back, Antonio Contreras, August 29, 2017, The Manila Times
(This article is adapted from the source listed above. We are unable to grant permission for any kind of reproduction other than social media shares.)