Marcos in Malacañang: Kit Tatad's reminiscence
Sunday September 10, 2017 ()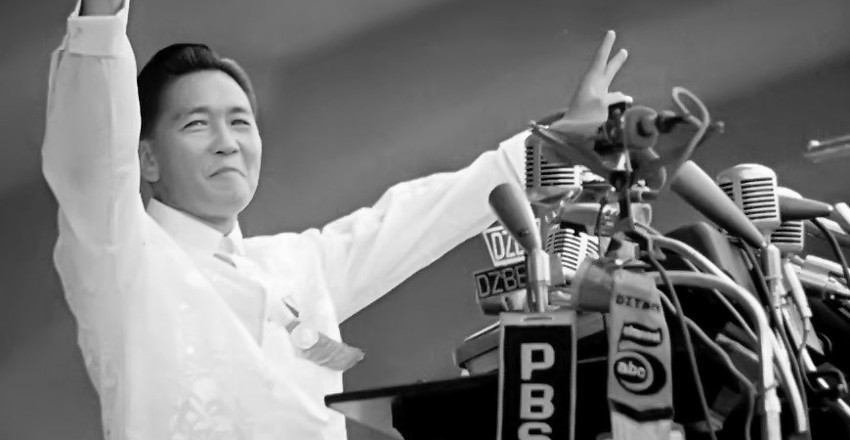 September 11, 2017 is the centennial of President Ferdinand Edralin Marcos' birthday. While the world recalls the horror of 9-11-2001, when al-Qaida struck the twin towers in Manhattan and the Pentagon in Washington D.C., killing 3,000 victims, and plunged the world into a war on terror, the whole Ilocos region will be celebrating Marcos' centennial as a regional holiday by order of President Rodrigo Duterte. In Metro Manila, the Marcos family, with some friends and invited guests, will be offering a Mass at the Marcos tomb at the Libingan ng mga Bayani. There could be some political demos to try to disrupt the family celebration and disturb the peace of the dead.
Of all our 16 Filipino Presidents, Marcos cast the longest shadow. Understandably, he occupies a unique place in our nation's history.
Born on September 11, 1917 in Sarrat, Ilocos Norte, he studied law at the University of the Philippines, defended himself successfully in the killing of his father's political enemy, Julio Nalundasan, fought in the war against Japan, became a congressman, senator and ultimately President of the Philippines, from 1965 to 1986. Nine of these 21 years were under Martial Law, which became the defining element of his extended presidency.
Taking on the communists
On September 21, 1972, he proclaimed Martial Law and suspended the privilege of the writ of habeas corpus throughout the country, to defeat the Maoist rebellion that threatened to put in power the Communist Party of the Philippines/New People' Army/ National Democratic Front. He jailed the top communist leaders, and members of the political opposition, including Sen. Benigno "Ninoy" Aquino, who was deemed responsible for bringing together the CPP founding chairman Jose Maria Sison and Bernabe Buscayno, "Commander Dante" of the NPA, in a historic meeting at Hacienda Luisita in 1969. The NPA became the military arm of the CPP thereafter.
Martial Law drove Joema's followers underground and enabled Marcos to confront the Moro insurgency that had broken out under Nur Misuari in southern Philippines. He suspended elections until 1978, when he called for parliamentary elections, followed by a presidential election in 1981, and finally a snap presidential election on February 7, 1986. He won all such elections. But on February 25, 1986, he was ousted in a military uprising supported by the United States and the civilian population, and flown to Hawaii. They then installed Cory Aquino, who had lost the snap election, as "revolutionary President."
Barred by Aquino from ever returning home, Marcos ultimately died in exile on September 28, 1989. In 1993, with Cory Aquino out of power, President Fidel V. Ramos, who had served as Marcos's Chief of Constabulary and AFP Vice Chief of Staff before joining Defense Secretary Juan Ponce Enrile in the military revolt, allowed Marcos' remains to be transferred to Batac, Ilocos Norte, where his family decided to keep them in a refrigerated vault.
Cory as the opposite of Marcos
As "revolutionary President," Cory Aquino freed the communist leaders from prison, even without the benefit of a peace agreement. This enabled them to rebuild their ranks in the countryside while enjoying political sanctuary for themselves in Utrecht, the Netherlands, from where they directed the conduct of their war against the state. When the Cold War ended in 1991, upon the dissolution of the Soviet Union and China's emergence as a market-oriented economic power, the only card-carrying communists left in Europe were the Filipino holdouts in Utrecht—Joma Sison and his wife Juliet, Fr. Luis Jalandoni and Sister Connie Ledesma, who had become Dutch citizens, and a few others.
I spoke to Joma Sison in Utrecht in 1991. He thought the collapse of the Soviet empire was the result of a grievous mistake, but he said the communist struggle was far from over. Thus, the CPP/NPA/NDF conducted themselves as though they had, in fact, won the Cold War; they pursued the anti-Marcos propaganda campaign without any let-up, as though Marcos remained the enemy to be brought down. This prompted many to wonder whether Marcos had not erred in lifting Martial Law when he did, and whether Cory Aquino had not acted irresponsibly when she released the communists from imprisonment. But the mainstream propaganda sought to picture Martial Law as the cause of the virulent insurgency rather than the consequence thereof. This reached a high point last year when DU30 cleared the way for the Marcos burial at the Libingan.
Need for more scholarship
It will perhaps take several generations of serious intellectual work to separate the truth from the myths that have gathered around Marcos and allow the nation to see with clearer eyes what separates Marcos from the other politicians of his, and our, time. The 28 years that have passed since his death is not enough; we may need at least a hundred years more before the most ruinous of those myths are finally brought down. Genuine scholarship must replace rabid partisanship; honest and accurate history books must be written for both the young and the old. For this, we need not only more honest and intelligent historians, but also more time.
This notwithstanding, there are certain things people of different beliefs say of Marcos. That he had a first-class mind, a photographic memory, a commanding eloquence, and a personal charm which, in the company of peers, often made him the first among equals. He frequently disarmed his critics with his intelligence. Once I had him interviewed by William Buckley Jr., editor of the National Review, known for his lacerating wit, and one of America's towering public intellectuals. At the end of it, I asked Buckley how he found his conversation with the President. He said he was not quite prepared to find a Third World leader who could casually quote Heraclitus.
Beyond his intellectual qualities, Marcos' concrete achievements were beyond dispute. The institutionalization of the "barangay," the smallest political subdivision of the country; the dramatic opening of diplomatic and economic ties with the socialist and Islamic worlds; the delineation of our archipelagic rights through Sen. Arturo Tolentino's brilliant interventions at the UN Conference on the Law of the Sea; the incorporation of a career executive service into the bureaucracy through the Development Academy of the Philippines; active state intervention to protect the rights of Filipino migrant workers, etc. This list is merely illustrative.
Resisting the US
At the 1966 Manila summit conference of the Vietnam war allies, US President Lyndon Johnson made a pointed effort to persuade Marcos to join Australia, New Zealand, South Korea and Thailand in sending combat troops to Vietnam. Marcos deftly fended off this pressure and ended sending the 2,000-strong Philippine Civic Action Group (Philcag), a non-combat contingent, instead.
Years later, at the Asean summit meetings, Marcos showed deference to all his peers, but they clearly held him in the highest esteem.
Aside from Indonesian President Suharto, he had the highest respect for Singapore's Prime Minister Lee Kuan Yew. At the 1976 Kuala Lumpur summit, Marcos, speaking before Lee, said he was going to "take steps" to remove the Sabah dispute from the area of contention between Malaysia and the Philippines. Lee, speaking after Marcos, said, "After that statement, all I can do now is tear my statement into little pieces. He's already got the international headlines!"
Such was the relationship between Lee and Marcos that Lee and his wife made a couple of low-profile private visits to Manila, without an official entourage. In one intimate private dinner where my wife and I were the only other ones present, the two statesmen picked each other's brain on a wide range of things, from state matters to tai chi chuan. It was a supreme delight to watch the homegrown lawyer from the University of the Philippines spar with the Cambridge (double first honors) barrister who would be acclaimed Southeast Asia's sage after Marcos had gone.
Photographic mind
Marcos hated reading speeches, and did not mind relying on his "photographic memory". But he did not mind others making light of it. Once in conversation, I told him that in my youth I used to have such a terrifying memory also—I could repeat whole pages of text verbatim after reading it once. "What happened?" he asked. "I lost it when I began to think, sir," I said naughtily. "You're mad," he said, with a big laugh. He was serious about everything, but he was not beyond self-depreciation.
People of all shades are wont to say Marcos had the best Cabinet of all the Presidents. At 29, I became the youngest member of that Cabinet, and 10 years later, the only member to resign, six years before the EDSA revolt. How did Marcos do it? People are obviously looking for a secret formula which perhaps the incumbent President could use.
I think the answer is simple enough. Marcos had a clear vision of the presidency and its place in the order of things. He had no intellectual insecurities; he was sure of himself and was not afraid that any of his appointees could be as smart as, even smarter, than he was. Most of them were highly academically pedigreed, but some others, like Blas Ople, Adrian Cristobal and myself, were not. Academic pedigree did not intimidate Marcos, neither did the lack of it.
And one did not have to be from the Ilocos region or the UP College of Law or his university frat to be invited to the Cabinet. In my case, I was an obscure diplomatic reporter and columnist of the Manila Daily Bulletin, and had only one face-to-face meeting with the President a few months before he offered me my job. His Ilocano assistants thought the idea of bringing me on board was absurd—the President did not know me, and I did not know the President. I thought they were absolutely right.
An absurd appointment
But it looked like my one meeting with the President had left an impression he could not discard. In that meeting, we discussed his decision to establish the Cultural Center of the Philippines, and Ninoy Aquino's questions about it. Marcos said if I needed to clarify anything, all I had to do was call him—at which point he told Gen. Hans Menzi, his aide the camp, and also my newspaper publisher, to give me his telephone number.
"With all due respect, sir, I don't believe this is done," I said.
"What do you mean it's not done?" he asked.
"I don't believe any reporter should be calling you on the phone, sir," I said.
"Well, in that case, I would be the one calling you," he said.
"Again, with all due respect, that too is not done, sir," I said. "The President should not be calling any reporter on the phone."
"What then should we do?"
"Well, sir, your Press Secretary clarifies things for you. But if you want to have greater rapport with the press, perhaps you could hold more press conferences, and we could ask you more questions."
On July 14, 1969, I was offered my job, and on August 16 I was sworn into office. "I will depend upon you," Marcos said, and for the next 10 years I spoke for the President, wrote speeches and ran the government's information program. I resigned in 1980 for political reasons, but whenever Marcos needed my opinion, he reached out and I obliged.
Thus, after he announced his decision to hold a snap election, he asked to see me to tell him what I thought of it. I said, "it looks like a first step to your stepping down." He vehemently disagreed. He conceded my point when I saw him for the last time in Hawaii on my way home from a speaking engagement in Washington, D.C. after the disastrous 1987 senatorial elections.
Sources:
Marcos in Malacañang: A short reminiscence, Francisco Tatad, September 11, 2017, The Manila Times
(This article is adapted from the source listed above. We are unable to grant permission for any kind of reproduction other than social media shares.)