No plans to prosecute Marcos heirs for the "sins" of the father
Sunday October 01, 2017 ()
President Rodrigo Duterte has no plans to pursue cases against the heirs of former president Ferdinand Marcos, saying children should not be made to pay for their father's sins.
In an interview aired over state-run People's Television Network on Friday night, Duterte said Ilocos Norte Gov. Imee Marcos and former senator Ferdinand "Bongbong" Marcos Jr. were still young during the strongman rule of their father. Duterte said: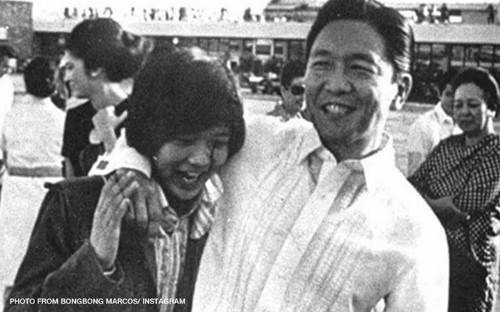 "Ngayon, sabihin mo na (Now you say), 'You prosecute, you punish.' At that time, si Bongbong Marcos, binata pa (Bongbong was a teenager). He was only about seventeen years old when ... Anong kasalanan nila (What did they do wrong)?"
"Bakit hindi ako magpunta, mag-shake hands? Anong kasalanan ni Imee? Bata 'yan sila lahat. Ang matanda lang doon si Imelda pati si Ferdinand (Why won't I go there and shake hands with them? What did Imee do wrong? They were all young. The only adults then were Imelda and Ferdinand)."
Imee, who was born in 1955, turned 17 when her father declared martial law in 1972. Bongbong, who was born in 1957, was 15 at that time.
Marcos, whose presidency was tainted by human rights abuses and massive corruption, was toppled by the 1986 "People Power" revolution. At that time, Imee was 30 and Bongbong was 28.
Since the death of the strongman in exile in Hawaii in 1989, his family has made a political comeback with his widow, Imelda, and children getting elected to public office.
In the same interview on Friday, Duterte said "guilt is personal," adding that a person should not be blamed and held responsible for another person's fault, unless there was a conspiracy.
"Guilt is personal. 'Yung kasalanan mo, 'yun lang. Hindi mo ipahid doon sa lahat ng barangay. Except ito kung organized crime (It's your offense, that's it. You can't implicate others in the village except if it is organized crime)."
Duterte has been very vocal about his close ties with the Marcos family.
Last year, the President granted the longstanding wish of the Marcos family to bury the late strongman's remains in the Libingan ng mga Bayani.
He also declared September 11 a special non-working day in Ilocos Norte upon the family's request to mark the ex-leader's 100th birth anniversary.
Sources:
Duterte: No plans to prosecute Marcos heirs, Catherine S. Valente, October 1, 2017, The Manila Times
(This article is adapted from the source listed above. We are unable to grant permission for any kind of reproduction other than social media shares.)