Carandang, a Yellow Cult fanatic, thinks Filipinos are stupid
Wednesday October 04, 2017 ()
I wonder where Overall Deputy Ombudsman Melchor Arthur Carandang finds the gall to cover up his lies with another lie, panicking after he realized that he could go to jail because of his mouth.
Last Tuesday, he made the following statements, among several others, as reported by at least four media outfits: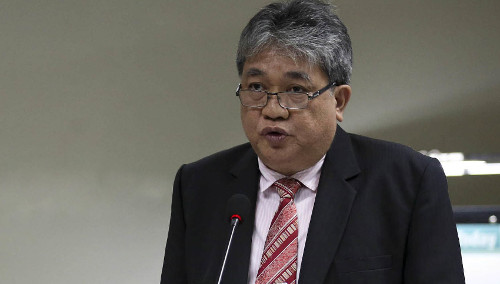 That he and Ombudsman Conchita Carpio-Morales have "a copy of bank records from the Anti-Money Laundering Council (AMLC)" of President Duterte and his family. These contained "entries, presentations, sources, transaction dates, amounts, and family members' names," Carandang said.
That these records show Duterte and his family's bank accounts show transactions through the years amounting to P1 billion.
"We can confirm that we received bank transactions coming from AMLC, generated by AMLC for intelligence purposes", he said.
He perhaps thought that the AMLC is still the AMLC under Yellow Cult leader President Aquino's administration, and that it would just shut up, as it did in 2012 when its alleged records were used to oust Chief Justice Renato Corona and in 2016 to portray Vice President Jojo Binay as a crook.
AMLC denial
Well, it didn't.
The very next day after Carandang's allegations came out, the AMLC issued an official statement distributed to the press and posted on its website, a denial. The AMLC belied everything the Deputy Ombudsman alleged.
The AMLC said it has not investigated Duterte and his family's bank records. The request to do so was made only in early September and hasn't even been evaluated yet. It couldn't possibly give Carandang a copy of such bank records that exist only in his mind. There is no AMLC study that show that bank accounts of Duterte and his family had transactions that totaled P1 billion.
Carandang didn't really reply to the AMLC's statements that he was a liar, in effect confirming that he did lie massively to claim that the President of the Republic is a crook.
His only response was a terse two-sentence statement, in which he didn't even stand by his earlier claims in order to contest the AMLC's statement.
It is merely a statement made as a bungling attempt to defend himself from criminal prosecution for violating the Anti Money Laundering Law's Rule 14.c. In his statement in which he eerily referred to himself in the third person, he claimed that he "observed confidentiality in the Ombudsman investigation on the complaint against then Mayor Rodrigo Duterte".
Carandang obviously checked the Anti Money Laundering Law and read, in horror: "Any person who, with malice, or in bad faith, reports or files a completely unwarranted or false information relative to money laundering transaction against any person shall be subject to a penalty of six months to four years imprisonment and a fine of not less than P100,000."
Blame media
In his press release, he blamed media, and again lies, in a very pathetic way, that his statements which the AMLC belied were merely made "after reading through the documents shown to him by the media during the ambush interview."
Either Carandang is so confident he can fool the nation, or he is just plain stupid.
How can "reading documents shown to him by media" explain his assertion that he has "a copy of bank records from the AMLC" of President Duterte and his family?
How can such reading explain his contention that records "show Duterte and his family's bank records show transactions through the years amounting to P1 billion". Or his declaration: "We can confirm that we received bank transactions coming from AMLC, generated by AMLC for intelligence purposes."
He probably did respond to "documents"—manufactured by Trillanes—shown to him by media. But in his replies to reporters, he claimed possession of AMLC records and alleged that this revealed Duterte's vast wealth – which is malicious use of confidential data of the council.
Carandang should just admit he talked too much, perhaps thinking that he and his boss, the Ombudsman Carpio-Morales, could pull the same trick they pulled against Chief Justice Corona. This time he must have thought, he should be the one to be credited for the trick rather than his boss Carpio-Morales. So, he squawked.
Any decency left
If he has any decency left in him, he should seek Duterte's—and the nation's—forgiveness for his brazen lies that are part of the black-propaganda offensive against the President, entirely aimed at ousting him.
He should disclose everything, whether it was the Ombudsman Carpio-Morales, as she did in the case of Corona, who actually acquired AMLC records illegally.
Or whether it was a former AMLC ranking official—with a surname widely known more as that of the former President's Cabinet member—who gave confidential bank records both to high Yellow Cult officials and to Senator Trillanes, who then gave him copies of them. Whether the records actually showed Duterte's very explainable wealth, but which in connivance with the Yellow Cult, he tampered with to show a P1 billion wealth of the President, we don't know.
The credibility and integrity of the Ombudsman, under the haughty Carpio-Morales and the Yellow cadre Carandang, have all been shattered.
It is now more known not as the angel of justice against the corrupt, as the Constitution intended it to be, but at its head, a team of character assassins deployed against Duterte, and at its body, as Senator Jinggoy Estrada alleged the other day, a gang of extortionists.
Sources:
Deputy Ombudsman Carandang's lies upon lies, Rigoberto Tiglao, October 4, 2017, The Manila Times
(This article is adapted from the source listed above. We are unable to grant permission for any kind of reproduction other than social media shares.)