The undeniable Marcos factor in the Duterte presidency
Friday October 20, 2017 ()
President Duterte has been so identified as friendly to the Marcoses that his critics have painted him as Marcos incarnate. It did not help that he was vocal in his support for the burial of the late President Ferdinand Marcos at the Libingan ng Mga Bayani. And it was even worse when he declared martial law in Mindanao. The political optics were conveniently painted as a President ready to honor as hero a predecessor who served as a template for his kind of rule, which to his critics is that of a tyrannical fascist.
Regardless of how the political opposition spins the nature of the relationship between President Duterte and the Marcoses, it cannot be denied that there is indeed a basis for such a relationship. And it has nothing to do with the political ideologies which critics of both Duterte and the Marcoses would claim they share.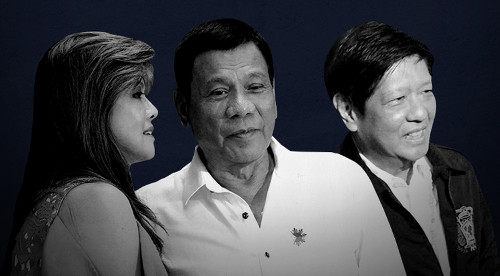 It all boils down to simple political pragmatics.
Much of President Duterte's support comes from the political base of the Marcoses. Duterte in fact on several occasions cited the open support given him by Iloco Norte Gov. Imee Marcos during the elections, despite the fact that Bongbong Marcos ran under the ticket of the late Miriam Defensor-Santiago.
The breadth and depth of the Marcos factor in the electoral victory of President Duterte can be gleaned from the election results.
President Duterte garnered 16.6 million votes. Assuming that all of the 5.9 million voters of his running mate, then senator and now Foreign Secretary Alan Peter Cayetano voted for him, this would still leave 10.7 million votes which he received from those who voted for other vice-presidential candidates. Considering that there are claims that the votes of the President should have been around 21 million, that would even be the lower limit.
Bongbong Marcos got 14.1 million votes, at least according to the final results, something that he contests at the Presidential Electoral Tribunal. Taking this as the lower limit of his possible number of votes, and assuming that all the 1.5 million voters of Miriam Defensor-Santiago voted for him, this would mean that there are at least 12.6 million Marcos voters who voted for other presidential candidates.
It is logical to assume that a big majority of these 12.6 million voters would have voted for Duterte. A lesser number of Marcos voters would have voted for former Vice President Jojo Binay and Sen. Grace Poe. And it is safe to assume that a Roxas-Marcos voter would have been a rarity.
Thus, it is hard to dismiss the contribution of the Marcos political base to the electoral success of President Duterte.
And it is also hard to accept the argument offered by some Duterte supporters that choosing then candidate Duterte has somewhat made the rabidly anti-Marcos voter take a second look at Bongbong Marcos, and supporting Duterte made the latter more palatable. Much as this is a possible hypothesis, it is simply farfetched.
The anti-Marcos sentiment is deep-seated, even bordering on the pathological. It is hard to imagine that an anti-Marcos voter suddenly found him acceptable as Vice President simply because he or she supported Mayor Duterte for President.
In fact, even at present when Duterte is already president, many of his supporters remain anti-Marcos, with some as rabid and as strong as before. The argument that supporting Duterte may have made Bongbong Marcos more palatable may in fact have happened not before the elections but after. Some pro-Duterte supporters now find Bongbong Marcos more acceptable as Vice President than Leni Robredo.
Besides, what makes the argument of palatability fall flat on its face is the fact that there were other vice-presidential candidates. Duterte supporters who were anti-Marcos would have probably voted for Alan Cayetano or the other vice-presidential candidates, or even for Leni Robredo.
Thus, it is safe to argue that there are more solid Bongbong Marcos voters who voted for Duterte, than there are solid Duterte voters who carried Bongbong Marcos.
And while Marcos supporters were crucial for candidate Duterte, they are just as crucial for Duterte the President.
Realpolitik dictates that much as the President would like to remain detached from the political games happening on the ground, and would like to leave political horse-trading to his congressional allies, the stability of his tenure rests on dealing with politics as a numbers game.
There is much overplay of the risks which the antics of the opposition Liberal Party and Sen. Antonio Trillanes 4th can inflict on him, but one has to realize that these are just loud political noises. The real danger to the President is deep within his political base. This can happen if the broad coalition that supported him fractures due to competing political interests and ambitions.
Many political players are now beginning to make their moves for 2022. The game plan of Sen. Grace Poe and Secretary Alan Peter Cayetano bears watching.
Meanwhile, the Marcoses have good reason to feel uneasy. The House leadership is relentless in attacking Imee Marcos through the tobacco excise tax hearings. The House justice committee initially appeared to send the wrong signal by dismissing the impeachment complaint against Comelec Chairman Andy Bautista for insufficiency of form. An impeachment proceeding would have indirect positive implications on the electoral protest of Bongbong Marcos against Leni Robredo, considering that included in the allegations are the connections between Andy Bautista and automated elections service provider Smartmatic.
The reason why the Liberal Party and Trillanes are not making any great progress in undermining the President's level of support is because his base is holding.
I can just imagine what would happen to his base if the support of the Marcos loyalists begins to weaken because they perceive that the President's allies are now working against the interests of their political principals.
Sources:
The Marcos factor in the Duterte presidency, Antonio P. Contreras, October 21, 2017, The Manila Times
(This article is adapted from the source listed above. We are unable to grant permission for any kind of reproduction other than social media shares.)