Long process of decryption and printing of ballot images in Marcos' poll protest, begins
Tuesday October 24, 2017 ()
The Commission on Elections (Comelec) has started to decrypt and print the ballot images from three pilot provinces that former Senator Ferdinand "Bongbong" Marcos Jr. cited in his election protest against Leni Robredo.
The Comelec's decrypting and printing of the ballot images from Camarines Sur, Iloilo, and Negros Oriental commenced on Monday, following the directive of the Presidential Electoral Tribunal (PET).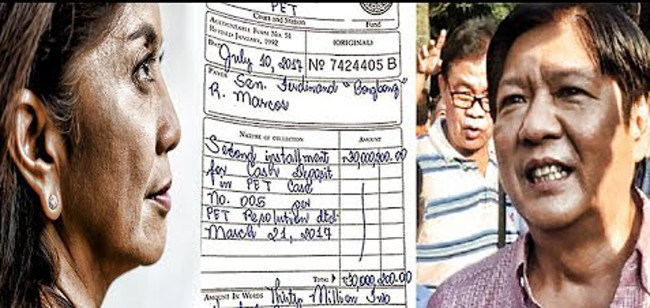 (Bongbong Marcos and Robredo)
Bongbong Marcos had sought the recount of ballots in 25 provinces nationwide, but particularly noted that Camarines Sur, Iloilo, and Negros Oriental would clearly show the "major discrepancies" in the votes cast in the ballots and those transmitted by the Vote Counting Machines (VCMs) and reported in the Certificates of Canvass (COCs).
The decryption and printing of the ballot images would take at least seven months.
Marcos' camp has welcomed this development, believing that this would help "facilitate and expedite" the resolution to their election protest.
"All these constant and spurious delaying tactics by the Robredo camp have been going on for more than a year now. What are they afraid of?" Marcos' spokesman, lawyer Victor Rodriguez, said in a statement on Tuesday, October 24, 2017.
"If they believe she won, they should be rushing to count the ballots so that this issue could finally be laid to rest, in her favor. Instead, they have adopted a strategy of delay and obfuscation," he added.
In the May 2016 general elections, Marcos narrowly lost the vice presidential race to Robredo. But Marcos decried that he was defrauded and filed a protest before the Supreme Court (SC) acting as PET, saying that Robredo "cheated by manipulating computerized vote counting machines."
Sources:
Various online news outlets