Trillanes incited soldiers to commit rebellion, perpetrate a coup - VACC
Sunday November 05, 2017 ()
An anti-crime group lawyer claimed yesterday, November 5, 2017, opposition Senator Antonio Trillanes IV and a yellow-oriented group could be liable for acts of rebellion or insurrection against the Duterte administration.
Lawyer Manuelito Luna of the Volunteers Against Crime and Corruption (VACC) said Trillanes may have incited soldiers to commit rebellion and perpetrate a coup d' etat when he told them to use an M60 machine gun against President Duterte.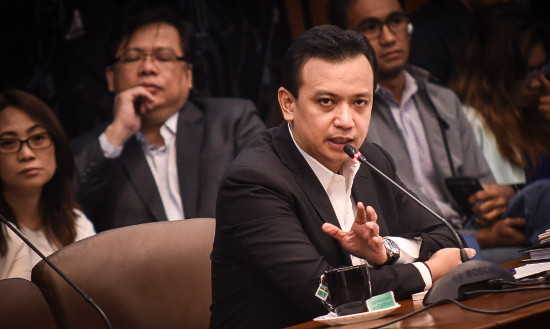 Luna was referring to Trillanes' privilege speech last month where he stated that if it would be proven that Duterte's wealth exceeds P40 million, soldiers may be forced to shoot the President.
Trillanes said:
"If soldiers would discover this, they will use an M60 against you since we're talking of a huge amount. They will empty a magazine if you're looking for P40 million."
Luna said Trillanes' statements may constitute inciting to rebellion or insurrection under Article 138 of the Revised Penal Code (RPC), and proposal to commit coup d' etat under Article 136 of the RPC.
Moreover, Luna said yellow-oriented group TindigPilipinas may be involved in "an open, actual and continuous commission" of inciting to sedition, rebellion or insurrection for its nationwide signature drive against Duterte.
The yellow group's convenors, contributors and leaders, Luna said, are gathering signatures around the country against President Duterte and calling him out to execute a waiver on his bank accounts.
Luna said that TindigPilipinas is perpetrating the campaign despite the disclaimer of the Anti-Money Laundering Council (AMLC) on the claim of Overall Deputy Ombudsman Arthur Carandang and denial of Trillanes' request for inquiry into the alleged account deposits (and transactions related thereto).
"TindigPilipinas is unabatedly fomenting/sowing hatred against the president in the expectation that the majority would turn against him, as evidenced by the conveners' waiver plea, nationwide signature drive, propaganda, inter alia," Luna said.
Non-disclosure provision
The signature drive, Luna said, is being done despite the nondisclosure provisions or prohibitions and criminal penalties imposed by the Secrecy of Deposits Act, the Anti-Money Laundering Act, the Code of Conduct and Ethical Standards for Public Officers and Employees, the Anti-Graft Law, and the Revised Penal Code; as well as the refutation and denial by the president and his family.
Carandang, during an "ambush interview," had told reporters that he's in possession of bank transaction records of President Duterte and his family, whom they were investigating.
The Overall Deputy Ombudsman claimed the documents "more or less" look like the documents presented by opposition Senator Antonio Trillanes IV, and that the money flow amounted to about P1 billion.
The documents allegedly came from the AMLC, but the government agency itself denied providing the Office of the Ombudsman and Senator Trillanes with such documents. Luna said:
"These subversive activities are being committed openly and continuously, and, hence, might subject those involved to warrantless arrests."
Luna claimed that since their "seditious and subversive activities appear to be continuing offenses and are being committed in flagranti, then they can be arrested without warrants". He said:
"Under the RPC, actions tending to stir up the people against the lawful authorities, etc. and inciting others to deprive the Chief Executive or the Legislature of any of their powers or prerogatives, through speeches, proclamations, writings, emblems, banners or other representations tending to the same end, constitutes Inciting to Sedition or Inciting to Rebellion."
"TindigPilinas conveners may even be charged, if warranted, with conspiracy to commit sedition or rebellion."
Anybody but Trillanes
Last Nov. 2 in Davao City, Mr. Duterte said anyone can use the waiver he issued on his bank accounts during the campaign period for the May elections to look into his bank accounts except for Trillanes. The president said:
"Except for Trillanes, anybody can come here and I will authorize you to take a peep."
Duterte said he already had the waiver which he signed before the election after Trillanes accused him of having billions of pesos in hidden wealth:
"I already gave it and they said there is an expiration, there's no expiration."
He said he could allow the media to see it just to satisfy their curiosity. The president emphasized:
"I stated there, no expiration so that they can use it in my whole term."
Trillanes, earlier, accused the president and his family of being corrupt by having millions of pesos in bank accounts.
However, Presidential daughter and Davao City Mayor Sara Duterte-Carpio said she already told Trillanes if he wanted a waiver, they would give it to him but he should tell first if the list revealed in public is authenticated.
Duterte-Carpio added that if the list is authenticated Trillanes should also bare the source of his list.
The mayor, however, believes that the senator could not present authenticated evidence against his father "because he knows that he is lying".
She said Trillanes kept on blabbing about having the list but he failed to bare if the list is true or not.
The Davao City mayor also challenged Trillanes not to hide on his parliamentary immunity in the Senate and prove his accusation against his father.
Sources:
Trillanes, Tindig incite coup — VACC, Julius N. Leonen, November 6, 2017, The Daily Tribune
(This article is adapted from the source listed above. We are unable to grant permission for any kind of reproduction other than social media shares.)