De Lima's latest letter incites sedition even rebellion
Wednesday November 15, 2017 ()
Detained Senator Leila de Lima obviously wanted attention from the leaders of the western world, such as the European Union official, the American President and others in attendance for the Asean Summit hosted by President Duterte, whom she just as obviously wanted to publicly shame.
Instead, de Lima may just face charges of, at the very least, inciting to sedition and at the most, rebellion.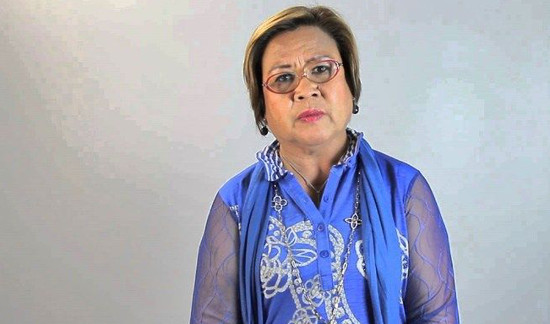 In her latest handwritten dispatch-diatribe from her detention cell in Camp Crame which was released Tuesday (November 14, 2017) to media, but which was largely ignored by media, de Lima is dangerously courting sedition charges which may keep her in detention much longer than anticipated, as she may be found to be inciting to sedition, and perhaps even rebellion.
The detained senator issued a call to the officers of the Armed Forces of the Philippines (AFP) not to obey their commander in chief, President Duterte, saying that for the military officials to obey the President and their commander in chief would be a betrayal of the Filipino people and the country, she said.
"Do not betray your people and your country in this watershed moment of our sovereignty and independence. Do not follow Duterte down his traitor's path," de Lima said, as she called out the AFP officials.
The elements of sedition and even rebellion and even evidence appear to be present in her call for to the military not to obey the orders of their commander in chief President Duterte, telling the military officers that Duterte is a Manchurian Candidate.
De Lima appears so consumed with hatred for Duterte to even try to con the military officials to go against their commander in chief as she claims, without basis again, that Duterte, being a "Manchurian Candidate" is an agent of China, as he has relinquished Philippine territories in the Spratlys to China.
de Lima appears to have been watching a lot of old movies in her cell. The Manchurian Candidate is fiction, based on a novel by Richard Condon which is about the son of a prominent American political family who is brainwashed into being an unwitting assassin for a communist conspiracy.
But with de Lima's brain probably terribly addled these days, she said the military officials and soldiers should "know treason when it rears its ugly head in their motherland," adding that "there is no more treasonous conduct and act of betrayal than relinquishing our Spratlys territories in the midst of an international decision saying we have every right to hold on to and defend those islands and atolls as part of our Exclusive Economic Zone, to the exclusion of China," she wrote. de Lima is known to fabricate evidence.
de Lima should know that the President did not relinquish the disputed territories, but merely placed the issue on the backburner. Nor has he given up on the claim as pronounced by the Permanent Court of Arbitration. He merely set this aside, to gain regional peace for the Asean region and for friendlier ties and trade with China, through his independent foreign policy.
In her latest diatribe against Duterte, which really is getting tiresome, de Lima equates the President's decision to order the military to stop the construction of shelters for Filipino fishermen on sandbars off the coast of Manila-claimed island in the South CHina Sea to treason, which is a stupid comparison, and making this a reason for the military to rebel against Duterte.
de Lima's tirade was hardly over. She said: "Since when has the AFP taken orders conveyed from the generals of the People's Liberation Army? Since when has our military become a mere sub-unit of the PLA, with our generals forced to swallow and follow treasonous orders that practically ask them to abandon their posts and betray the national interest?" she asked.
While China keeps on building structures in disputed territories, including those being contested by the government, "our President behaves like a good lapdog to his Chinese masters and orders his own military to stop building sheds for troops defending the country's sovereignty," she claimed.
But who does de Lima think she is? And why would the military officers listen to her call for them to disobey their commander-in chief?
de Lima is so full of herself, which is why she is today incarcerated.
de Lima is so desperate to bring down Duterte through a military coup that she depends on fiction and fake news through her daily handwritten diatribes against Duterte, and all for her to be freed from detention.
Unfortunately for de Lima, she rushed to the High Court immediately for her drug cases, ignoring the court's hierarchy and instead got a ruling drom the Court stating that she must be tried first by the Regional Trial Court, which will take time to get her cases resolved.
The truth is, the yellows just don't have a leader for the military to even listen to her. Admit it or not, the Vice President, Leni Robredo is not a credible and even forceful political leader. Not even the Catholic bishops who are against Duterte Duterte, or the above-ground communists and the New Peoples' Army and university activists would rally behind the call of de Lima to revolt against Duterte.
Sources:
(This article is adapted from the source listed above. We are unable to grant permission for any kind of reproduction other than social media shares.)