P8.7 billion Road Right of Way scam involving the Aquino family and friends
Tuesday November 28, 2017 ()
A government witness yesterday, November 27, 2017, claimed that a brother-in-law of former President Aquino III brokered the release of funds in the P8.7 billion anomalous road scam involving spurious road right-of-way (RoW) claims in General Santos City.
Justice Secretary Vitaliano Aguirre presented witness Roberto Catapang who identified Eldon Cruz, the spouse of Maria Elena "Ballsy" Aquino, sister of the former president, as one of those who had influenced the Department of Public Works and Highways (DPWH) and the Department of Budget and Management (DBM) to release the payment for the anomalies involving fake land titles in General Santos City.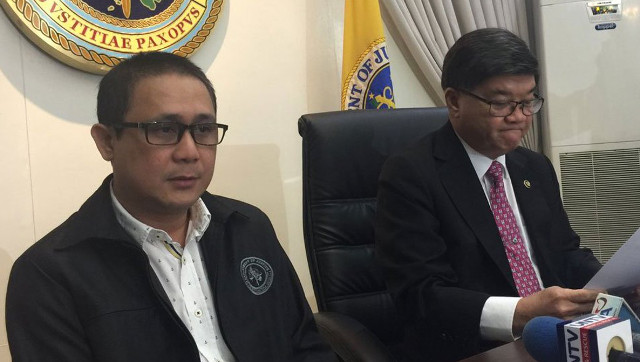 (Roberto Catapang (left) with Justice Secretary Aguirre)
Catapang has been admitted to the DOJ's witness protection program.
The Department of Justice (DOJ) has issued an immigration lookout bulletin (ILBO) against Abad, Singson and 41 others government officials and individuals in connection with the ongoing investigation by the National Bureau of Investigation into the alleged P8.7 billion scam involving fake road right-of-way claims in General Santos City.
Also covered by the ILBO are Wilma Mamburam, Col. Chini Mamburam, Nelso Ti and Mercedita Dumlao.
"Apparently, they were using his name always, not just a few times. Sorry sir. It's sir Eldon Cruz," Catapang said.
Catapang showed a copy of a supposed letter by Cruz dated January 2011 for former DPWH Secretary Rogelio Singson, requesting his immediate endorsement to the DBM for the release of the funds for the specious titles.
The witness said he obtained a copy of the letter from Wilma Mamburam, one of the alleged masterminds of the scam, when he was still dealing with her group from 2009 to 2012.
Aguirre said a law school classmate of his and of the president has also come out to express his readiness to testify on how he fell victim to the scam.
Former Assemblyman Rogelio Garcia of South Cotabato whose property consisting of 7,000 square meters,was preyed upon in the scam, the DOJ chief said.
Garcia was his and President Duterte's law school classmate at the San Beda College of Law.
"In due time, we will obtain the sworn statement of Assemblyman Garcia and perhaps we can present him to you," Aguirre said.
Catapang claims he saw at least two more letters of endorsement "signed" by Aquino's brother-in-law with one of them written in a letterhead stationary of Malacañang.
Cruz had been linked to an earlier anomaly involving an alleged $30-million extortion attempt from a Czech-train manufacturer for a Metro Rail Transit contract.
Catapang said the right of way scam covers the entire Region 12 not only General Santos City.
The anomaly was discovered in 2011.
Catapang said some P500 million was released by former Budget Secretary Florencio Abad in December 2013 upon the request of Singson for payment of RRoW involving fake land titles.
"Considering the gravity of the possible offenses which may have been committed, there is a strong probability that they may attempt to place themselves beyond the reach of the legal processes of this Department by leaving the country," the order for a lookout bulletin read.
"We thus deem the issuance of an ILBO against the subject persons prudent in order to at least monitor the itineraries of their flight, travel and/or whereabouts," it added.
Also covered by ILBO are:
Leonardo Dinopol,
Evelyn Paloso,
Rudy Hadji Ong,
Maria Tiongson Seguirre,
Mae Javier,
Amei Amel Velasyo,
William Uy,
Allan Manansala,
Michael Baguio,
Sarah Guro,
Edgar Pampanga,
Engr. Rodel Unos,
Reynaldo Tamayo,
lawyer Estrella Decena Zaldevar,
Ser John Pastrana,
Raymund Ramos,
Lisa Bag-Ao,
Marciana Herrera,
Aristeo Reyes,
Laureano Suan, Jr.,
Patrick Gatan,
lawyer Peter Armand Henares,
Mangolamba Daji Ali,
Roy Manao,
Nashef Papandayan,
Noraisa Abdullah,
Jaime Pacanan,
Albert Olasiman,
Tats Ampatuan,
Abdulmanan Ali,
Nehru Ampatuan,
Guidtayan Gani,
PO3 Farouk Ampatuan,
PO2 Samir Ampatuan, and
Several others identified only as Engineer Romy, Mahir and PO3 Salapuddin.
Aguirre earlier ordered the NBI to look into the irregularities involving syndicates who claimed compensation for RRoW intended for rightful owners who were affected by the construction of a national highway in General Santos City. Members of the syndicate would submit fake titles in the name of non-existent persons and then secure payment using fake land titles.
Aguirre claimed the syndicate was able to process over 300 RRoW claims including one amounting to P29 million. The masterminds of the scam, according to Aguirre, conspired with several public officials to carry out the criminal acts, including those from the DPWH, the Bureau of Internal Revenue, the City Assessor's Office of General Santos, the Registry of Deeds, the Commission on Audit and some Regional Trial Courts.
The said government officials, according to the witness, "participated in the processing, approval and eventual release of these dubious claims."
Citing signatures in the documents submitted to the NBI and sworn affidavit of the DOJ witness, Aguirre said former budget secretary Florencio "Butch" Abad apparently approved the release of payment for illegal RRoW claims as requested by Singson.
Sources:
Noy's brod in-law tagged in P8.B RoW scam; Look out Order out, Benjamin B. Pulta, November 28, 2017, The Daily Tribune
(This article is adapted from the source listed above. We are unable to grant permission for any kind of reproduction other than social media shares.)