Robredo and Sereno are clueless about accountability in governance
Tuesday December 05, 2017 ()
Our two highest-ranking female public officials, Vice President Maria Leonor Robredo and Supreme Court Chief Justice Maria Lourdes Sereno, do not seem to comprehend the governance concept of accountability or responsibility.
They took their oaths of office without digesting the meaning of words.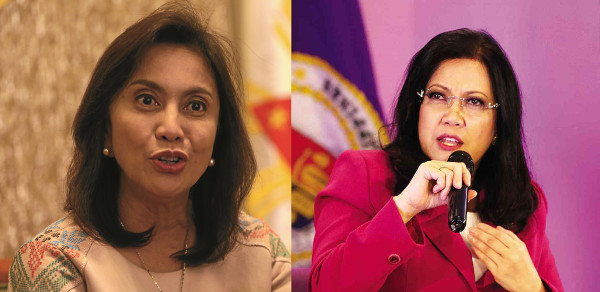 VP Robredo, chairman of the Liberal Party, was the first to let the cat out of the bag when she accused the Duterte administration of using the officials of the previous Aquino administration as "scapegoats" for its own failures in governance. She made the claim in reference to the decision of the current Department of transportation (DOTR) to file cases against former Aquino administration officials over the mismanagement and breakdown of the Metro Rail Transit-3 (MRT-3) system.
CJ Sereno followed suit with her own idiosyncratic view of official responsibility. Reeling from her hammering by Associate Justice Teresita Leonardo De Castro at the house justice committee impeachment hearing just a day earlier, Sereno declared that her official position is "a sacred trust from God." God is responsible for her. With God on her side, she will never resign her office. This is all part of God's plan.
Robredo and scapegoating
Last week, the transportation department filed charges against nine Cabinet secretaries of the Aquino administration, other officials and individuals for alleged plunder and graft and their supposed roles in anomalous transactions relating to the maintenance service contracts of the MRT-3.
Among those charged were former Interior and Transportation Secretary Manuel Roxas 2nd, former Budget Secretary Florencio Abad, former Transportation Secretary Joseph Emilio Abaya, former Finance Secretary Cesar Purisima and former MRT General Manager Roman Buenafe.
In her media interview in Caloocan City, Robredo cautioned that the Duterte administration should not use former officials to draw attention away from its failures. Her spiel went like this:
"Ako, mahirap magparatang, pero sa akin, kapag may nagkasala, tama lamang na sampahan ng kaso. Iyong atin lang ninanais, sana iyong pagsampa ng kaso ay base sa datos na maayos. Hindi siya ginagawang dahilan para lang maghanap ng scapegoat para sa mga bagay na hindi nagagawa."
"Dapat kung mag-file ng kaso, ito ay base sa ebidensya, na mayroon talagang pagkakasala na ginawa. Ang nakakatakot lang, baka ginagawa ito para magpasa ng blame sa iba. Ito iyong dapat hindi pinapayagan."
The Palace spokesman Harry Roque called her remarks "unfortunate." Said Roque:
"The MRT-3 issue is not about covering up shortcomings. The administration has faced the MRT-3 mess squarely. The President has even apologized over a recent train mishap and transport officials admitted that while they cannot solve the problems overnight they are working double time to restore the convenience and reliability of the MRT-3 by getting a proven maintenance firm and buying needed parts ....
"We cannot deny the fact that these are cumulative problems that the administration inherited and the long-suffering commuters of Metro Manila have known for years how the past government destroyed the MRT."
Roque said the filing of the plunder complaint against officials of the previous administration "was to make them accountable."
"These officials facilitated the negotiated procurement of long-term maintenance contracts to BURI, which per the supplemental complaint affidavit filed by the DOTr, 'turned the DOTC as a bottomless cash cow entering into one anomalous procurement project'."
Robredo's depiction of the issue reminded me of the Filipino restaurateur whose joint offered goat meat to customers. He called his restaurant, "Escape goat."
Sereno in a perfect storm
If Robredo was slippery in her statements, Sereno was dramatic, perhaps even mystical.
Speaking at a youth forum at the University of the Philippines in Quezon City, Sereno intoned:
"For all of you who were unjustly accused, I am fighting this fight. For all of you who were unjustly detained, still in prison, I am fighting this fight. I am fighting, standing with all of you who have suffered harassment, threats, bullying. What we should do is never retreat. We stand with courage, dignity, grace.
"How can I quit? As sure as the sun rises from the east and sets in the west, God's plan will prevail."
It struck me while watching her speak on TV that the CJ looked almost catatonic, with her eyelids constantly blinking or fluttering.
She closed her harangue with a surprisingly lucid metaphor. She said that with this impeachment trial, she has found herself in a "perfect storm."
This is a bullseye for what is to come.
Forthcoming testimony from more SC justices and professional psychiatrists will tighten the noose around Sereno. Justice Tijam's advice yesterday for Sereno to appear before the House hearing is a warning. The CJ simply ties herself up in knots by obstinately refusing to defend herself properly. Talking gibberish is no defense.
Accountability in governance
The point really is that neither VP Robredo nor CJ Sereno have any idea of the governance concept of accountability. They have no notion that it applies to them as public officials.
In ethics and governance, accountability is answerability, blameworthiness, liability, and the expectation of account-giving.
As an aspect of governance, it has been central to discussions related to problems in the public sector, nonprofit and private (corporate) and individual contexts. In leadership roles, accountability is the acknowledgment and assumption of responsibility for actions, products, decisions, and policies, including the administration, governance, and implementation within the scope of the role or employment position and encompassing the obligation to report, explain and be answerable for resulting consequences.
In governance, accountability has expanded beyond the basic definition of "being called to account for one's actions."
Accountability cannot exist without proper accounting practices; in other words, an absence of accounting means an absence of accountability.
Sources:
PH highest female officials clueless about accountability in governance, Yen Makabenta, December 5, 2017, The Manila Times
(This article is adapted from the source listed above. We are unable to grant permission for any kind of reproduction other than social media shares.)