Immigration lookout order issued vs Aquino, Garin and 7 others over Dengvaxia
Sunday December 24, 2017 ()
The Department of Justice (DOJ) has issued an Immigration Lookout Bulletin Order (ILBO) against former president Benigno Aquino III, former health secretary Janette Garin and seven others over alleged irregularities in the acquisition and distribution of P3.5 billion worth of Dengvaxia vaccines.
Justice Secretary Vitaliano Aguirre II, in a memorandum signed on December 23, 2017 and addressed to Immigration Commissioner Jaime Morente, said: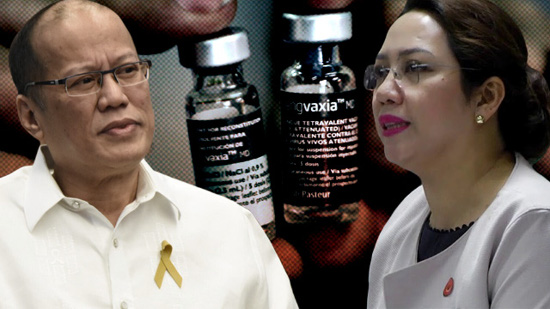 "Considering the gravity of the possible offenses which may have been committed there is a strong probability that they may attempt to place themselves beyond the reach of the legal process of the government."
Also on the ILBO aside from Aquino and Garin are:
Florencio Abad, former budget secretary
Paquito Ochoa Jr., former executive secretary
Olivier Brandicourt, Sanofi Pasteur chief executive officer
Guillaume Leroy, Sanofi Pasteur vice president
Thomas Triomphe, Sanofi Pasteur Asia Pacific head
Carlito Realuyo, Sanofi-Aventis Philippines country chairman
Ruby Dizon, Sanofi Pasteur medical director
The ILBO was issued after party-list group Gabriela filed a graft complaint against Aquino, some of his former Cabinet secretaries, and Sanofi executives over the government's scuttled anti-dengue vaccination program.
The Health department ordered a halt to the implementation of the program this month after its manufacturer, Sanofi Pasteur, admitted that the vaccine might aggravate the condition of a first-time dengue patient.
The Department of Health said that more than 830,000 children from public schools in Metro Manila, Central Luzon, Calabarzon (Cavite, Laguna, Batangas, Rizal and Quezon) and Cebu were vaccinated with Dengvaxia.
Sources:
Various online news outlets