Up to 400% non OFW remittances surge preceded IS attack on Marawi - TMT Investigative Report
Thursday January 04, 2018 ()
The May 23, 2017 attack on Marawi City by terrorists linked to the Islamic State (IS) was preceded by a surge in local remittances to Northern Mindanao, host to major urban centers, a The Manila Times investigation has found.
Local remittances were crucial to funding the five-month siege led by the Maute and Abu Sayyaf groups. Devoid of financing, the IS-linked terrorists in Marawi would not have sustained their deadly attacks, as foreign and local terrorists expected daily payments to continue fighting.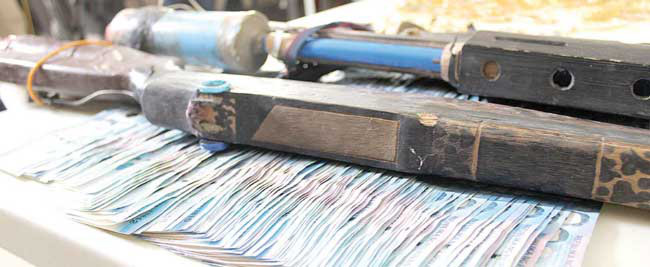 (P300,000 in cash retrieved from the main battle area in Marawi City)
Compared with 2015 and 2016 data, daily local remittances to central bank-registered remittance centers in Northern Mindanao spiked in value and volume by 200 to 400 percent beginning February 2017, or three months before the attack on the country's Islamic capital.
Private remittance centers mushroomed at an exponential rate in 2017 even in second-class municipalities like Jasaan, Misamis Oriental, which, for the longest time, used to have only two rural banks.
Remittances from overseas workers, it should be noted, have remained constant, accounting for just 25 percent of the total in the past three years. Since February 2017, there were no new local industries within Mindanao that could logically explain the 200- to 400-percent spike in the volume and value of daily local remittances within the region.
Military sources also cited the presence of cash couriers inside the Marawi main battle area during the siege. Some dead terrorists were found to have carried cash ranging from P30,000 to P300,000.
Anonymous mobile payments
The Al Qaeda is known to have utilized the informal hawala or padala system to fund terrorist attacks all over the world. Local residents have confirmed receiving money through hawala, an unregistered remittance scheme.
Aside from hawala, The Manila Times found four other primary types of money-transfer systems in the region: (1) overseas wire transfers, (2) cash couriers, (3) remittance centers and (4) anonymous mobile payments.
There has been an increasing trend for locals to receive local remittances through anonymous mobile payments, due to the ubiquity of mobile devices. Most prepaid SIM cards can easily make mobile payment transactions with minimum identification requirements.
Experts say the vulnerability of the local money transfer system to terrorist financing requires a new counterterrorism finance strategy, including a financial intelligence unit that will be mandated by the government to work closely with counterterrorism experts and scholars to analyze communications and financial transactions between foreign and local terrorists.
P3,000 per fighter per day
A heavy volume of cash was needed to sustain the Marawi siege, as families demanded hefty payments in exchange for support, sources told The Manila Times.
Moreover, like their foreign counterparts in the Islamic State of Iraq and Syria (ISIS), the Maute terrorists in Mindanao were focused on expanding their area of control, taking hold of natural resources and commercial centers, producing and distributing illegal drugs (i.e. crystal methamphetamine), and stockpiling weapons and ammunition.
Military sources and residents in outlying areas told The Manila Times each Maute-supporting family received P50,000.
Separately, individual local fighters recruited from these families received P30,000 upon joining the IS. Those who made it to the main battle area were paid an additional P70,000.
Each day thereafter, every surviving local fighter reportedly received P5,000.
According to former Armed Forces of the Philippines chief of staff Eduardo Año, IS central wired $1.5 million via overseas bank accounts to Mindanao.
An ex-Maute supporter told The Manila Times that despite the death of local IS emir Isnilon Hapilon, there were still more than 2,000 child soldiers training in secluded areas around Marawi City, and that excluding terrorism funding allocated daily for adult fighters, at least $6 million have already been paid in cash to desperate Meranao and Muslim Filipino parents who were willing to permanently give up each child to an IS-linked imam in exchange for only $3,000, or P150,000.
The same source confirmed reports circulating within Marawi's Ground Zero that, "Even two years prior to the Marawi siege, massive Daesh-Maute terrorist funding came from individuals from Saudi Arabia, Malaysia, and certain American nationals, considered as friends and allies by Isnilon Hapilon and the Maute brothers."
Daesh is an alternate name for IS preferred by some governments, because it is considered pejorative by IS members. It could mean either "to crush" or a "bigot" who wants to impose his beliefs on others.
"Daesh-Maute Philippines is heavily and regularly funded by ISIS Central and its secret allies," according to one of the surviving local IS leaders.
Lost wealth
Contrary to initial reports, however, the P79 million worth of cash and checks seized by the Marine Battalion Landing Team-7 from a house in Mapandi village in June 2017 was not necessarily meant to finance terrorists.
The main battle area of Marawi, the center of commerce and trade in the city, had at least P100 million in cash and checks as part of their regular business transactions at any given time.
Culturally, Meranao and Muslim traders in Marawi do not use banks the way Christians and other non-Muslims in Mindanao do.
It was considered normal for Meranao and Muslim clans to keep vaults in their own homes and office buildings for safekeeping their gold, cash, jewelry and other valuables.
A woman who asked not to be named said her cousin owned the house in Mapandi that was used by Maute snipers during the first two weeks of the Marawi siege
Residents in the main battle area, mostly rich Meranao or Muslim merchant clans, are at a loss, not knowing how to reclaim their wealth.
Sources:
(This article is adapted from the source listed above. We are unable to grant permission for any kind of reproduction other than social media shares.)