Rappler's Ressa drags the country's image to the mud - for her to survive
Thursday January 18, 2018 ()
Rappler president Maria Ressa has blackened the country's image in the world with her barefaced lie that President Duterte has attacked press freedom by ordering her online news website closed.
Ressa's allegations hewed to the dark portrait neoliberal American media had painted of Duterte since his first months in office. It therefore swallowed hook and line and sinker, and spread throughout the world,Ressa's canard. The New York Times,for instance, which has declared war on Duterte as much as it has on US President Trump, claimed that the closure of Rappler was an extension of his "killing spree" in his war against illegal drugs.
I cannot remember anyone who has single-handedly succeeded in a few days' time to pull down the nation's image in the world with a brazen lie. Ressa's canard has been believed completely by a gullible American media, to a greater extent because they see Ressa as one of them, a former CNN journalist on a crusade to bring democracy through a fearless press to that backward island nation in the Pacific.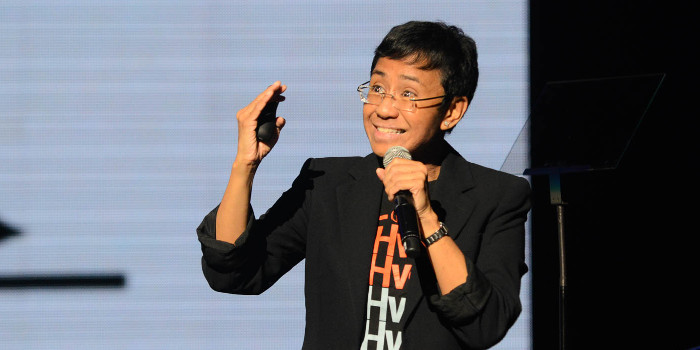 Ressa's ignominious feat is another sad indication that patriotism in this country is all but gone, with even supposedly veteran journalists like her becoming so willing to besmirch the country's reputation to the world.
And for what?
Cover-up
First, to cover up her violation of the Constitution in her desperate attempt to save Rappler from going under because of its astronomical tech costs. She has so mismanaged Rappler that it has been in deep financial straits, so much so that it has resorted to begging for money from gullible readers.
The question that has been bugging me:Did its biggest stockholder on record, property tycoon Benjamin Bitanga approve Ressa's getting money from controversial American entities North Base Media and Omidyar Network? (And why are Bitanga and Rappler's chairman Manuel Ayala not speaking out on this burning issue?)
Second, to feed her well-known bloated egoism, that she has challenged a President and is now a heroine of press freedom.
The third reason is quite understandable and the most important. Ressa is fighting for her professional life. If Rappler closes down and it is revealed that its purported journalistic success is technology-based and mostly only in her mind and in those of her gullible foreign investors, who would ever hire her? Who would take in somebody like herwho has angered the President of the Republic so much with her lies that he has blown his top in public over it? Her credulousfans, the Philippine Center for Investigative Journalism or the National Union of Journalists probably would, but she will have to content herself with a pittance of a salary.
Any reasonable person, or anyone without a partisan bias,would immediately see how wild and utterly fallacious Ressa's accusations are.
Four of the five members of the Securities and Exchange Commission(SEC) concluded en banc, meaningas a collegial body deliberating an important issue, that Rappler, Inc. and Rappler Holdings violated the Constitution—the basic law that created and binds our nation. Rappler Holdings, the SEC ruled, was set up "for no other purpose than to effect a deceptive scheme to circumvent the Constitution."
A full year
It took the SEC a full year to arrive at that conclusion, and Rappler was given all the opportunity to debunk the allegations.
But then Ressa claims the SEC commissioners were Duterte's minions.
But these SEC members — Chair Teresita Herbosa, AntonietaIbe, and lawyer. Ephron Luis Amatong—are accomplished and respected professionals, all appointed to their posts by former President Aquino 3rd from 2011 to 2014. Duterteappointed only one commissioner, Emilio Benito Aquino, a lawyer who has spent most of his working life at the SEC
By law, they have seven-year terms of office; they can be removed from their posts only if convicted for a crime by a court.They have had distinguished careers both in the private and public sectors, are eminently qualified in their law or CPA profession, and viewed by their professions as independent people of integrity. It is downright lame-brained to think they are currying favor with Duterte merely to get juicy government posts in the future.
Yet Ressa has labeled them as Duterte's stooges. American Marcus Brauchli, the head of Rappler investor, USfirm North Base Media, claimed that they allowed "politics and petty populism" to affect their judgment.
Read the backgrounds of the SEC commissioners*at the end of this column and I'm sure you'd conclude: Ressa and Brauchli are intellectualand professional dwarfs, compared to these SEC commissioners.
Roxas cousin
Ressa revealed in a TV interview that she was informed last month that the SEC would rule against Rappler. Her source was obviously James Blas G. Viterbo, the last SEC member that Aquino appointed, in May 2014.
Viterbo is a cousin of Aquino's side-kick Mar Roxas who ran against Duterte in the presidential elections in 2016. He had been Roxas' chief of staff and legal counsel when he was still senator, and was appointed one of the highly-compensated directors of the Development Bank of the Philippines from 2010 to 2014.
But not even Viterbo defended Rappler from the allegations that it violated the Constitution's ban on foreign investments in media?
No signature
The SEC decision simply did not have his signature, and had only a footnote: "Did not take part." An SEC source said that Viterbo didn't even argue in Rappler's defense during the discussions.
Ressa claimed that the SEC was pressured by Duterte to close Rappler as a corporation and there was somebody "running after the SEC on a daily basis" for this.
But if there really was, why did Rappler, which has pounced on Duterte's every misstep, true or not, not reveal such pressure months before the decision was announced? Why didn't the Yellow cadre Viterbo raise an alarm, especially on something that would have dented severely the Yellows' archenemy, Duterte?
Perhaps Ressa has spent too much of her working career abroad and has been basking in the awards given by foreign entities that she obviously has lost all concern for the country's image.
Instead of ululating to the world that a strongman has ordered her website closed down, because it has been critical of him, a responsible journalist or a Filipino with a modicum of patriotism or an iota of decency, could simply have claimed:
"The SEC has ordered Rappler dissolved as a corporation allegedly because it violated the Constitution's ban on media firms getting foreign investments. We will appeal this ruling up to the Supreme Court. We assure our readers that we will continue our news-gathering work within the bounds of the law."
But no, Ressa instead has been screaming to the world that it is being closed down "because Rappler has been inspiring hope, uncovering wrongdoing, battling trolls, exposing the fake, holding the powerful to account for their actions and decisions, calling attention to government lapses that further disempower the disadvantaged."
Can anybody email me what precisely are these Rappler articles that point to such glorious achievements?
I can remember only that fake Rappler news that there were 7,080 extrajudicial killings in Duterte's first three months in office (repeated all over by Western media), its misleading article that the Philippines ranks No. 1 in impunity in the world (that survey was done for the year 2014, when Aquino was in power), and its Malacañang reporter arrogantly trying to put words in the President's mouth.
*The SEC commissioners, Duterte's puppets, according to Ressa:
Teresita Herbosa, the commission's chair appointed by Aquino April 29, 2011. She is a member of the Anti-Money Laundering Council (AMLC) and chair of the Credit Information Corp. She has two bachelor's degrees from the University of the Philippines and a Master of Comparative Law from the University of Michigan Law School. Before joining government, she was co-managing partner of the Angara, Abello, Concepcion, Regala& Cruz law offices, one of the most expensive corporate-law firms in the country.
Antonieta Ibe, appointed by Aquino October 1, 2012. She was a partner at top-ranked accounting firm SycipGorresVelayo& Co. (SGV) where she worked for 30 years. Her first government job was as chair of the Professional Regulation Commission, appointed by President Arroyo. She demonstrated such a high sense of delicadeza when she resigned her post as PRC head in 2004, when her daughter took the medical board licensure exams.
Ibe's other professional involvements: Chancellor of the University of the East-Manila; national secretary and chairman of the Metro Manila regional council of the Philippine Institute of Certified Public Accountants; secretary general of the Asean Federation of Accountants; a consultant of the World Bank; a trustee of the Institute for Solidarity. A in Asia a foundation for good governance headed by Cory's finance secretary Jesus Estanislao; and a member of the board of trustees of the Local Water Utilities Administration.
Ephyro Luis Amatong, appointed by Aquino April 23, 2014. He was the department's assistant secretary a year before, a protégé of former finance secretary Cesar Purisima. Amatong started his law career with the former Villaraza Cruz Marcelo &Angangco law office, which had been the most powerful law firm in the countryduring both the Ramos and Arroyo administrations.
Among his other professional involvements, mostly during theAquinoadministration: adviser to then Ambassador Hilario G. Davide, Jr. at the Permanent Mission of the Philippines to the United Nations; corporate legal counsel and assistant corporate secretary of PNOC Exploration Corp.; acting chairman of the Local Water Utilities Administration; corporate staff officer of the National Power Corp.; and vice president of the Philippine Deposit Insurance Corp. He was senior law clerk to then Supreme Court Justice and current Ombudsman Conchita Carpio Morales from 2003 to 2005.
Duterte stooges they are, enemies of Press Freedom, Ressa claims.
Sources:
Ressa drags PH image to the mud — for her to survive, Rigoberto D. Tiglao, January 18, 2018, The Manila Times
(This article is adapted from the source listed above. We are unable to grant permission for any kind of reproduction other than social media shares.)