Aquino, Abad, Garin face criminal raps over dengue vaccination program
Monday January 29, 2018 ()
Former President Benigno Aquino III, former Budget Secretary Florencio Abad, and former Health Secretary Janet Garin as well as past and incumbent officials of the Department of Health (DOH) are facing charges for election-related offenses in connection with the implementation of a massive dengue vaccination program.
Lawyer Manuelito Luna on Sunday said charges will be filed this week against Aquino and the other former officials before the Commission on Elections' (Comelec) legal department for violation of the Omnibus Election Code (OEC), among other charges.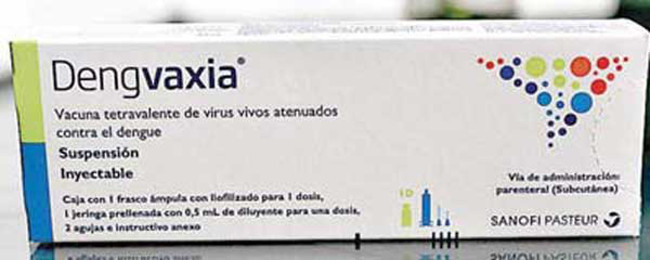 The complaint will be filed by the Volunteers Against Crime and Corruption (VACC). Dr. Francis Cruz, a former DOH consultant, will be a co-complainant.
Luna, who is also a member of the VACC, told The Manila Times that Aquino, Abad and Garin violated the law for their failure to secure an exemption from the Comelec when they implemented the dengue vaccination program two months before the May 2010 elections. The government spent P3.6 billion to purchase Dengvaxia, the vaccine used to inoculate more than 700,000 children. Records show that members of the Philippine National Police were also administered with Dengvaxia.
The OEC prohibits the release, disbursement and expenditure of public funds, construction of public works, appointment or hiring of new employees, filling up of new positions, and the giving of salary increases, among others, 45 days before a regular election and 30 days before a special election.
Luna said:
"VACC's due diligence indicates that no prior Comelec exemption had been sought and issued making the release, disbursement or expenditure of over P3 billion in taxpayers' money during the election ban unlawful under Sec. 261 (v) and (j), of the OEC and, thus, indictable."
The offense carries a penalty of more than six years imprisonment. Offenders may not be qualified for probation or pardon.
Luna, however, clarified that the VACC's complaint would be filed "purely on their (Aquino et al.) failure to observe the election ban and for their failure to obtain exemption from the Comelec."
VACC' records show that in March 2016, the Department of Social Welfare and Development asked the Comelec for an exemption for the implementation of its programs during the election period, which included the Pantawid Pamilya Pilipino Program, Kapit-Bisig Laban sa Kahirapan-Comprehensive and Integrated Delivery of Social Services, and the Sustainable Livelihood Program.
Lawyer Ferdinand Topacio also said over the weekend that the VACC will file a plunder complaint against officials behind the purchase of Dengvaxia.
Topacio said the group has yet to come out with the final list of those who will be indicted, but it is possible that Aquino and Garin will be included as respondents.
Topacio told reporters:
"We will have a meeting next week with the Department of Justice and NBI (National Bureau of Investigation) to coordinate our efforts and to compare evidence."
"One or two weeks tapos na iyan, okay na iyan (It will be finished in one or two weeks)."
Sources:
(This article is adapted from the source listed above. We are unable to grant permission for any kind of reproduction other than social media shares.)