Marcos was a leader ahead of his time, for this he was extremely misjudged and misunderstood
"Never forget", writer-researcher Micel Coleen Buencamino said, "is an expression, a mantra, first used in relation to the Holocaust, and has now been reassigned to the 9/11 attacks. The biggest enemies and critics of President Ferdinand E. Marcos, especially some of the millennials, are also fond of using this political slogan now best written in a hashtag by the Internet generation."
"#NeverForget is a clever piece of advertising, a commodity - sold by oligarchs and pseudo-analysts and communists down to concert organizers, t-shirt designers and social-media 'experts' who love to encapsulate history by way of making memes," Buencamino said.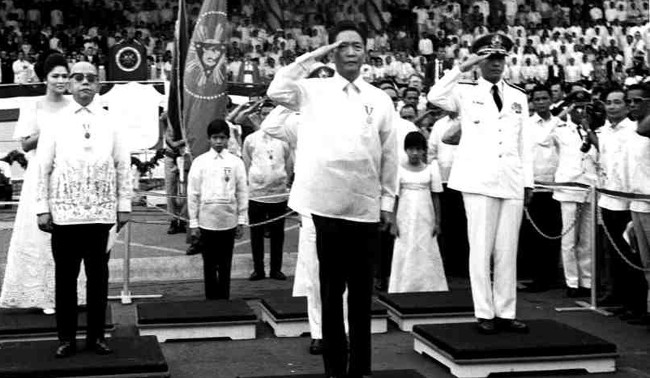 Indeed, we should #NeverForget.
Never forget that Marcos was a leader ahead of his time, and for this he was extremely misjudged and misunderstood.
Never forget all the 7,883 presidential decrees and other legal issuances he crafted and formulated, not only for the past, but also for the present and the future. These laws, proof of his wisdom and exemplary governance, are embedded in our legal system, still effective and being enforced in the nation today.
Never forget his massive infrastructure projects - roads, bridges, irrigation systems and other public works. The records showed that his regime built more roads, bridges and irrigation facilities during his first four years in office than any other president in the past. Perhaps until present day.
Never forget that it was also during his time when the Filipinos saw the establishment of other unprecedented edifices and infrastructures, majority of which still stand proudly until today, servicing the needs of the Filipino people.
Never forget, in particular, that it was in Marcos's time when pioneering hospitals were built: the Philippine Heart Center, Lung Center of the Philippines and the National Kidney and Transplant Institute.
Cultural, tourism and heritage sites were, likewise, constructed: the Cultural Center of the Philippines, Folk Arts Theater, Philippine International Convention Center and the National Arts Center (now Makiling Center for the Arts).
Never forget how his government addressed the 1973 global oil crisis head-on, knowing that skyrocketing oil and power rates would eventually result in high prices of commodities. Never forget how he sought to decrease dependence on imported oil by harnessing indigenous sources of energy. As a result, the Marcos regime completed 20 power plants.
Never forget, too, that after he was ousted from power, not only did his successors fail to build a single power plant; but more devastatingly, the nation saw the aggressive privatization of the energy industry. A few oligarchic families amassed billions of profit, while Filipino consumers bore the brunt of shouldering costly power rates. The Philippines has even earned its place as one of the countries with the most expensive power rates in Asia.
Never forget how he always gave the biggest portion in the national budget to education and established a long list of colleges and universities, thereby enlarging the Filipino people's access to free education and catapulting our literacy rate to one of the world's highest.
Never forget that he kept true to his political and social platform of "rice and roads," at a time when the country's most urgent problem was inadequate food production. The Philippines overcame chronic rice shortages, and after being a rice importer for so many decades, the country began exporting rice to other countries in 1978.
However, while empowering the countryside, never forget that President Marcos also realized that our agriculture-based economy could not compete with the emerging markets in Asia. So, he strongly fought for the implementation of the country's 11 heavy industrialization projects led by the steel, petrochemical and engineering industries.
Never forget, too, those who relentlessly blocked and delayed these projects, and sabotaged the country's industrialization plan. As a result, the country today remains an economic laggard compared to our Asian counterparts.
Never forget, that Marcos made a legacy so remarkable and enduring that it has been the life work of his foes to obliterate it in the chronicles of our history. Yet, no matter how hard they attempted to stigmatize him, the significant things he accomplished cannot be equaled by the presidents who succeeded him: Corazon Cojuangco, his favorite son, President Benigno S. Aquino III and the three presidents between them who spent more than P35 trillion in accumulated budgets in 31 years.
Never forget the unparalleled achievements and contributions of President Marcos who only spent in 20 years P486.42 billion in accumulated budgets, albeit persistently shunned from the spotlight and missing in our history books.
Sources:
(This article is adapted from the source listed above. We are unable to grant permission for any kind of reproduction other than social media shares.)