Trillanes is a menace to the country, a personification of all that's wrong with the Senate
Wednesday April 11, 2018 ()
He is the personification of all that's wrong with the Senate. And his name is Senator Antonio Trillanes 4th.
Trillanes vowed in a press conference the other day that he would file a resolution calling for an investigation into the closure of Boracay island to commercial tourism for six months. And he is not at all ashamed to say that he has already made up his mind on the matter, even before his resolution is filed. Trillianes said: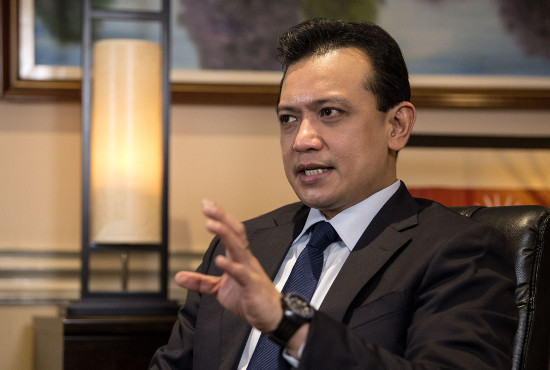 "I maintain my position that the reason why Boracay was ordered closed is for the planned [casino]construction where they need the ports to bring in construction materials and heavy equipment. They can't do this with tourists around, so for me, to shed light on this issue, I'll be filing a resolution calling for a Senate investigation."
Trillanes' theory - that the Boracay closure is really intended by President Rodrigo Duterte to ensure the construction of casinos in the tourist haven - is not new. What's also not new is that the senator has not yet presented a shred of evidence to back up his claim.
Trillanes doesn't even care that the approvals given by state gambling regulator Philippine Amusement and Gaming Corp. for one of the casinos were issued in 2014, during the administration of his gone but unlamented idol, Noynoy Aquino. Or that - and this is important - Pagcor approval is just the first step to building a casino.
Especially on Boracay now, the more likely result of Duterte's closure of the island is that the casino investors will just take their Pagcor approval elsewhere, where they can build their gambling palaces without having to deal with environmental issues. Casinos, as the story of Las Vegas teaches us, can be put up in a desert and people will still come.
The point, after all, of a casino is that its patrons are given all sorts of incentives to stay indoors, the better to relieve them of their money. You don't need a world-class white-sand beach to attract casino-goers.
But Trillanes is, in my view, determined to single-handedly cause the most damage to the chamber to which he belongs. His planned Boracay investigation is not going to help shore up the credibility of the Senate, which he is thankfully leaving next year after maxing out his term of office—and the people's patience.
In fine, what Trillanes wants to do is to use the Senate once again to find something, anything, to bolster his fantastic claims. It is the same modus operandi that Trillanes, together with now Senate President Aquilino Pimentel 3rd and current Foreign Secretary Alan Peter Cayetano, used with great success to basically take out the longtime frontrunner in the 2016 presidential elections - Vice President Jejomar Binay.
It is the same muckraking, fishing strategy that Trillanes used on Duterte, when it became clear that the mayor of Davao City - and not Trillanes' real candidate, Mar Roxas - was the new frontrunner and would become the eventual winner. (Remember how Trillanes was humiliated by the Anti-Money Laudering Council, his supposed source of information on the huge sums of money kept in banks by Duterte, with a simple denial that AMLC was not the source of the senator's tale of untold and unfound riches?)
No wonder Trillanes' riding-in-tandem partner in the House of Representatives, Magdalo Rep. Gary Alejano, looked so uncomfortable when the latter declared that he would seek the Senate seat to be vacated by his coup-pal next year. Alejano knows that he has next to no chance of winning, since he is taking on the mantle of Trillanes; I'd be embarrassed too, if I was drafted to carry on what Trillanes has done.
I honestly don't know what Trillanes intends to do when he leaves the Senate. And I don't really care, unless he plans to take over another swank hotel and then surrender at the first sight of a counter-assault.
The trouble with Trillanes is he keeps going back to the same dry well of "conclude-bully-repeat." That may have worked with Binay and with Defense Secretary Angelo Reyes at the time when Trillanes' Yellow patrons were ascendant.
It sure isn't working anymore with Duterte, who simply treats Trillanes like the pest that he is. As for me, I am consoled by the fact that in little over a year, Trillanes will go back to obscurity (or maybe, with any luck, back to jail).
This man is a menace to the country, a cancer in the body politic. It's about time he is removed, for good, hopefully.
Sources:
The Trillanes cancer, Jojo Robles, Aapril 12, 2018, The Manila Times
(This article is adapted from the source listed above. We are unable to grant permission for any kind of reproduction other than social media shares.)