Majority of the Supreme Court justices is soon to remove Sereno
The Supreme Court (SC) is poised to oust Chief Justice Maria Lourdes Sereno as majority of the justices had decided to grant the quo warranto petition filed by Solicitor General Jose Calida seeking the removal of the chief magistrate, sources said Sunday.
Unimpeachable sources told The Manila Times that majority of the justices were of the position that Sereno's appointment was void from the start because of her failure to file her Statements of Assets Liabilities and Net Worth (SALN).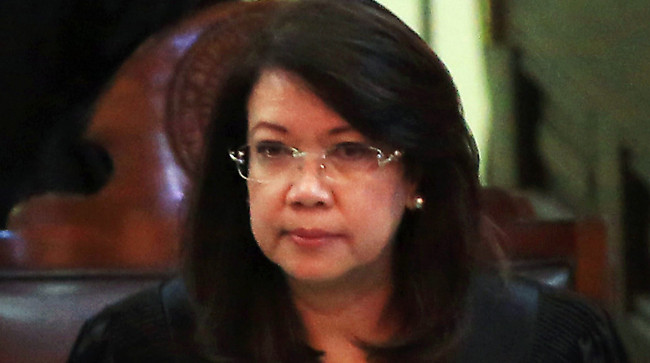 (Lourdes Sereno)
The sources said 8 to 11 justices will vote to grant Calida's petition and concur in the draft ponencia of Associate Justice Noel Tijam. Sources told Manila Times:
"Ang headcount ko may majority na. But we are hoping that it could reach 11-12 justices who will vote to grant the quo warranto petition of the OSG (Office of the Solicitor General). Malinaw naman kasi ang violation ni Sereno at may legal basis ang quo warranto (We have a majority count. The violation made by Sereno is clear and there is basis for the quo warranto petition)."
Sources said Tijam had circulated his 119-page Revised Draft Decision which declared that Sereno has no legal right to stay as chief justice.
The same sources said the only thing that could prevent the high court from kicking out Sereno is her resignation. The tribunal will vote on Tijam's draft decision on May 11, Friday, via a special en banc session.
Two justices who are on leave will not be able to attend the en banc session — Estela Perlas-Bernabe and Francis Jardeleza. However, they will still cast their votes, sources said.
The sources quoted the content of the dispositive portion of Tijam's ponencia: "Wherefore, the Petition for Quo Warranto is Granted. Respondent Maria Lourdes P.A. Sereno is found Disqualified from and is hereby adjudged Guilty of Unlawfully Holding and Exercising the Office of the Chief Justice. Accordingly, Respondent Maria Lourdes P.A. Sereno is Ousted and Excluded therefrom."
Once concurred in by majority of the justices, the decision will be immediately executory, which means that the post of chief justice will be declared vacant. The Judicial and Bar Council will then be mandated to start the nomination process for the selection of a new chief justice.
Although Sereno shall be ousted immediately, she can file a motion for reconsideration within 15 days from receipt of the ruling, the sources said.
One of the sources said Tijam's ponencia, which was circulated on April 26, is anchored on public accountability of a public officer under Section 1, Article XI of the Constitution which states that a public officer must "serve with utmost responsibility, integrity, loyalty, and efficiency, act with patriotism and justice, and lead modest lives."
It was pointed out that Sereno's failure to file her SALNs is a clear indication of dishonesty, lack of probity and lack of integrity. Her ineligibility could not be cured by her nomination and later on appointment as chief justice.
Legal experts said US and Philippine jurisprudence support the contention that quo warranto proceedings can be filed "1 year upon discovery" and cannot be limited to just "1 year upon assumption to office."
"How can you file a quo warranto within 1 year kung hindi mo nga alam na nandaya at nanloko si Sereno sa SALN niya? Common sense lang naman kitang kita na yun (How can you file a quo warranto petition if you do not know that Sereno did not file her SALNs?" the source said.
However, the source said some justices were of the view that the chief justice committed violations but she should be removed by impeachment.
In his petition, Calida said Sereno did not file her SALNs while she was a professor at the University of the Philippines:
"The invalidity of Respondent's appointment as Chief Justice was exposed in view of her failure to submit her SALNs for several years from 1986 to 2006 when she was a professor at the UP College of Law. It was discovered that aside from her SALNS for the years 2006, 2009, 2010, and 2011 which she submitted in her applications for Associate Justice and Chief Justice, Respondent only filed SALNs for the years 1998, 2002, and 2006 during her tenure as law professor at the UP College of Law from 1986 up to 2006. Respondent was nominated to the positions of Associate Justice and Chief Justice despite her failure to file her SALNs which were required to determine whether she passed the constitutional requirement of integrity."
Sources:
SC to oust Sereno, Jomar Canlas, May 4, 2018, The Manila Times
(This article is adapted from the source listed above. We are unable to grant permission for any kind of reproduction other than social media shares.)