Supreme Court ruled, immediately executory, to remove Chief Justice Sereno
The Supreme Court en banc has removed its Chief Justice Maria Lourdes Sereno from her post after it granted the quo warranto petition filed against her that questioned the validity of her appointment.
Voting 8-6, the high tribunal released its ruling on Friday on the petition filed by Solicitor General Jose Calida who said that Sereno failed to fully comply with the requirements set by the Judicial and Bar Council (JBC) when she applied for the position. The JBC screens applicants for judicial positions, including the Chief Justice.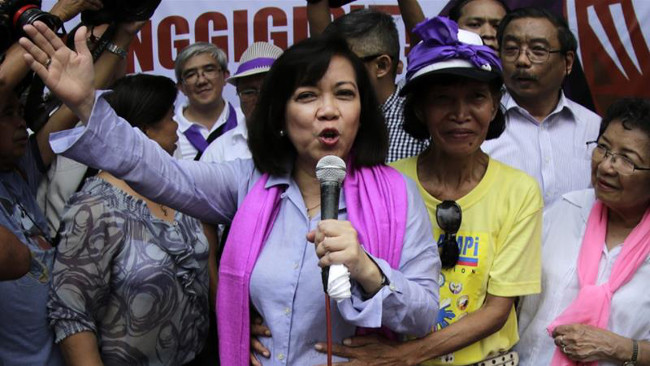 (Sereno with supporters)
Those who voted in favor of the petition were Associate Justices:
Lucas Bersamin,
Teresita De Castro,
Alexander Gesmundo,
Francis Jardeleza,
Samuel Martires,
Diosdado Peralta,
Andres Reyes Jr., and
Noel Tijam.
Those who dissented were Justices:
Antonio Carpio,
Presbitero Velasco Jr,
Mariano del Castillo,
Estela Perlas Bernabe,
Marvic Leonen, and
Benjamin Caguioa.
An unimpeachable source of the Manila Times said Sereno would be expelled immediately for her "ineligibility and lack of integrity".
In the resolution penned by Associate Justice Noel Tijam, it said that Sereno was "guilty of unlawfully holding and exercising the Office of the Chief Justice. Hence, Sereno is ousted and excluded therefrom."
The high court also declared the position of Chief Justice vacant and directed the JBC to open the application and nomination process.
The ruling shall be "immediately executory", the court said.
With the Supreme Court ruling, the impeachment proceedings at the House of Representatives will be rendered moot, said Rep. Reynaldo Umali of Oriental Mindoro, chairman of the justice committee, in an interview.
The House justice committee, which conducted the proceedings based on a complaint filed by lawyer Larry Gadon, found probable cause to impeach Sereno who has been accused of corruption, betrayal of public trust and culpable violation of the Constitution.
Had the Supreme Court denied Calida's petition, the committee would elevate Sereno's case to the House plenary that would vote on whether to impeach the Chief Justice or not.
The House will then submit the articles of impeachment to the Senate that will sit as a court to try Sereno.
Sereno is the second chief justice to be ousted after the late Renato Corona who was impeached in 2012 after he was convicted for misrepresenting his SALN.
Sources:
Chief Justice Sereno ousted , Jomar Canlas, May 11, 2018, The Manila Times
(This article is adapted from the source listed above. We are unable to grant permission for any kind of reproduction other than social media shares.)