Aquino's tasteless mango analogy on Sereno's removal
Wednesday May 16, 2018 ()
The man responsible for inflicting Maria Lourdes Sereno on the entire country could only come up with the lamest and most ignorant of defenses for his dismissed and disgraced appointee. But then, that shouldn't surprise anyone who's ever observed that patronizing, faux-populist pseudo-leader from Times Street.
It's undeniable that every time Noynoy Aquino tries to project himself as a man of the people and as a folksy, down-to-earth communicator, he fails miserably. Who, after all, except for his fellow members of the oligarchy and their camp followers believed this pampered son of the hacienda when he called us his "bosses"?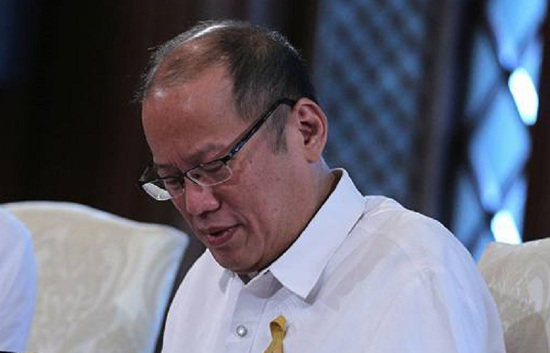 This time around, Aquino thought he found the perfect analogy when he compared Sereno's fate to the lowly mango. Here's what Noynoy said:
"Marahil marami sa inyo, tulad ko, ang paboritong prutas ay mangga. Kung nais natin ang matamis na mangga, hihintayin nating mahinog ito. Alam din natin, pag pinilit itong mahinog, maasim ang kalalabasan nito.
"Makailang ulit nang sinabi ng Korte Suprema: Kung ang batas ay malinaw na, di na kailangan ang paliwanag pa. Klaro ang nasa Saligang Batas: ang impeachable officer, sa pamamagitan lang ng impeachment maaalis sa pwesto. Sa aking pananaw, kung anuman ang magiging paliwanag ng mayorya, ang makikita lang natin ay isang pilit na pilit na desisyon.
"Ang tanong ngayon: Gaano kaya kaasim ang desisyong pilit nilang isusubo sa atin?"
But the truth of the matter is, if Aquino had not disrespected the judiciary and ignored its internal procedures and traditions, he would have come up with someone more deserving of the chief justice's exalted post than Sereno. And then he would not have to defend his appointment as chief magistrate of a former classmate of his who not only had never seen the inside of a courtroom as a litigator, but who would also not have filed her annual statements of assets and liabilities as religiously as the law requires.
Because Aquino is so incredibly dense, he fails to appreciate the irony that Sereno was removed using the same grounds that he authorized the Senate to use to oust her predecessor. Indeed, if Aquino had stopped at removing Chief Justice Renato Corona and allowed the Supreme Court to pick his successor instead of succumbing to the temptation of choosing someone who would protect him after his term ended, no one would have heard of Sereno outside of her law-school sorority.
But Aquino, who I believe only wanted to get back at Corona for being an Arroyo appointee and for engineering (or so Noynoy thought) an adverse ruling against his family in the Hacienda Luisita case in the beginning, didn't know when to quit. He wanted protection from prosecution post-2016 after removing Corona, and so he chose the canine loyalty and fragile sanity of Sereno instead of the solid qualifications and unquestionable experience of, say, Antonio Carpio, who was next in line to Corona in seniority.
But Noynoy, much to his regret these days, failed to vet his classmate sufficiently – or perhaps he decided to turn a blind eye to her SALN troubles, which would lead to her removal a mere six years later. And he never figured that Sereno's own colleagues on the tribunal would boot her out, instead of the senators who would have given him the status of, ahem, repeat customer after what he asked them to do in 2012 to Corona.
So, Aquino is forced to join the small Yellow chorus of those calling belatedly for a Senate impeachment trial for Sereno. And I'm pretty sure that Noynoy feels that coming out to defend his former classmate is an imposition, since he has more important things to do like preparing his legal defense in the various cases where he has been linked, playing video games with his nephews or sampling the various varieties of Philippine mangoes.
Besides, Aquino cannot escape responsibility for the unexpected rise and subsequent ignominious fall of Sereno. Unlike in the many controversies that continue to hound him now that he is no longer president, Noynoy cannot say that he knew nothing about Sereno's appointment; he cannot claim to have received bad advice or that he was tricked into appointing her.
In fact, I'm surprised that Aquino has been largely able to avoid culpability for the fiasco that was Sereno. And now that he has come out in the open in her defense, Noynoy has only succeeded in calling attention to his involvement in her appointment – something I am sure he now regrets doing.
What's the point, after all, of Aquino defending Sereno this late in the day? He certainly isn't going to change the minds of the justices who voted to remove Sereno, especially if he pleads his case using his insipid mango analogy.
Nor can Aquino hope to rally the much-depleted forces of his Yellow Army with his declaration of support for Sereno. If Noynoy still thinks the people are behind him and that they will follow him when he issues a call to take to the streets, then he is even more unhinged than Sereno herself.
As a longtime Noynoy-watcher, I think the former president is merely attempting to once again divert attention from his own culpability by blaming some external factor, in this case, the Supreme Court. And because Noynoy loves to pretend to be an expert on the Constitution, as well, he also took the Sereno case as an opportunity to display his strange interpretation of the basic law.
(Notice how Noynoy the Constitutionalist never mentions the section of the charter that says constitutional officer "may" be removed by impeachment, which blows away all the arguments about that method being the only way to remove such officials. I wouldn't be surprised if all the Yellows arguing for Sereno's impeachment got the idea from Aquino himself and his unsupervised reading of the 1987 Constitution – he is, after all, still their guiding light and spiritual leader.)
The real takeaway here is that if you entrust the job of picking a chief justice of the Supreme Court to someone like Noynoy Aquino, you're likely to end up with someone just like Sereno. And frankly, I wouldn't trust Noynoy even to buy me some mangoes.
Sources:
Noynoy's mangoes, Jojo Robles, May 16, 2018, The Manila Times
(This article is adapted from the source listed above. We are unable to grant permission for any kind of reproduction other than social media shares.)