Sereno insists her former peers are wrong and she is right
Saturday June 02, 2018 ()
Judging solely from reports about the contents of her motion for reconsideration, which she filed with her former peers in the Supreme Court this week, there seems to be no stopping her permanent removal as the highest magistrate in the land.
Sereno has not disclosed any new evidence or put forward compelling new arguments to stop her ouster through a quo warranto proceeding initiated against her in her motion. All that was contained in the document are the usual protestations of her innocence of the charges leveled against her and a prideful request for the court to overturn its 8-6 decision, which she insists is the "right and just" thing to do because – in all humility and honesty – the court is wrong and she is correct.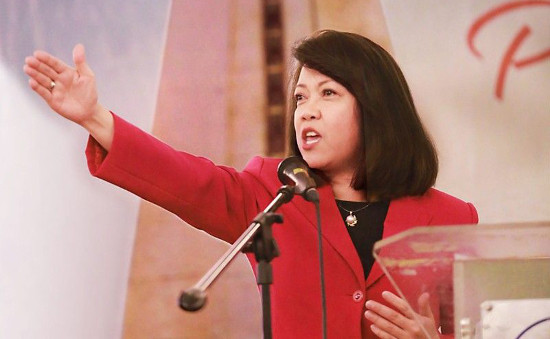 (Former Chief Justice Lourdes Sereno)
Sereno filed the motion only minutes before the deadline for submission expired on Wednesday. That is often a sign that she really had nothing new to add to the case made against her and merely had a deadline to beat.
I'm told that the deadline for the submission of an MR is non-extendable, which is why Sereno had to submit whatever arguments she had, regardless of how rehashed and redundant they were. (She asked for more time to submit the reply demanded by the court on a "show cause" order compelling her to explain why she should not be punished for making many disparaging remarks previously about her former peers.)
Court observers believe that the Sereno motion will be given short shrift by the Supreme Court in a "minute" resolution that usually takes up all of one page. That's often the court's way of saying that it no longer wants to waste any more time on Sereno's case, having already ruled on it before.
It's almost certain that the court will not even attempt to vote again on the matter of Sereno's ouster. The 8-6 ruling, regardless of the febrile predictions of the Yellows who have adopted Sereno, is simply not going to change.
But looking forward, some believe that it's unreasonable to expect Sereno to just stride off into the sunset. The remnants of the once-formidable Aquino-dominated Liberal Party supposedly want her to run for the Senate next year, to beef up a lineup that can't even be completed for want of viable (or even willing) candidates.
Given Sereno's reported lack of a proper connection to reality, it's perfectly possible that she will answer the call and run for office in the midterm polls. What no one will guarantee is a victory for the ousted former chief justice – especially if she intends to ask the LP for campaign contributions.
You see, while the Yellows and the LP were willing to provide Sereno with the wherewithal to stage her propaganda campaign to fight her removal, I doubt very much if they will subsidize her political bid by any significant contribution. I predict that, as soon as the Supreme Court throws out her motion for reconsideration, the rabid support she has been getting from the Yellows, the Church, the media and other such unreformed Aquino-friendly groups will suddenly dry up.
Already, since the court's decision on the quo warranto case, there has been a noticeable decrease in the frequency and intensity of the propaganda efforts of the pro-Sereno camp. I don't see how the campaign will be rebooted unless the court reverses itself, which is highly unlikely.
But the last thing that Sereno should do about her impending abandonment is to make it personal and fight it.
That strategy, after all, didn't do her a whole lot of good when she used it against her former colleagues, whom she accused time and again of removing her simply because they didn't like her.
What Sereno should understand is that to her political allies, she's just the latest weapon deployed to remove President Rodrigo Duterte that failed. She was used by them and when she couldn't pull off the trick, they just moved on to the next potential Duterte-killer issue.
Notice, for instance, how the Yellows no longer talk about "runaway inflation" and "skyrocketing pump prices" anymore these days. That's because, due to factors like Donald Trump's pressuring of Saudi Arabia and Russia's unilateral decision to increase production, among other things, world crude oil prices have quickly gone down.
There's nothing new on the EJK issue, well, so you don't hear about that anymore. The Sister Patricia Fox issue is barely alive, what with the usual leftists begging that she be given Filipino citizenship so that she may continue what is probably the longest "goodbye" on record.
Of course, there are issues that have a longer shelf life than others, like the electoral protest against Leni Robredo and the West Philippine Sea controversy. But these are the rare long-running controversies that shudder to a stop and then fire up again, sometimes because someone in Manhattan made a substantial contribution to a visiting Yellow politician.
In these exceptional cases, you can expect new propaganda wrinkles – including out-and-out fake news – just to keep the narrative alive. Sereno's case, unfortunately, doesn't have that kind of longevity; she's been removed for good and she's too unimportant to keep appearing in the Yellow media outlets and the expensive tarpaulins of the for-hire protesters.
That's just the way the Yellows roll. And no matter how many Yellows professed their love for Sereno when she had a chance to be retained as chief justice, I expect them to give her the old "who you?" once her MR is junked with finality.
Sereno should have known that from the get-go. Especially these days, when she really has no one to turn to except perhaps her family.
Her Yellow friends and backers? She'd be really lucky if they will even bother to answer her text messages after her MR is thrown out.
Sources:
Requiem for Sereno, Jojo Robles, June 2, 2018, The Manila Times
(This article is adapted from the source listed above. We are unable to grant permission for any kind of reproduction other than social media shares.)