Aqiuno, Abad and Garin must be grilled like terrorists
Wednesday June 06, 2018 ()
In his defense in both the DAP and Dengvaxia controversies, Former President Noynoy Aquino contends:
He bears no responsibility or guilt for either scandal because he has done nothing wrong. He acted in keeping with his authority and according to his duty as president of the Philippines.
The programs – the dengue vaccination program and the DAP – are basically aboveboard and were undertaken according to the rules prescribed by law.
He and his administration are not liable for any wrongdoing or corruption. The impoundment of public funds and the diversion of funds into DAP and Dengvaxia is allowed by law, because the funds used are savings.
The programs do no harm. They have actually been beneficial to the public. Communities that were deprived of vital projects because Aquino impounded their funds, of course, say otherwise.
There is no evidence to show that Dengvaxia caused any deaths in the vaccination program, or that DAP was harmful to anyone.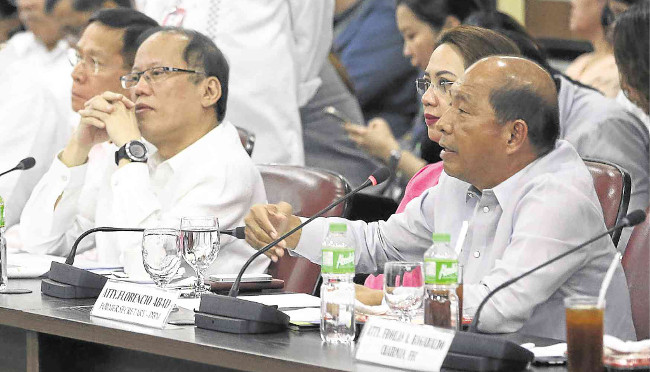 (Former President Benigno Aquino III (left), former Health Secretary Janette Garin (in pink dress) and former Budget Secretary Florencio Abad (right))
Hiding in recondite Filipino
In presenting this defense to the public, Aquino invariably speaks in Filipino, not English. He resorts to the most recondite Filipino vocabulary and cadences to convey his points. It's as if he does not want to be understood by the public, or that he prefers to be inscrutable.
To cite some examples of this rhetorical style:
Aquino declares in regard to Dengvaxia:
"Hanggang ngayon wala pa nagpapakita na ang Dengvaxia ay nakakamatay (up to this day there has been no proof that Dengvaxia has caused deaths) at siguro yung sa mga tumutuligsa sa atin na wala kaming sinabi ganung deretsuhan ang pinapadama sa lahat na etong programang ito mas nagpalala kaysa nakatulong sa sitwasyon."(those who oppose us may claim that they did not say this but they are showing that this vaccination program has made the situation worse.")
Walang korapsyon at walang namatay. (There was no corruption and there were no deaths)."
Yung nagpagpapanggap na experto, maawa naman kayo sa mga magulang, sa pamilyang Pilipinas. (Those who are claiming to be experts, pity the parents pity the Filipino family.")
On the DAP, Aquino said arnestly of his government's intent:"
"Ang hangad po natin: Huwag patagalin ang pagpapatupad sa isang proyekto. Ang pinagkasunduan ng buong Gabinete tungkol sa kani-kanilang budget: Use it or lose it. At kung malinaw na hindi talaga ninyo magagamit ngayong taon ang pondong inilaan para sa inyo, maliwanag na savings na 'yan."
He approved the DAP with the best of intentions. He believed in all sincerity that he was doing good for the nation by cresting the DAP.
Aquino rhetoric founders in SC
This rhetorical approach has clear limitations, however, because Filpino is well understood by most Filipinos. Audiences see only too easily what Aquino is up to. In the DA controversy, the Supreme Court understood clearly and plainly the heart of Aquino's argument. The court arrived at its verdict easily and unanimously: it voted 13-0 to declare the DAP illegal and unconstitutional.
The justices saw that Aquino was only giving them his self-serving interpretations of the law, that he considered DAP funds as purely discretionary, and that he could defy budget appropriations by congress at will.
Two weeks after the SC declared the DAP unconstitutional, President Aquino was plainly dazed by the ruling. At first, he thought of fighting back; but he soon gave up in frustration. Even the servile Chief Justice Sereno voted with the majority, in a rare display of good sense. Aquino could not justify even to friends the realignment of funds to projects of his choosing. He could not show even an imaginary scenario of how DAP-funded projects would propel economic growth.
One analyst wrote: "President Aquino is even unsure how to really defend his case – insisting on the constitutionality of the program at one point and then citing expediency's sake over the rule of law at the other ....
"It appears that the President did not really read the SC's ruling even as he encouraged the public to read it. The high court has made it clear: DAP funds are not savings. Hence Aquino's citation of Section 39 of the 1987 Administration Code is clearly a waste of time, if not a dumb take on the issue.
The high court had also ruled in an earlier case that good faith does not excuse an official who juggles government funds or property from one public purpose to another. The SC issued this verdict on November 14, 2012, affirming a Sandiganbayan ruling on February 8, 2010.
Malacañang officials had claimed that President Benigno Aquino 3rd and Budget Secretary Florencio "Butch" Abad wanted to spur economic growth when they implemented the DAP. But the Court said the President had no power to transfer funds or declare as savings money intended for projects that have not been finished.
Finally, Aquino could not reason that DAP with good results on the ground could convince the SC on constitutionality. Good results could not cure the DAP of its legal infirmities.
The best hope for Aquino's disingenuous defense is to keep the Dengvaxia controversy away from the Supreme Court. It is wiser to keep the scandal in the halls of the Senate, where the takers are mainly for publicity for now, and in the hands of the justice department and the Ombudsman, where the prosecutorial capabilities are iffy.
If Dengvaxia ever reaches the Supreme Court, the shroud over Aquino's accountability for the scandal will be taken off. The extent of the tragedy in the vaccination program will be investigated. The lie of "no deaths due to Dengvaxia" will be unraveled. The mystery of how P3.6 billion of unprogrammed funds were diverted to the purchase of Dengvaxia will be solved.
Dengvaxia must be probed to the bitter end. Government can never explain to our people that a program, wherein scores of young people died, is aboveboard and legal. Government can never explain how a program with no appropriations could be funded from out of nowhere.
Sources:
Aquino's disingenuous defense in both DAP and Dengvaxia scandals, Yen Makabenta, June 6, 2018, The Manila Times
(This article is adapted from the source listed above. We are unable to grant permission for any kind of reproduction other than social media shares.)