Lourdes Sereno continues to play coy on her expected run for the Senate next year while saying her priority at this time is to get groups united to fight, alongside her, for judicial independence.
If she gets people to believe her claimed fight for judicial independence, then her supporters are pretty naïve even in this day and age.
What Sereno is more likely working on is to organize her support groups for her Senate run as she has to get ready soon since there are just some four months before the start of the official filing of candidacy.
Her job at the bench is over. Officially and legally, Sereno was never part of the 15-man Supreme Court. She has nowhere else to go—not even the probability of being engaged as a lawyer to represent clients in court, that is, if she isn't disbarred first.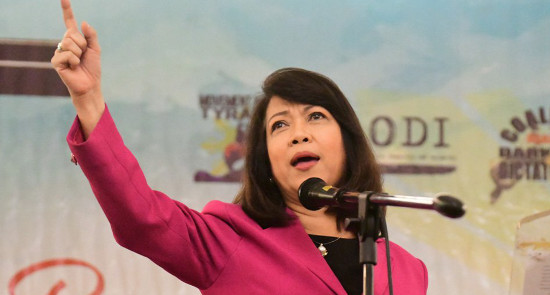 It's all over for Sereno and she knows it. All her claims to keep on fighting for judicial independence is her alibi at this time on her plan to run for the Senate. That judicial independence bit would be her cry in the Senate run.
But she knows she can't keep on with her claimed campaign for judicial independence as her main topic at her various forums. The issue of her having been ousted by the Supreme Court through a quo warranto is over and whatever criticisms she and her supporters over this can no longer be sustained. She can, of course, keep on blasting Rody to her heart's content, but who will she be able to attract, except her group? Sereno isn't the most popular figure as the polls have shown many times over.
However, Sereno still says she is undecided on her Senate run or be part of civil society, she said:
"There are a lot of people who are urging me to run but as I have said before, I have to go through a process of finding out what is the best for the country, what is required to enter into the political contest ... we have to balance everything."
This is laughable, coming from her, especially when she claims she is still in the process of "divining" what is best for the country.
What does her decision to run or not run for a Senate seat have to do with her determining what "is best for the country?" What does her decision have to do with what is best for the country? It is not she who decides what is best for the country. At most, it is an elected president who is supposed to decide, along with his advisers and Cabinet, what is best for the country and even in this, a president's decision on what is best for the country may be completely wrong.
Heck, senators and congressmen don't even seem to realize their congressional hearings do nothing but destroy reputations and worse, all these hearings do is to conduct trials and convictions by publicity against whoever they accuse of whatever.
But it is this publicity that Sereno misses, and she is certainly aware the issue over her ouster through a quo warranto is now a dead issue, which is why Sereno has come up with her claimed fight for judicial independence.
She knows that trying to keep the issue going won't work. It's over and done with. It is more likely that Sereno is doing this to keep whatever is left of her support groups to prepare for her Senate run.
A Senate seat is the only option for her at this time, if she wants to stay in the public eye and continue lambasting the justices of the High Court who ousted her. Perhaps this is also a way for her to evade, for six years at least, having to face a lot of lawsuits.
Whatever decision she makes for her future should hinge on whether her chances of winning a Senate seat are enough to get her to the Senate as she runs under the Liberal Party banner, or a coalesced opposition party, as she obviously can't run as an administration candidate.
It is only in winning a Senate seat that Sereno can continue blasting away at President Duterte under the Senate's usual immunity from suit during their six-year stint when such attacks are made during privilege speeches and within the Senate halls. She can even blast to her heart's content the High Court justices unless of course she crosses the line and she certainly knows where the line should stop.
But before all that, Sereno should first assess her chances of winning, because the masa support she needs to win is non-existent at this time.
Sources:
(This article is adapted from the source listed above. We are unable to grant permission for any kind of reproduction other than social media shares.)